Day­light sav­ings time makes me grum­ble at hav­ing to get up ear­li­er. But, it also means that spring is com­ing. I start think­ing about what seeds I will plant for my gar­den, and which books I will read to my stu­dents, to give them hope when they still see snow on the ground.
To encour­age plant­i­ng seeds to save the envi­ron­ment, to bright­en spir­its, and to instill a sense of con­nec­tion and pos­si­bil­i­ty, I like to read the fol­low­ing books that focus on gar­den­ing and com­mu­ni­ty. Read and Grow!
Any­where Farm
writ­ten by Phyl­lis Root
illus­trat­ed by G. Bri­an Karas
Can­dlewick Press, 2017
Jaun­ty, rhyming text and under­stat­ed yet joy­ful illus­tra­tions show­case a wide range of chil­dren and neigh­bors build­ing a com­mu­ni­ty gar­den. A very appeal­ing read-aloud to intro­duce the idea of grow­ing where you can.
Farmer Will Allen and the Grow­ing Table
writ­ten by Jacquel­ing Brig­gs Mar­tin
illus­trat­ed by Eric-Shabazz Larkin
Read­ers to Eaters, 2013
This live­ly pic­ture book biog­ra­phy intro­duces young read­ers to Milwaukee's famous urban farmer, Will Allen. A for­mer pro­fes­sion­al bas­ket­ball play­er, his work is high­light­ed in this col­or­ful book, inspir­ing young read­ers to think about where their food comes from.
Harlem Grown: How One Big Idea
Trans­formed a Neigh­bor­hood
writ­ten by Tony Hillery
illus­trat­ed by Jessie Hart­land
Simon & Schus­ter, 2020
Nevaeh and her friends help Mr. Tony trans­form a 'haunt­ed' gar­den into a thriv­ing urban farm in this whim­si­cal­ly-illus­trat­ed cel­e­bra­tion of growing.
Jayden's Impos­si­ble Gar­den
writ­ten by Méli­na Man­gal
illus­trat­ed by Ken Daley
Strive/Free Spir­it, 2021
Jay­den wants his moth­er to see the beau­ty of nature in the city. When he joins forces with an elder­ly neigh­bor, who knows what will hap­pen? With vibrant illus­tra­tions by illus­tra­tor Ken Daly, Jayden's Impos­si­ble Gar­den high­lights how imag­i­na­tion can con­nect neigh­bors in new ways.
Thank You, Gar­den
writ­ten by Liz Gar­ton Scan­lon
illus­trat­ed by Simone Shin
Beach Lane Books, 2020
With vin­tage-like illus­tra­tions by Calde­cott-Hon­or Award illus­tra­tor Simone Shin, this pic­ture book cel­e­brates the growth of flow­ers, veg­eta­bles, and friend­ships between com­mu­ni­ty mem­bers in this city garden.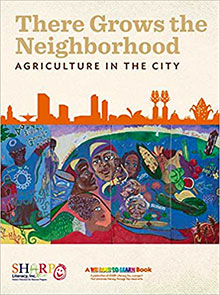 There Grows the Neigh­bor­hood:
Agri­cul­ture in the City
writ­ten Mike Car­riere
illus­trat­ed by Paul Kjel­land
SHARP Lit­er­a­cy Inc., 2014
This large for­mat book fol­lows sev­er­al stu­dents in the future as they recount how their neigh­bor­hoods were trans­formed by Farmer Will Allen's urban gar­den­ing move­ment. Full of facts, pho­tos, and stu­dent art about urban farm­ing, this book will inspire chil­dren to get out and grow.
The Van­der­beek­ers and the Hid­den Gar­den
writ­ten by Kari­na Yan Glaser
HMH Books for Young Read­ers, 2018
In this heart­warm­ing sec­ond book fea­tur­ing the Van­der­beek­ers, the sib­lings plan a gar­den unlike any oth­er: a mag­i­cal heal­ing gar­den. Though they hope it will be the best in Harlem, how will they con­tend with locked gates, a devel­op­er with sights on the land, and oth­er obstacles?