by The Bookologist
H.A. Rey
HMH Books for Young Read­ers, 1977 (reis­sue of 1958 edi­tion)
Ages 5 – 8
First George is curi­ous about some bun­nies, then about fish­ing, and then about his friend Billy's kite. All's well that ends well. Ages 5 – 8.
---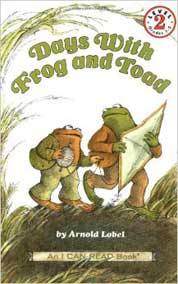 Days with Frog and Toad
Arnold Lobel
1979 Harper­Collins
Ages 4 – 8
Five sto­ries with the two famous friends, includ­ing "The Kite," in which Frog's opti­mism and Toad's efforts pre­vail over the pre­dic­tions of some nay-say­ing robins.
---
The Emper­or and the Kite
Jane Yolen and Ed Young (illus­tra­tor)
Philomel, 1988 (reis­sue)
Ages 4 – 8
Princess Oje­ow Seow is the youngest of the Emperor's chil­dren, and no one in the fam­i­ly thinks she's very spe­cial. But when the emper­or is impris­oned in a tow­er, the princess's kite-build­ing skills prove every­one wrong. 1968 Calde­cott Hon­or book.
---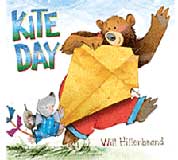 Kite Day
Will Hil­len­brand
Hol­i­day House, 2012
Ages 3 – 7
Bear and Mole decide it's the per­fect day to fly a kite, but first they have to build one.
---
The Kite Fighters
Lin­da Sue Park
Clar­i­on, 2000
Ages 9 and up.
A sto­ry about three friends in 15th Cen­tu­ry Korea: a boy who builds beau­ti­ful kites; his younger broth­er, who is an expert kite fly­er and kite fight­er; and a boy who is the king of Korea.
---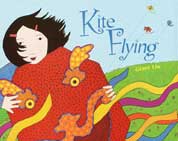 Kite Fly­ing
Grace Lin
Knopf, 2002
Ages 4 – 8
Every­one has a job to do when a fam­i­ly builds a drag­on kite. Includes cul­tur­al and his­tor­i­cal notes on kites and kite flying.
---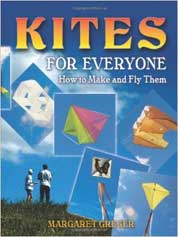 Kites for Every­one: How to Make Them and Fly Them
Mar­garet Greger
Dover Pub­li­ca­tions, 2006
Ages 8 and up
Easy-to-fol­low, illus­trat­ed instruc­tions for cre­at­ing and fly­ing more than fifty kites. Includes his­to­ry and sci­ence of kites.
---
The Kite That Bridged Two Nations: Homan Walsh and the First Nia­gara Sus­pen­sion Bridge
Alex­is O'Neill, Ter­ry Widen­er (illus­tra­tor)
Calkins Creek, 2013
Ages 8 – 11
True sto­ry of 16 year-old Homan Walsh, who loved to fly kites and espe­cial­ly loved to fly kites over the mag­nif­i­cent Nia­gara Falls that sep­a­rates New York from Ontario.
---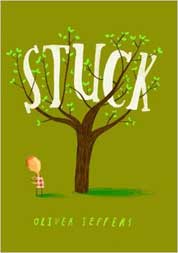 Stuck
Oliv­er Jef­fers
Philomel, 2011
Ages 3 – 7
Floyd's kite is stuck in a tree! What can he throw that will knock it free? What can he throw that won't get stuck?
---