by Vic­ki Palmquist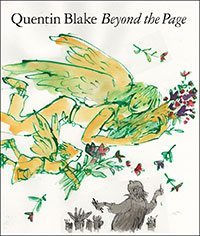 I've been savor­ing Quentin Blake: Beyond the Page (Tate Pub­lish­ing, 2012), a book that is replete with pho­tos, illus­tra­tive art, and all the many ways Mr. Blake's art has adorned many aspects of life "beyond the page."
In his own voice, we hear of the places illus­tra­tion has tak­en him. With some­thing near a state of won­der, Mr. Blake reflects on all the ways illus­tra­tive art can be trans­formed. He talks about the man­ner in which illus­tra­tions are often dis­missed by fine art con­nois­seurs because they mere­ly serve the sto­ry. Yet his own art puts the lie to that pejo­ra­tive thinking.
His art is every­where: greet­ing cards, mugs, scarves, t‑shirts, wall­pa­per, fab­ric (his art has become toile!), linens, and even a book bus.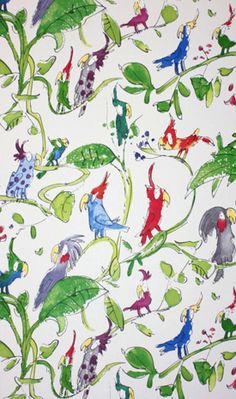 Mr. Blake talks about his thought process for cre­at­ing wall-sized murals for hos­pi­tals, some­thing he has done often. Rem­i­nisc­ing about his work at the Ker­shaw Ward for elder­ly res­i­den­tial patients, "they [trees] also indi­cat­ed that we were in a not quite par­al­lel real world where a cer­tain vivac­i­ty of move­ment reflects, I hope, the men­tal enthu­si­asm of my spec­ta­tors." His old­er peo­ple engage in youth­ful activ­i­ties, some­thing every old­er per­son under­stands immediately.
Wide­ly read, trained orig­i­nal­ly to be a pro­fes­sor of lit­er­a­ture, Mr. Blake has trav­eled wide­ly, accept­ed chal­lenges that have broad­ened his life and art, and he shares his enthu­si­asm for living.
This is not a book to be rel­ished by chil­dren, but rather adults. The select­ed art illus­trates Mr. Blake's mus­ings, enrich­ing our under­stand­ing of what it takes to be a world-famous illustrator.
When you see the art for Roald Dahl's books, you most cer­tain­ly know Quentin Blake's work. I found it enlight­en­ing to read, "I have at one time or anoth­er illus­trat­ed all of Roald's books, with one excep­tion, and the canon is effec­tive­ly closed. We know who the char­ac­ters are, we are acquaint­ed with the accept­ed image of each char­ac­ter — this is one of the advan­tages which was no doubt fore­seen in Pen­guin Books' ini­tia­tive to get all the books illus­trat­ed by the same per­son." (page 136)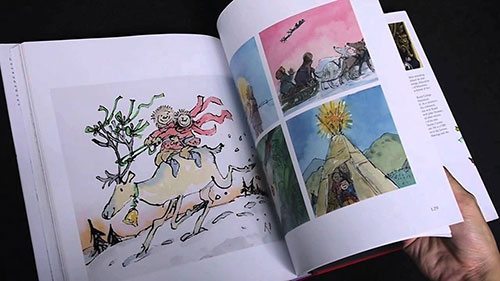 There are many styles of art in these pages beyond those fine and sketchy line draw­ings, bright­ly col­ored, that we asso­ciate with the Dahl books. It is the depth of his work and his will­ing­ness to share his per­cep­tion of what he cre­ates that make this a Lit­er­ary Madeleine. I will pull this off the shelf when­ev­er I want to take a jour­ney with a mas­ter. Lucky me! When you read this, lucky you! (My copy was a gift, but you can find this book in both hard­cov­er and paperback.)