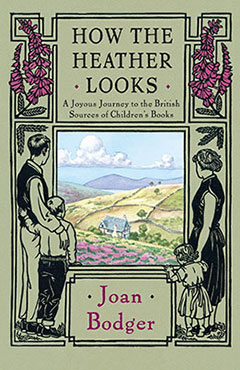 If any good has come from the quar­an­tine of 2020, it's made me a heavy library user — my per­son­al library, that is, since the pub­lic libraries are closed. I found this book in a dress­er draw­er. (When I redid my office, I didn't want the clut­ter of book­cas­es, instead opt­ing for vin­tage dressers and armoires — love­ly to look at but I for­get what's in them). It was exact­ly what I needed.
This time of year, I miss Eng­land, a cozy, cottage‑y, book­ish coun­try. When­ev­er my hus­band and I have gone to the UK, it's always been in the fall, and we're nev­er there long enough. Heather is a trav­el mem­oir about one family's 1958 sum­mer-long ram­ble in search of actu­al set­tings in children's books. First pub­lished in 1965, the book was reprint­ed in 1999.
The Bodger fam­i­ly wast­ed no time. They stepped off the Cunard ship (the best way to trav­el!), rent­ed a tiny car that bare­ly fit two adults, two chil­dren and lug­gage, and head­ed for Whitechurch, the vil­lage Ran­dolph Calde­cott immor­tal­ized in his draw­ings. In the late fifties, children's lit­er­a­ture pil­grim­ages seemed friv­o­lous in a coun­try still reel­ing from five years of war. In her inquiries with locals, Joan Bodger, armed with Bartholomew's Road Atlas of Great Britain (one inch equals one mile), was some­times looked upon with sus­pi­cion. But she per­sist­ed and made won­der­ful discoveries.
In the "sun-flood­ed fields" of Har­well, they found L. Leslie Brooke's Pil­lar House, occu­pied by a woman who had reached the top of the list for a new coun­cil house. She decid­ed her lit­tle house, lack­ing a sin­gle right angle, was best after all. Joan was delight­ed to step inside the "crooked lit­tle house" from Ring o' Ros­es. I leafed through my own Ring o' Ros­es, bet­ter appre­ci­at­ing Brooke's care­ful lines and atten­tion to detail.
In Glouces­ter, the Bodgers tracked down the tailor's house from Beat­rix Potter's The Tai­lor of Glouces­ter. Know­ing the source of the sto­ry, I mar­veled anew at Potter's jew­el-like watercolors.
Last sum­mer, I planned a trip to Eng­land (that I sen­si­bly changed) in which we'd fly overnight to Lon­don, rent a car, and dri­ve to Corn­wall. As Joan Bodger point­ed out, a trip that took an hour on U.S. high­ways took almost all day in Eng­land. In Corn­wall, the Bodgers camped two weeks in a car­a­van, like Toad in The Wind in the Wil­lows. They encoun­tered the Romany, still seg­re­gat­ed, a few times. Once, while hik­ing, they found grass blades tied in pat­terns, sig­nals only the Romany could inter­pret. I dug through my folk­lore books and found Ray­mond Buckland's Gyp­sy Witch­craft & Mag­ic. While there are some charms, the book is a fas­ci­nat­ing resource of Romany folkways.
The Bodgers trekked up and down Eng­land on King Arthur's trail. They pad­dled a boat on the Thames in search of Rat's house, Pan's island, and Toad Hall (Maple­du­ram). Joan Bodger's detec­tive work, in an era before the inter­net and GPS, was impres­sive. She brought the books along, com­par­ing the illus­tra­tions to the scenery. She often found peo­ple still liv­ing in the vil­lages who knew Ken­neth Gra­ham or Mrs. Heely (Beat­rix Potter's mar­ried name) and was even invit­ed to vis­it A. A. Milne's wid­ow. In Kipling coun­try, they found Pook's Hill. I sat down with my Puck of Pook's Hill and the sequel, Rewards and Fairies, to steep myself in sto­ries of British his­to­ry. Their excur­sion to the Bronte Par­son­age in York­shire had me back in my book­stacks. I found Rebec­ca Fraser's adult biog­ra­phy, The Brontes: Char­lotte and Her Fam­i­ly, but was excit­ed to unearth the more enjoy­able The Young Brontes (1937) by Mary Louise Jar­den with illus­tra­tions by Helen Sewell.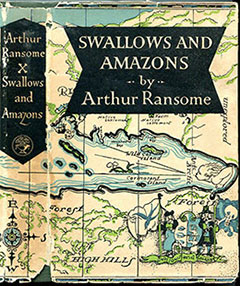 How the Heather Looks seems the per­fect vaca­tion, even with a two-year old who need­ed lots of naps, a nine-year-old medieval­ist who want­ed to stop at every old ruin to look for blood­stains, Eng­lish weath­er, Eng­lish food, the clown rental car, and get­ting lost. The Bodger's trip is my idea of heav­en. Joan Bodger even man­aged to meet the famous­ly grumpy and anti-social Arthur Ran­some. When the elder­ly author auto­graphed their copy of Swal­lows and Ama­zons, he was sur­prised the nine-year-old boy had read his books, believ­ing Amer­i­can chil­dren only watched television.
In 1958, I was sev­en and had just learned to read pro­fi­cient­ly. This Amer­i­can child couldn't get her hands on enough books! She grew up to own a library, a bane when mov­ing, but a bless­ing dur­ing a pan­dem­ic. What else is there to do? Watch YouTube? Net­flix? Livestream stuff?
Arthur Ran­some told Joan Bodger he'd watched tele­vi­sion him­self and it seemed like jour­ney­ing through a strange coun­try on a very fast train: "It's like see­ing every­thing through a lit­tle slot. You can nev­er climb down and go back once you are aboard …"
I'm more than weary of view­ing the world through the lit­tle slot of screens. How the Heather Looks is a pleas­ant, mean­der­ing train through a coun­try most of us know through children's books, one that stops often so you can browse your own col­lec­tion or make notes of what to read next.
Note: On Ama­zon, you can treat your­self to this book on Kin­dle (anoth­er slot, I'm afraid) for $12, or pay the insane price of $902.81 for the paper­back. I own the first edi­tion 1999 hard­cov­er which I will put back in the draw­er very care­ful­ly.