by Mar­sha Qualey
My Seneca Vil­lage
by Mar­i­lyn Nel­son
Name­los, 2015
I'm going to begin with a dis­claimer that is also a bit o' brag­ging. I've had the good for­tune to meet and work with Mar­i­lyn Nel­son (A Wreath for Emmett Till, Snook Alone, How I Dis­cov­ered Poet­ry). I've stayed up late and sipped wine and talked with her, spent a day escort­ing her to school vis­its where she wowed ele­men­tary stu­dents; she once supped at my table. I also had the good for­tune to hear some of the poems in My Seneca Vil­lage when the book was a work in progress.
So, obvi­ous­ly I was pre­dis­posed to like it. I was not pre­pared, how­ev­er, for how quick­ly and com­plete­ly I fell in love.
The book opens with Nelson's "Wel­come," which includes a suc­cinct his­to­ry of Seneca Vil­lage, "Manhattan's first sig­nif­i­cant com­mu­ni­ty of African Amer­i­can prop­er­ty own­ers," that was found­ed in 1825. The vil­lage was short-lived: "By 1857, every­one would have been forced to move, and Seneca Vil­lage would be com­plete­ly erased by the cre­ation of Cen­tral Park."
41 poems are at the heart of the book. Each was inspired by a name and "iden­ti­fy­ing label" Nel­son found in cen­sus records. Pre­sent­ed in chrono­log­i­cal order, the poems span thir­ty-two years; sev­er­al of the char­ac­ters reap­pear, matur­ing and chang­ing along with the vil­lage. For the first read­ing, it's ben­e­fi­cial to read the poems in order, even if a quick glance at a table of con­tents that reveals such titles as "Mir­a­cle in the Col­lec­tion Plate" or "Pig on Ice" tempts you to skip ahead.
Equal­ly impor­tant are the one-page scene-set­ting prose descrip­tions that pref­ace each poem. Were My Seneca Vil­lage ever to be an image-illus­trat­ed book, I'd wager not even the finest of our pic­ture book artists could ani­mate the char­ac­ters and set­ting as well as the author's lan­guage; it would be akin to break­ing a spell.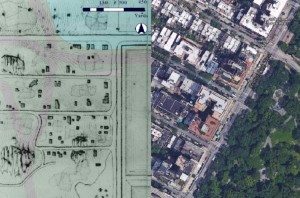 His­tor­i­cal foot­notes accom­pa­ny sev­er­al of the poems. Those and the excel­lent con­clud­ing author's note, in which Nel­son explains the poet­ic forms and rhyming tech­niques she used, remind the read­er that the lit­er­ary mur­al unfold­ing in her hands is the result of his­to­ry, imag­i­na­tion, and hard and inten­tion­al work.
This is a book for all ages, but, oh, what a ter­rif­ic book to read aloud or sim­ply make avail­able to young read­ers (though I should warn any inter­est­ed teacher that there is one poem that might trig­ger PG-13-ish ques­tions or com­ments; I won't men­tion it by name because I don't want any­one read­ing ahead, but it includes the love­ly com­pound noun "plea­sure-pur­vey­ors").
Seneca Vil­lage is an almost-lost world. With My Seneca Vil­lage, Mar­i­lyn Nel­son brings that world near in time and close to home.