by Jen­ny Barlow
We could reach her through nurs­ery rhymes.
She reg­u­lar­ly sat in the liv­ing room, wrapped in a blan­ket in her wheel­chair. To peo­ple who don't under­stand, she would seem with­ered, vacant, even loose in the joints, and maybe very shab­by. But we stroked her palsied hands and gen­tly called her name. On occa­sion, she'd open her eyes.
"Hick­o­ry dick­o­ry," we'd start.
Often fast, like an auc­tion­eer, she'd respond, "DOCK! The mouse ran up the clock, the sheep's in the mead­ow the cow's in the corn, hick­o­ry dick­o­ry dock!"
Ok, so she wasn't perfect…but she deserved points for keep­ing with­in the nurs­ery rhyme genre. Demen­tia vis­its peo­ple dif­fer­ent­ly, but com­mon­ly the mem­o­ries it spares are ones from child­hood. Some­one, like­ly this woman's moth­er, 90 some years ago, before WWI, before women's suf­frage, before radio, took the time to sit with this now-wrin­kled woman as a then-chub­by-faced baby and sing her nurs­ery rhymes.
Near­ly a cen­tu­ry lat­er, we were blessed to enjoy the echoes of that love between par­ent and child.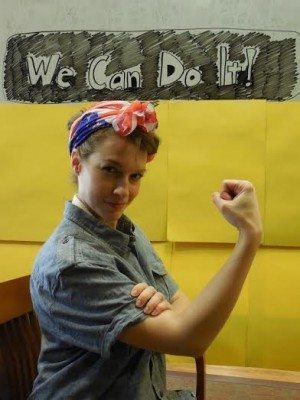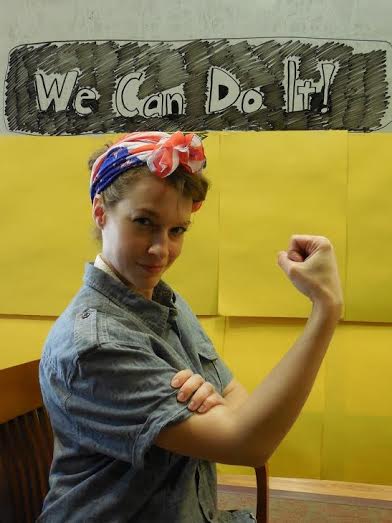 We must not lim­it our­selves. Peo­ple of all ages and sit­u­a­tions love pic­ture books for dif­fer­ent rea­sons. Kunio Yanagida's pic­ture book was cit­ed in The Jour­nal of Inter­gen­er­a­tional Rela­tion­ships to express why this is true:
There is a Japan­ese say­ing that one should read a pic­ture book at three dif­fer­ent times through one's life: at first, in child­hood; sec­ond, dur­ing the peri­od of rear­ing chil­dren, and third, in lat­er life. Old­er peo­ple are thought to be par­tic­u­lar­ly impressed and feel sym­pa­thy when read­ing pic­ture books because of their rich life expe­ri­ences.1
Viral videos show how peo­ple momen­tar­i­ly awak­en hiber­nat­ing per­son­al­i­ties by hear­ing just the right song. They use the scaf­fold­ing of the music to sing words they can't say on their own in a sen­tence, yet their expres­sions sug­gest they very much know the con­text. The same can be true with reading.
It is now uni­ver­sal­ly accept­ed that music should be used dai­ly to empow­er the lives of those with demen­tia. It is time for read­ing, inde­pen­dent­ly or in a group, to become revered in a par­al­lel light. Reflect­ing back on how the woman remem­bered nurs­ery rhymes, the leap in log­ic with children's sto­ries becom­ing senior's sto­ries isn't so outlandish.
The mod­ern day world of children's lit­er­a­ture is vast, with clas­sics like Peter Pan or The Vel­veteen Rab­bit to sophis­ti­cat­ed non-fic­tion about his­tor­i­cal moments this old­er gen­er­a­tion cre­at­ed. Well-writ­ten sto­ries stay with us, change us into bet­ter human beings, and make our own hearts wis­er. C.S. Lewis once said, "A chil­dren's sto­ry that can only be enjoyed by chil­dren is not a good chil­dren's sto­ry in the slightest."
The words on the page, the illus­tra­tions woven with the sto­ry­line, the length, the page turns, the weight of the book itself: all of these aspects sup­port an inter­gen­er­a­tional mar­ket. Pre­co­cious pic­ture books work espe­cial­ly well as seniors, even those with advanced demen­tia, usu­al­ly retain much of their vocabulary.
The form and for­mat of pic­ture books are also effec­tive for engag­ing these read­ers. Although we see old­er folks sit­ting with their cup of black cof­fee and morn­ing paper, the font size of newsprint can be hard to deci­pher, the busy­ness of the ads mixed with blocks of dif­fer­ent arti­cles can be con­fus­ing, and, due to atten­tion dif­fi­cul­ties caused by dis­ease and stress, the length of news sto­ries, let alone nov­els, can be over­whelm­ing. The design and length of pic­ture books, on the oth­er hand, wel­comes these same readers.
The Alzheimer's Asso­ci­a­tion reports there are cur­rent­ly over five mil­lion peo­ple in the Unit­ed States with this type of demen­tia, and that num­ber may triple in the next 35 years.2 The per­cent­age of the U.S. pop­u­la­tion made of chil­dren ages 12 and younger will dip in that same time peri­od.3 The busi­ness of writ­ing pic­ture books and plac­ing them with the per­fect read­er can, and should, grow up.
There is a blue ocean of under-served and under­es­ti­mat­ed peo­ple, bro­ken-in-body chil­dren-at-heart, who need us. Pic­ture books can help fam­i­lies express love to those they thought they had lost. We already have the pow­er, we just need the refram­ing mind­set. It's sim­ple, real­ly; we can even reach them through nurs­ery rhymes.
Long live "children's" literature.
Note from the Bookol­o­gist: Jen­ny sug­gests these pic­ture books to begin with:
Grand­fa­ther's Jour­ney by Allen Say
The Name Quilt by Phyl­lis Root, illus. by Mar­got Apple
The Road to Oz: Twists, Turns, Bumps, and Tri­umphs in the Life of L.Frank Baum by Kath­leen Krull, illus. Kevin Hawkes
A Nation's Hope: the Sto­ry of Box­ing Leg­end Joe Lewis by Matt De La Pena, illus. Kadir Nelson
Up North at the Cab­in by Mar­sha Wil­son Chall, illus. Steve Johnson
Sources:
1. http://pages.stern.nyu.edu/~kbrabazo/Eval-repository/Repository-Articles/reprints%20japan%20program.pdf
2. http://www.alz.org/facts/overview.asp
3. http://www.childtrends.org/wp-content/uploads/2012/07/53_appendix1.pdf