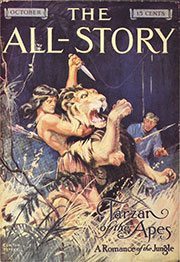 by Vic­ki Palmquist
In its Octo­ber 1912 issue, All-Sto­ry Mag­a­zine pub­lished a short sto­ry by Edgar Rice Bur­roughs called "Tarzan of the Apes." Do you remem­ber the plot? John Clay­ton is born to par­ents who are marooned on the west coast of Africa. His par­ents, Lord and Lady Greystoke, die on his first birth­day. John is adopt­ed by Kala, an ape, who moth­ers him as one of her own. He is that child who is unaware he is human. He goes on to be a man more com­fort­able in the jun­gle than he is among the gen­try, his birthright. He grows up and mar­ries Jane Porter but he returns to his loin­cloth-and-knife exis­tence as often as he can.
For many years, Tarzan of the Apes with its near­ly flaw­less male hero was one of the books con­stant­ly named as a favorite among teen read­ers. Read­ing the book, one could imag­ine one­self liv­ing out­side of soci­ety and any imposed restric­tions and expec­ta­tions. The jun­gle seemed like a hos­pitable place which, although very dan­ger­ous, offered oppor­tu­ni­ties to prove the met­tle of your existence.
These books can be viewed through a nos­tal­gic, his­tor­i­cal lens as being writ­ten at a time when Bur­roughs, proud of his Anglo-Sax­on her­itage, wrote with the colo­nial view­point of white Eng­lish suprema­cy. Today's read­ers will find his atti­tude dat­ed, if not repug­nant, and yet the Tarzan books are a part of our grow­ing-up as read­ers and their influ­ence on an entire genre of fic­tion con­tin­ues to be acknowledged.
JANE GOODALL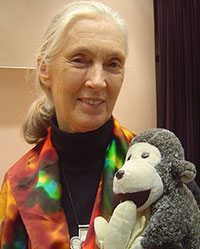 Tarzan of the Apes does, indeed, have a tie-in with our Book­storm™ this month, Untamed: the Wild Life of Jane Goodall by Ani­ta Sil­vey (Nation­al Geographic).
In a 2012 inter­view on Big Issue, Dr. Goodall wrote: "I read the Tarzan books and of course I fell com­plete­ly in love with Tarzan. I felt he'd mar­ried the wrong Jane — it should have been me. I was very jeal­ous of Jane. My mum saved up to take me to see a Tarzan film at the cin­e­ma but a few min­utes in I got very upset and had to be tak­en out. I said: 'That wasn't Tarzan.' John­ny Weiss­muller was not how I imag­ined Tarzan at all. And to this day I've nev­er ever watched anoth­er Tarzan film." (Pho­to: Dr. Jane Goodall, tak­en by jeekc in 2007, Cre­ative Com­mons license.)
FERAL CHILDREN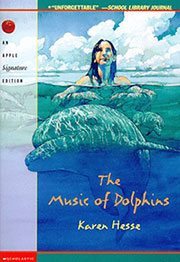 In lit­er­a­ture and in sci­ence, chil­dren who are lost or aban­doned in the wild are called "fer­al chil­dren." There are a num­ber of sto­ries and books, offer­ing evi­dence of our fas­ci­na­tion with this concept.
Gil­gamesh, Romu­lus and Remus, and Pecos Bill are clas­si­cal­ly rep­re­sent­ed as chil­dren raised by animals.
You may have read the fol­low­ing books or you're adding them to your TBR pile now.
Mila in Music of the Dol­phins by Karen Hesse
Peter Pan by J.M. Barrie
Mowgli in The Jun­gle Book by Rud­yard Kipling
The Blue Lagoon by Scott O'Dell
Valen­tine Michael Smith in Robert Heinlein's Stranger in a Strange Land was raised by Mar­tians. This is not pre­cise­ly fit­ting with the def­i­n­i­tion of fer­al chil­dren but, hav­ing nev­er met a Mar­t­ian, I'm not sure.
Even Gilligan's Island had an episode with a "jun­gle boy," played by Kurt Russell
Here's an arti­cle about "Fer­al Chil­dren: Mind Blow­ing Cas­es of Chil­dren Raised by Ani­mals," writ­ten by Mihai Andrei for ZME Sci­ence.
EDGAR RICE BURROUGHS
Mar­ried, with two chil­dren, Bur­roughs tried his hand at many endeav­ors and did­n't suc­ceed at any of them. The pres­sures to pro­vide a liv­ing for his fam­i­ly spurred him on to sub­mit a sto­ry he wrote for publication.
Edgar Rice Bur­roughs' first pub­lished sto­ry was "Under the Moons of Mars," fea­tur­ing John Carter, which appeared in All-Sto­ry Mag­a­zine in 1912. It earned him $400. He's cred­it­ed with "help­ing to lead pulps into their gold­en era of pub­lish­ing."
He sold Tarzan of the Apes to the Prank A. Mun­sey com­pa­ny for $700, which is $17,164 in today's mon­ey. He had a hard time find­ing a book pub­lish­er, but once A.C. McClurg and Com­pa­ny pub­lished Tarzan, it became a 1914 bestseller.
Edgar Rice Bur­roughs him­self wrote, "In all these years I have not learned one sin­gle rule for writ­ing fic­tion. I still write as I did 30 years ago; sto­ries which I feel would enter­tain me and give me men­tal relax­ation, know­ing that there are mil­lions of peo­ple just like me who will like the same things I like. Any­way, I have great fun with my imag­in­ings, and I can appre­ci­ate – in a small way – the swell time God had in cre­at­ing the Universe."
Here is Chap­ter One of John Tal­i­a­fer­ro's biog­ra­phy, Tarzan For­ev­er, The Life of Edgar Rice Bur­roughs, Cre­ator of Tarzan.
JUST THOUGHT YOU'D LIKE TO KNOW
Did you know that the town of Tarzana, Cal­i­for­nia is locat­ed on Edgar Rice Bur­roughs' for­mer 550-acre ranch, which was named, not sur­pris­ing­ly, Tarzana Ranch?
Bur­roughs had anoth­er wild­ly suc­cess­ful book series beyond Tarzan, set at the Earth's core! Known as Pel­lu­ci­dar, there are sev­en books, which also have a fer­vent fol­low­ing. In one of the books, Tarzan finds his way to Pel­lu­ci­dar, Tarzan at the Earth's Core.
The orig­i­nal dust jack­et was hard to come by for col­lec­tors. In 2014, Phil Nor­mand of Recoverings.com recre­at­ed that orig­i­nal dust jack­et and sold it to col­lec­tors for $50.
Are you a fan of the Tarzan books? Leave a com­ment to let us know why they appeal to you.