Ver­a's Sto­ry Gar­den Established
as a Lit­er­ary Land­mark by Unit­ed for Libraries May 4, 2019
by Mary Paige Lang-Clouse, Director
Ethel­bert B. Craw­ford Pub­lic Library
Mon­ti­cel­lo NY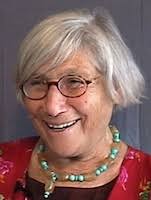 I met Vera B. Williams in the ear­ly 2000s while work­ing at the pub­lic library in Nar­rows­burg, N.Y. It should come as no sur­prise to any­one that knew her that Vera didn't waste any time iden­ti­fy­ing and using her local pub­lic library. She offered sev­er­al pro­grams at that library for chil­dren as well as shar­ing her wis­dom about writ­ing and illus­trat­ing books for chil­dren with the youth ser­vices librar­i­ans of the Ramapo Catskill Library Sys­tem (RCLS), the pub­lic library sys­tem serv­ing all the Sul­li­van, Orange, and Rock­land Coun­ty pub­lic libraries as well as a few in Ulster Coun­ty. I think Vera was very gen­er­ous to the libraries in her com­mu­ni­ty large­ly because she rec­og­nized their val­ue and she chose to live hers.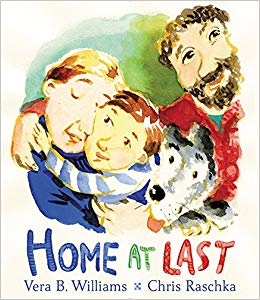 The cre­ation of the Sto­ry Gar­den as a Lit­er­ary Land­mark along­side the Ethel­bert B. Craw­ford Pub­lic Library in Mon­ti­cel­lo, N.Y., will serve as a last­ing lega­cy to Vera B. Williams, her sto­ries and illus­tra­tions, and to the inspi­ra­tion she gave to the chil­dren she wrote them for. Unit­ed for Libraries, a divi­sion of the Amer­i­can Library Asso­ci­a­tion with a mis­sion to sup­port those who gov­ern, pro­mote, advo­cate, and fund raise for all types of libraries, accept­ed the appli­ca­tion of the library for its sto­ry gar­den to be des­ig­nat­ed as a Lit­er­ary Land­mark in hon­or of the con­tri­bu­tions to children's lit­er­a­ture made by Vera B. Williams dur­ing her life­time and in Sul­li­van Coun­ty. Williams' last book, Home at Last, was one she worked on col­lab­o­ra­tive­ly with Chris Rasch­ka from her home in Nar­rows­burg until her death in Octo­ber, 2015. It was our good for­tune that Vera B. Williams chose to live the last 15 years of her life in Sul­li­van Coun­ty and that she was no stranger to the pub­lic libraries in her community.
Vera gave back. She did a school vis­it at the Robert J. Kaiser Mid­dle School in Mon­ti­cel­lo, much like the many she'd done dur­ing her years liv­ing down in Brook­lyn. That vis­it made a last­ing impres­sion on both the stu­dents and teach­ers. She also gen­er­ous­ly donat­ed an antique library chair she designed for a fundrais­ing auc­tion the Friends of the Ethel­bert B. Craw­ford Pub­lic Library held back in 2011 dur­ing a cel­e­bra­tion of the library's 75th Anniver­sary. I'm hap­py to report that that chair sits in the library of a pub­lic school in Orange Coun­ty, N.Y.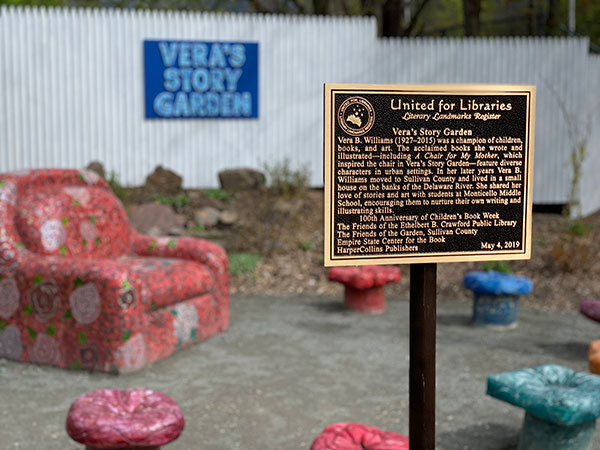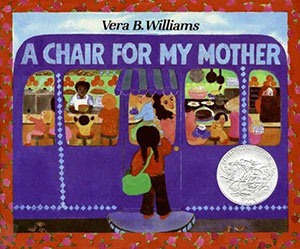 When plans for the new library were get­ting under­way there was a desire to have a "big, fat, com­fort­able, won­der­ful chair" — like the one in Ms. Williams' Calde­cott Hon­or book, A Chair for My Moth­er—in the new children's room — for peo­ple to cozy up togeth­er in and read but there wasn't room for a chair of such grandeur there. Instead one was built — out­side — in what became Vera's Sto­ry Gar­den. Our land­scap­er got cre­ative and, with the help of a local mosa­ic artist, our chair became a real­i­ty. The idea to estab­lish a Lit­er­ary Land­mark was put in my head by the youth ser­vices con­sul­tant at RCLS at that time, Ran­dall Enos. I am so glad he did — and how fit­ting that we were able to receive this won­der­ful des­ig­na­tion dur­ing the 100th Anniver­sary of Children's Book Week. I think Vera would have been pleased.