In this addi­tion to Rais­ing Star Read­ers, we check in again on Ani­ta Dualeh and her Read­ing Team. Along with many of us, they're using books as a dis­trac­tion and a con­so­la­tion while liv­ing with the mas­sive changes brought about by the threat of COVID-19. Here's how Ani­ta describes this shared moment of history-in-the-making: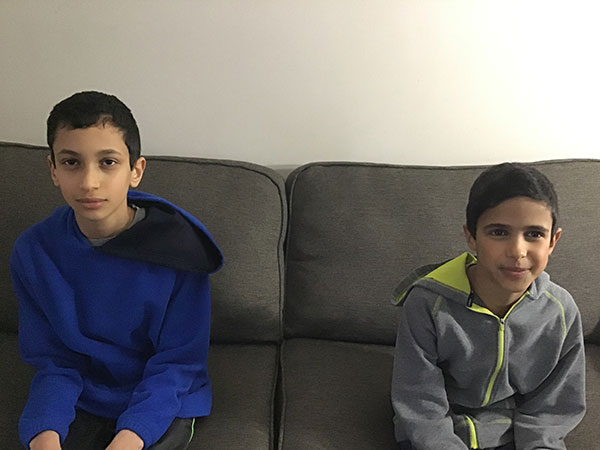 In the past month, my kids haven't had much for­mal school­ing. First, we had four days off due to a teach­ers' strike, and then every day after that because the gov­er­nor ordered all schools in Min­neso­ta closed to help pre­vent the spread of coro­n­avirus. We haven't done the morn­ing get-ready-for-the bus rou­tine since March 9th. What­ev­er else seems to be in flux dur­ing this time, I'm hold­ing fast to at least a few rou­tines in our home, includ­ing read­ing aloud.
With two kids on two very dif­fer­ent sched­ules this school year, our recent read­ing rou­tine had only involved about two or three chap­ters a week. But since no one is leav­ing for school any­more, our read­ing rate has gone up to one or two chap­ters per day. I con­sid­er it a sil­ver lin­ing that we have more time than ever, and read­ing togeth­er more often has helped cre­ate a deep­er sense of con­nec­tion between me and my kids. At times, pick­ing up a book and begin­ning to read has helped de-esca­late some tense moments or strong emo­tions. We have found that sit­ting down togeth­er to be trans­port­ed into a sto­ry about anoth­er time and anoth­er place has helped to con­sole and uplift us. The sto­ries have made us laugh and made us won­der. They've pro­vid­ed a wel­come dis­trac­tion − no, a nec­es­sary distraction.
Our favorite so far from this peri­od of more inten­sive read­ing has been Kather­ine Applegate's nov­el Home of the Brave. My 12-year-old has giv­en the sto­ry par­tic­u­lar­ly high marks. He appre­ci­at­ed the humor and the real­is­tic por­tray­al of the child refugee expe­ri­ence. He also not­ed, "I thought there wasn't going to be a hap­py end­ing, but there was." My nine-year-old thought it was a good sto­ry as well. He enjoys a good laugh, and this book had plenty.
I appre­ci­at­ed the way Apple­gate devel­ops a relat­able pro­tag­o­nist and evokes empa­thy as she describes the chal­lenges of being a new immi­grant in the Unit­ed States. Per­haps part of the rea­son the sto­ry res­onat­ed so well with my sons is that we have fam­i­ly and friends who have immi­grat­ed to this coun­try – and some of the anec­dotes in the books sound not that dif­fer­ent from oral sto­ries my chil­dren have heard over the years. But I believe even kids who can't say the same would find this to be a reward­ing, empa­thy-build­ing read.
We are in the thick of the joys and chal­lenges of being togeth­er all the time, every day. The days and weeks are start­ing to blur togeth­er and there's noth­ing much to look for­ward to from one day to the next, as my old­er son has point­ed out. Even dur­ing spring break. This is where books have come to the res­cue. As I com­plete a chap­ter, we find our­selves look­ing for­ward to the next one to see how the sto­ry unfolds. We talk about the char­ac­ters, even some days lat­er. We pick the books up again and reread the best parts.
_______________________
Bookol­o­gy is always look­ing for new Read­ing Teams to help us cel­e­brate the joys of read­ing aloud togeth­er. Con­tact Lisa Bullard for fur­ther infor­ma­tion if you're inter­est­ed in participating.