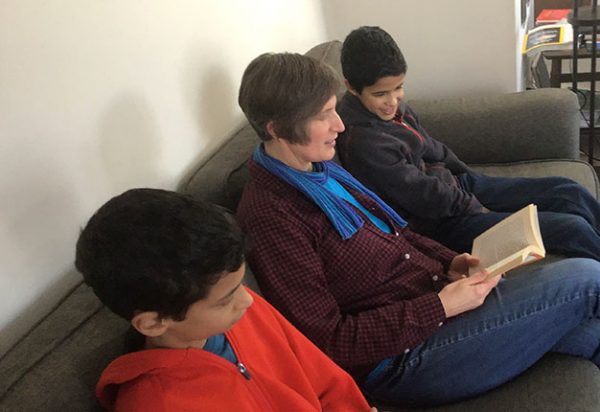 Rais­ing Star Read­ers is grate­ful to have reg­u­lar reminders from Ani­ta Dualeh's Read­ing Team that read­ing aloud isn't an activ­i­ty reserved only for fam­i­lies with small chil­dren. Instead, shar­ing and talk­ing about books as you read them aloud togeth­er is some­thing a fam­i­ly can grow into (the books grow in length as the kids them­selves grow both in age and under­stand­ing). Here, Ani­ta high­lights some of the length­i­er titles that have helped keep her Read­ing Team engaged dur­ing the pandemic:
In the past sev­er­al months, we've been enjoy­ing some longer nar­ra­tives which have proven sat­is­fy­ing oppor­tu­ni­ties to lose our­selves in a book. We read Mark Twain's The Adven­tures of Tom Sawyer togeth­er, and then Caleb talked us into read­ing Adven­tures of Huck­le­ber­ry Finn once he learned that the same char­ac­ters were in that book. I was think­ing it might be above my ten- and thir­teen-year-olds, but I came across a copy of Huck­le­ber­ry Finn in a Lit­tle Free Library in our neigh­bor­hood and thought we may as well give it a try. As we pressed on even through the irrev­er­ent, racial­ly offen­sive, and dull pas­sages in the book, we found a whole lot to discuss.
At the rec­om­men­da­tion of a friend, we read on to Echo by Pam Muñoz Ryan. Could we fin­ish this 590-page nov­el with­out get­ting bogged down? Caleb and I were more eas­i­ly pulled into the sto­ry, but Adam began to protest when­ev­er I picked up the book. "Shall we move on to some­thing else?" I asked. He thought we should, but Caleb didn't agree. I sug­gest­ed we stick it out for anoth­er hun­dred pages. We did, and by that time, the nar­ra­tive had shift­ed to anoth­er set­ting with dif­fer­ent char­ac­ters. Adam found it a lit­tle more engag­ing. By the time a third set of char­ac­ters were intro­duced, we were all invest­ed in the book and want­ed to find out how the seem­ing­ly sep­a­rate sto­ries would tie togeth­er. We fin­ished Echo in a lit­tle over a month and felt a sense of accom­plish­ment when arriv­ing at a very sat­is­fy­ing end­ing. It has been our longest book read togeth­er to date.
After that we read a short, fun nov­el by Richard Peck (The Teacher's Funer­al), before mov­ing on to a 496-pager, The Extra­or­di­nary Edu­ca­tion of Nicholas Bene­dict by Tren­ton Lee Stew­art. We hit a few patch­es with rather exten­sive descrip­tion. At one point we all felt the sto­ry seemed to be mov­ing at a snail's pace, but again we per­sist­ed. As the action picked up, we were glad we'd stuck it out. Caleb want­ed to con­tin­ue with the next book in the Nicholas Bene­dict series, but I pulled out a dif­fer­ent book next, one I hadn't yet real­ized was a part of a series.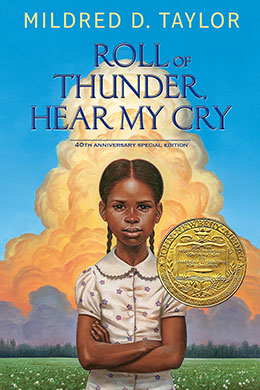 Roll of Thun­der, Hear My Cry proved to be cap­ti­vat­ing to all of us. We were trans­port­ed to the state of Mis­sis­sip­pi dur­ing the Great Depres­sion to expe­ri­ence the world as Cassie Logan saw it. Author Mil­dred D. Tay­lor does not sug­ar-coat the racial injus­tice of that peri­od, and more than once we were incensed by the words or actions of the white landowners.
We were drawn in by Taylor's expert sto­ry­telling and grew to like the pro­tag­o­nist and her fam­i­ly so much that we all want­ed the sto­ry to con­tin­ue. And it does, we dis­cov­ered, in Let the Cir­cle be Unbro­ken, which we read right after. Now, we have The Road to Mem­phis checked out of the library and are about to begin our third book nar­rat­ed by Cassie.
But not all of our book selec­tions have been on tar­get. I start­ed read­ing Bliz­zard! by Jim Mur­phy as Christ­mas break was about to begin. After a few days, before we were even halfway through this non­fic­tion book about "the storm that changed Amer­i­ca," Adam said that was enough. "It's the same thing again and again," he com­plained. I couldn't argue, so I let him off the hook. Still, I found the ver­bal snap­shots of urban and rur­al life in 1888 inter­est­ing and I want­ed to read to the end. Caleb was a will­ing audi­ence and so he and I fin­ished it over the next few days on our own. (It was­n't a par­tic­u­lar­ly long book, but it was one of the longest non­fic­tion books I've read aloud.)
With all of us at home near­ly all the time, we have been thank­ful for good books, which have giv­en us many places to go while in-per­son trav­el plans have been put on hold. I've also been thank­ful for my Read­ing Team with whom I've been able to share so many more lit­er­ary adven­tures due to the amount of time we have togeth­er these days. Read­ing aloud has become a well-entrenched dai­ly habit, and when there's a lull in the week­end or the evening, it's become com­mon­place for me to hear, "Mom, can you read now?"
I once spent time with a fam­i­ly that had kids in high school and col­lege, and they still enjoyed read-alouds every Mon­day evening after fam­i­ly din­ner, for which every­one made a point to be home. I think I'd con­sid­er it a suc­cess if my fam­i­ly could fol­low in their foot­steps. I think we may be well on our way to that goal.
Bookol­o­gy is always look­ing for new Read­ing Teams to help us cel­e­brate the joys of read­ing aloud togeth­er. Con­tact Lisa Bullard for fur­ther infor­ma­tion if you're inter­est­ed in participating.