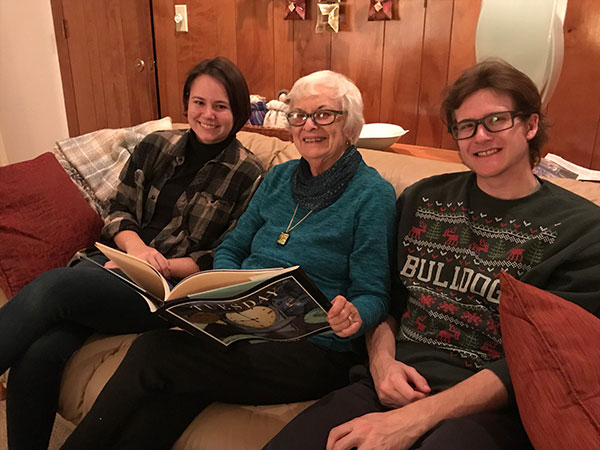 Nor­ma Gaffron is thrilled to have this chance to share her family's long tra­di­tion of read­ing aloud. Her chil­dren and grand­chil­dren are now grown, but they took the time dur­ing their Christ­mas Eve cel­e­bra­tion to share a pic­ture book togeth­er. Norma's son Tim took the pho­tos of Lau­ren (21), Nor­ma (88), and Erik (25) enjoy­ing Tues­day by David Wies­ner. As Nor­ma reports: "They sit still and lis­ten very well!" They chose Tues­day because when Erik was in preschool, he used to prompt their read-alouds by say­ing "Talk it, Grand­ma" — and Tues­day, Nor­ma says, is the per­fect book to "talk it."
Nor­ma notes that read-alouds pro­vide great oppor­tu­ni­ties for fur­ther dis­cus­sions. As she read with her grand­chil­dren grow­ing up, they would all look at the pic­tures and com­ment on what was hap­pen­ing ("Did you see the mouse in the cor­ner? Why do you think the illus­tra­tor put it there?").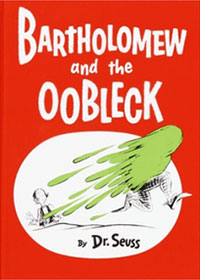 Nor­ma offers sage advice for new par­ents: "Read to your baby every day. Start now. If they don't under­stand the words, they grow by hear­ing your voice." In Norma's fam­i­ly, the read-alouds con­tin­ued even when the grand­chil­dren grew old­er. Even Spot the res­cue dog (now sad­ly depart­ed) seemed to lis­ten in and sat up to look at the illus­tra­tions. When Lau­ren was a teenag­er, she made Oobleck and invit­ed her friends to a par­ty where her father Tim read Dr. Seuss's Bartholomew and the Oobleck to the group of teens.
Nor­ma says, "I think I can safe­ly say that read­ing was a big part of what made our three kids and two grand­kids who they are today. If you can read, you can han­dle most any­thing. If you love read­ing, you learn a lot." She reports that Lau­ren is study­ing envi­ron­men­tal sci­ence at Uni­ver­si­ty of Wis­con­sin-Eau Claire and Erik grad­u­at­ed from Uni­ver­si­ty of Min­neso­ta Duluth with a major in jour­nal­ism — and that each had a book list­ed on their Christ­mas list, one a mys­tery, the oth­er one about cli­mate change. Nor­ma states, "I like to think we raised star read­ers here!"
_______________________
Bookol­o­gy is always look­ing for new Read­ing Teams to help us cel­e­brate the joys of read­ing aloud togeth­er. Con­tact Lisa Bullard for fur­ther infor­ma­tion if you're inter­est­ed in participating.