For this addi­tion to our Rais­ing Star Read­ers fea­ture, we're delight­ed to be show­cas­ing anoth­er new Star Read­er: Baby Nikhil was just 2 months old when he joined the Read­ing Team that also includes his grand­moth­er Con­stance Van Hov­en (Con­nie) and his big sis­ter Priya (2). The team was cel­e­brat­ing Connie's first oppor­tu­ni­ty to meet her new grand­son, who lives with his fam­i­ly in Colorado.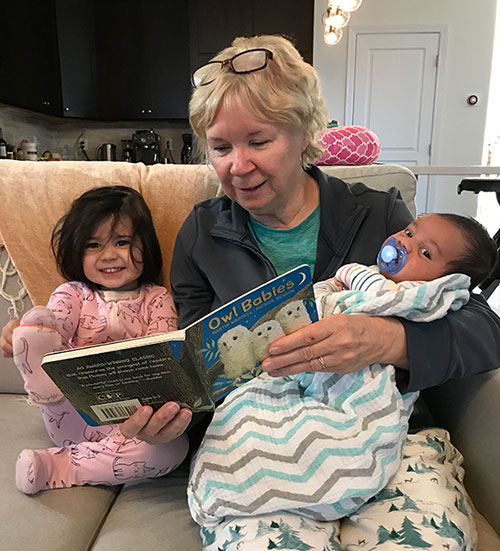 Con­nie (or Gigi, as she is known to her grand­chil­dren) chose Owl Babies, writ­ten by Mar­tin Wad­dell and illus­trat­ed by Patrick Ben­son, as the team's first read-togeth­er title. Con­nie notes that the book is gen­tle and reas­sur­ing and adds "who does­n't love owls?" She also says that new big sis­ter, Priya, enjoyed point­ing out each owl sib­ling on every page and that she cheered when their Owl Moth­er returned to the nest. Nikhil clear­ly sensed some­thing good was hap­pen­ing, because he stayed awake for two read­ings! Of course, Con­nie admits that their spon­ta­neous "whooo-whooo-whooo's" also helped keep his atten­tion. Con­nie comes from a fam­i­ly of bird­ers, so she is espe­cial­ly hap­py to share that love and antic­i­pates read­ing this book with them many times in the future.
_______________________
We here at Bookol­o­gy wish Con­nie, Priya, and Nikhil many won­der­ful hours of read­ing and owl-hoot­ing togeth­er! We espe­cial­ly look for­ward to a pho­to of the three of them enjoy­ing Connie's newest pic­ture book when it is pub­lished next year. If you would like us to fea­ture your Read­ing Team, con­tact Lisa Bullard for fur­ther infor­ma­tion about how to participate.