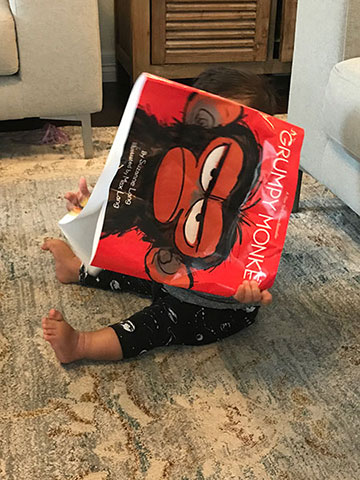 This addi­tion to Rais­ing Star Read­ers fea­tures the theme "If you read it, they will come."
As Con­nie (Gigi to her grand­chil­dren) explains: "Our read­ing team hit a bump in the road! On a recent trip to Col­orado, I intro­duced the pic­ture book Grumpy Mon­key (writ­ten by Suzanne Lang and illus­trat­ed by Max Lang) to Priya (now 2½) and Nikhil (now 10 months). This is a fun­ny, sweet sto­ry about allow­ing your­self to have a bad day every once in a while for no par­tic­u­lar reason.
"Nikhil absolute­ly did not want to sit on my lap to look at the book. He did, how­ev­er, want to man­han­dle the bright red shiny dust jacket.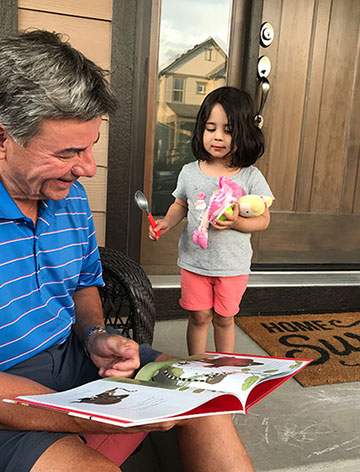 Priya did not want to sit and read either, though she was intrigued by the title. She kept repeat­ing, "grumpy mon­key" as she put­tered around the porch with her arm­ful of toys. It wasn't until Grand­pa picked up the book, began to read aloud, and clear­ly enjoyed the sto­ry, that Priya couldn't resist com­ing in for a look. Hence the moral of the sto­ry: If you read it, they will come!
"With the addi­tion of Grand­pa, our read­ing team has now grown by one. And Priya's dad reports that since we left, Grumpy Mon­key is Priya's most request­ed bed­time sto­ry. It seems she has added Jim Panzee, Marabou, and Nor­man to her list of beloved book friends."
_______________________
Bookol­o­gy is always look­ing for new Read­ing Teams to help us cel­e­brate the joys of read­ing aloud togeth­er. Con­tact Lisa Bullard for fur­ther infor­ma­tion if you're inter­est­ed in participating.