As we bring this year-like-no-oth­er to a close, Rais­ing Star Read­ers con­trib­u­tor Con­stance Van Hov­en shares a reflec­tion on the pow­er that books hold to con­nect us in so many ways: across time, across space, and across gen­er­a­tions. Here is Connie's mov­ing reminder that "'tis the sea­son for Read­ing Team angels":
Here's my read­ing team ready to head out­doors. One of Priya and Nikhil's recent favorite books is the much loved Frog­gy Gets Dressed, writ­ten by Jonathan Lon­don (illus­trat­ed by Frank Remkiewicz). It's the first of London's pop­u­lar series of books fea­tur­ing Frog­gy the frog.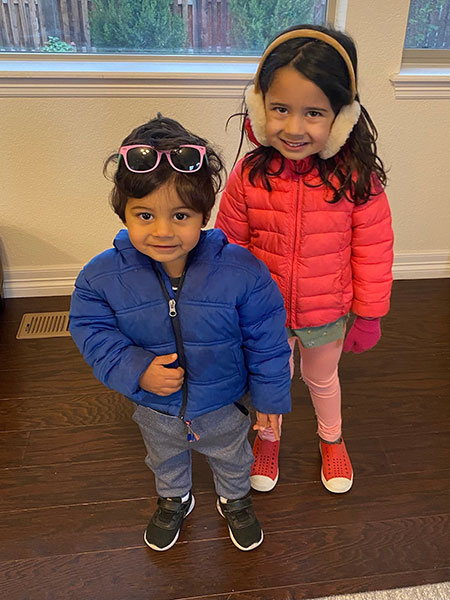 On a snowy win­ter day, despite his moth­er telling him not to, Frog­gy rush­es out­side to play. He repeat­ed­ly flop, flop, flops from house to yard, for­get­ting key pieces of cloth­ing, includ­ing the always fun­ny — under­wear. The humor, rep­e­ti­tion, and sil­ly sounds make this sto­ry a hit with kids who are well acquaint­ed with the lay­ers of clothes required for win­ter dress.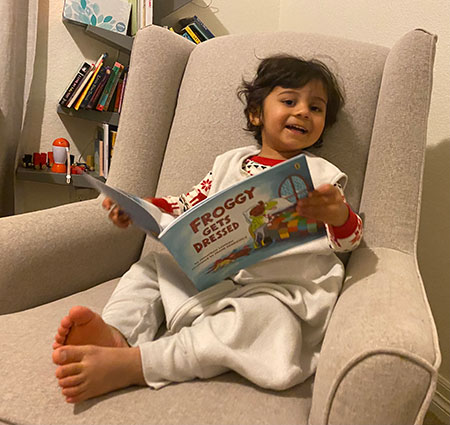 When I asked Priya if she ever for­gets to put any­thing on before she goes out­side, she quick­ly replied, "I nev­er for­get." Ahh, spo­ken like a true big sister….
If my mom (Priya's great-grand­moth­er) were here, she would tell Priya a sto­ry about a cloth­ing mishap her son had. One win­ter morn­ing he for­got to put his school clothes on; he wore his paja­mas to school! And she didn't even notice when he left the house to walk to school that he was wear­ing paja­mas under­neath his jack­et. When the oth­er chil­dren laughed at him, the teacher called my mom and asked her to bring appro­pri­ate clothes to school immediately.
When­ev­er I share books with Priya and Nikhil, I feel that there are angels look­ing over my shoul­der, enjoy­ing the sto­ries as much as we do. My love of books, par­tic­u­lar­ly children's books, comes from my par­ents. And this time of year, I can't help but think about the last books we read together.
Quite a few years ago when I was apply­ing for an MFA pro­gram in writ­ing for chil­dren, I told my folks about my plan. They were liv­ing in a senior res­i­dence at the time. It was Decem­ber, the last one before Dad passed away. My hus­band and I would some­times bring Sun­day din­ner to them. Often it was home­made car­rot soup and but­ter­scotch pud­ding — things my dad par­tic­u­lar­ly liked and could eas­i­ly eat with Parkinson's disease.
Though he was an avid read­er and an excel­lent writer, my dad didn't under­stand my desire to pur­sue a master's degree in writ­ing for chil­dren. He doubt­ed the val­ue of it. The last children's book he had spent time with was Richard Scarry's Best Word Book Ever. He rou­tine­ly hid the 70-page book under the couch because it took so long to read it to my youngest brother.
On that win­ter evening while they savored their soup, I told my par­ents, "I want to write books like this." And I read out loud Jacque­line Brig­gs Martin's pic­ture book biog­ra­phy, Snowflake Bent­ley (illus­trat­ed by Mary Azar­i­an). The award-win­ning book is the sto­ry of how one man "devel­oped the tech­nique of micro-pho­tog­ra­phy to reveal the grandeur and mys­tery of the snowflake." When I fin­ished read­ing, my dad smiled as best he could and said, "Now, I get it."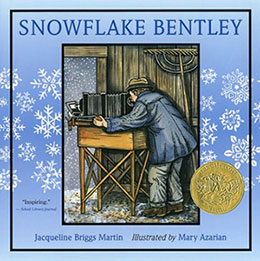 Dad was born less than 40 years after Wil­son Bent­ley. He was a code-crack­er dur­ing the Sec­ond World War and a com­put­er engi­neer after that, but he grew up on a farm, attend­ed a one-room school­house, and faced many skep­tics dur­ing his career in the com­put­er indus­try. He whole-heart­ed­ly relat­ed to Bentley's life­long pas­sion and the pre­ci­sion of his work.
This exquis­ite pic­ture book also appealed to my mom's love of nature. She appre­ci­at­ed won­der­ful details like Bentley's method for pho­tograph­ing spi­der webs. He had nieces and nephews rub coat hang­ers with sticky pine pitch so he could use them to gen­tly lift webs with­out dis­turb­ing any dew drops. Engag­ing and inspi­ra­tional, Snowflake Bent­ley is the kind of children's lit­er­a­ture I aspire to write.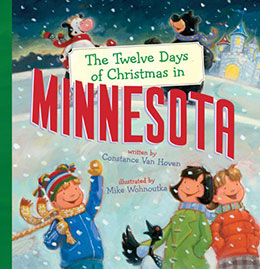 Sev­er­al years lat­er, just before Christ­mas, my first book came out. Mom was strug­gling with the loss of my dad and also with demen­tia. She was not well enough to attend the launch par­ty for The Twelve Days of Christ­mas in Min­neso­ta, (illus­trat­ed by Mike Wohnout­ka). I had cre­at­ed a slideshow for the par­ty, so I brought the slides to her the next day, along with a piece of cake. She lis­tened to the pre­sen­ta­tion with tears brim­ming in her eyes. Then she held the book close and said with halt­ing words, "I wrote this."
I knew she was con­fus­ing the fact that she had writ­ten sto­ries for chil­dren dur­ing her life­time and had always want­ed to get them pub­lished. Besides being one of the first kinder­garten teach­ers in the state of West Vir­ginia, she raised eight chil­dren of her own. She adored children's books and had snip­pets of hand­writ­ten sto­ries saved in a big brown enve­lope. I smiled at her and replied, "Yes, Mom, you wrote this book." And that was the truth of it, because with­out her enthu­si­asm for children's lit­er­a­ture I might nev­er have pur­sued writ­ing. Plus, her enthu­si­asm for her adopt­ed state of Min­neso­ta inspired many of my choic­es for items includ­ed in the book.
On the last Christ­mas of Mom's life, I was dread­ing a din­ner that I knew would be solemn. She had grown very qui­et. I decid­ed we should read a pic­ture book at din­ner to lift our spirits.
I chose to read Great Wolf and the Good Woods­man by Helen Hoover (illus­trat­ed by Bet­sy Bowen). It's the sto­ry of for­est ani­mals and birds com­ing togeth­er on Christ­mas Eve to help an injured woods­man. The mes­sage in the sto­ry is that every­one, even ene­mies, can join togeth­er and do the right thing.
Mom put down her fork that evening to enjoy the book. Being a bird­er, she rec­og­nized the chick­adee in the sto­ry at once — point­ing at it and nod­ding. She ran her fin­gers over each of the gor­geous wood­cuts as if there were real feath­ers, fur, and seeds. And she gig­gled at the bird and ani­mal sounds that I made — espe­cial­ly the howl­ing wolf. On that night, the gift of a pic­ture book con­nect­ed us once more.
It is said that tra­di­tions are the mag­ic of hol­i­days. So, as the years have passed, we often read Great Wolf and the Good Woods­man with our grand­chil­dren who come to Christ­mas din­ner. What I should say is: we read the book and per­form a pup­pet show with it. Besides an assort­ment of pup­pet crea­tures, some found in the sto­ry and some added for addi­tion­al parts, my hus­band, Greg, dons a wolf hat and growls and howls.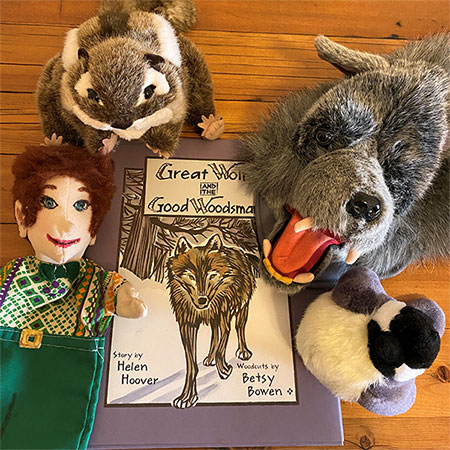 This year I have a dif­fer­ent book to read and use for a Christ­mas pup­pet show via Zoom. Priya and Nikhil have five old­er cousins. I've asked one of them, Tate, to read Jan Brett's new pic­ture book, Cozy, while my hus­band and I oper­ate the puppets.
The main char­ac­ter in the sto­ry is Cozy, a musk ox. Var­i­ous Arc­tic ani­mals seek shel­ter from harsh weath­er under Cozy's thick win­ter coat. Because we don't have a giant musk ox pup­pet, I stretched my artis­tic skills to the max and made a card­board prop. Greg will be Cozy's voice, pro­claim­ing the "house rules" with loads of improvisation.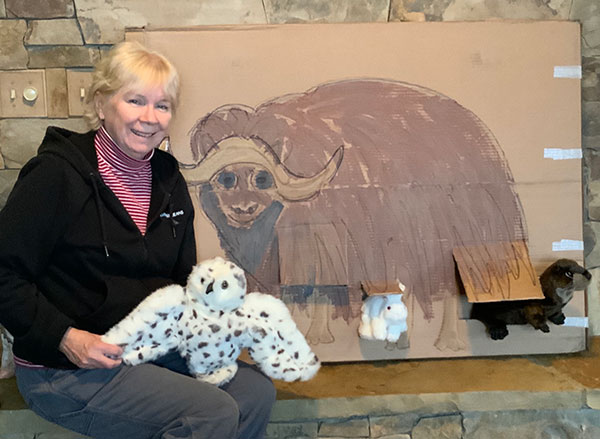 Cozy is tru­ly a fit­ting sto­ry for 2020. There's so much to talk about in this book! The col­lec­tion of "less famil­iar to us" Arc­tic ani­mals seems espe­cial­ly rel­e­vant giv­en the ongo­ing envi­ron­men­tal con­cerns of cli­mate change and oil drilling in Alas­ka. Besides Cozy the musk ox, there are lem­mings, a snow­shoe hare, a snowy owl, a wolver­ine and more. These are ani­mals we need to know more about and care about.
Like Great Wolf and the Good Woods­man, Cozy is also a sto­ry about get­ting along. Kids see a com­mu­ni­ty of "some­times ene­mies" adher­ing to rules in order for all to sur­vive. Yes, coop­er­at­ing gets old and yes, the guests get cranky, but liv­ing in har­mo­ny is possible.
When spring final­ly comes it's time for Cozy to kick up his heels and cel­e­brate. Kind of like what we all hope and pray will hap­pen for us this com­ing year. Mean­while, we'll live by the rules and we'll share sto­ries how­ev­er we can, cer­tain that our Read­ing Team angels are right there with us, lis­ten­ing and enjoying!
_______________________
Bookol­o­gy is always look­ing for new Read­ing Teams to help us cel­e­brate the joys of read­ing aloud togeth­er. Con­tact Lisa Bullard for fur­ther infor­ma­tion if you're inter­est­ed in participating.