This month, Rais­ing Star Read­ers con­trib­u­tor Con­stance Van Hov­en has extend­ed both her Read­ing Team and the fun by host­ing a Zoom get-togeth­er for all of her grand­kids. Here's Connie's descrip­tion of the event, one that might right­ful­ly be titled "A Seri­ous Case of the Sillies."
I'll be hon­est, this install­ment of Rais­ing Star Read­ers should be called "Rais­ing Gigi's Spir­its." The thing I miss most about spend­ing time with my Read­ing Team (Priya and Nikhil), and our oth­er grand­kids as well, is shar­ing laugh­ter — every­thing from gig­gles to rolling-on-the-floor bel­ly laughs. Fam­i­ly video chats are great, but often the dis­cus­sion turns to seri­ous top­ics like who got vac­ci­nat­ed, who start­ed going to school in per­son, who is find­ing work dif­fi­cult, etc. I have been long­ing for a way to escape the COVID cloud and sim­ply have fun together.
Recent­ly, I found the inspi­ra­tion I was search­ing for from a group called Ran­dom Acts of Silli­ness—a children's the­ater and pub­lic art orga­ni­za­tion in Boze­man, Mon­tana, where I live. The group spon­sored a pop-up exhib­it at a park fea­tur­ing four­teen life-sized sculp­tures made by local artists. The fig­ures were whim­si­cal, col­or­ful, sil­ly, and each pre­sent­ed with an accom­pa­ny­ing short story.
My hus­band and I took the self-guid­ed, social­ly-dis­tanced tour of the "Menagerie of the Imag­i­nary" on an oth­er­wise drea­ry win­ter day. My favorite cre­ation? "Delowlah Lu," fash­ioned by mixed media artist Vic­ki Fish. And I also loved Vicki's sto­ry about this child of the woods that col­lects smiles in her pockets!.
I wished we could share the tour and all of its silli­ness with our grand­kids in per­son, but vir­tu­al­ly would have to do. On a cold and snowy Sun­day after­noon I invit­ed all sev­en of the grand­kids and their par­ents to enjoy pho­tos of the menagerie in the park and then to share a sil­ly pic­ture book of their choice dur­ing a Zoom meet­ing. Even though sev­er­al of the kids are past the pic­ture book stage (which you and I know can nev­er tru­ly hap­pen), I knew they would have old favorites to share. And they didn't disappoint…
If pot­ty humor isn't your thing, you may want to stop read­ing right now. But I will say I found this arti­cle, "Why Are Kids So Obsessed with Poop Jokes?" by Jen­ny Marder enlight­en­ing and reas­sur­ing. You might too!
Audrey (thir­teen), the leader of the pack of grand­kids, got the ball rolling with her selec­tion: Wal­ter the Fart­ing Dog, writ­ten by William Kotzwin­kle and Glenn Mur­ray, illus­trat­ed by Audrey Col­man. And lo and behold, there were sev­er­al in the group ready and wait­ing with fart machines to add sound effects. Guess they had inklings about the direc­tion this book par­ty might go!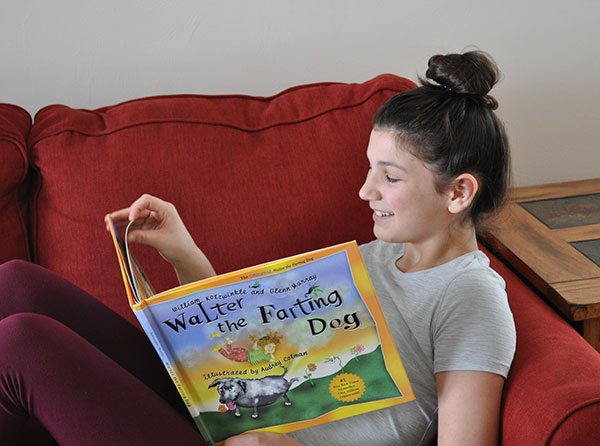 After Audrey read a few pages of this hilar­i­ous sto­ry about a gassy dog turned fam­i­ly hero and held up some of the equal­ly sil­ly illus­tra­tions, Priya (four) was burst­ing to share her choice. Grumpy Mon­key, writ­ten by Suzanne Lang and illus­trat­ed by Max Lang, is a book I dis­cussed in a pre­vi­ous Rais­ing Star Read­ers arti­cle, and I'm hap­py to report it has remained a favorite of Priya's ever since. She opened to the page where Jim Panzee, a cranky mon­key, has been danc­ing with a por­cu­pine and end­ed up, in her words, "with stick­ers in his booty." Priya could hard­ly get the words out she was laugh­ing so hard. Which, of course, made every­one else laugh.
Then Priya showed the group her lit­tle brother's favorite book, I Stink, writ­ten by Kate McMul­lan and illus­trat­ed by Jim McMul­lan. She zeroed in on the pages depict­ing alpha­bet­i­cal items the garbage truck has "eat­en," glee­ful­ly point­ing out "pup­py poo" and "ugly under­pants." This brought Nikhil (two) run­ning to join in the laugh­ter. He thought wear­ing his mom's glass­es was very fun­ny as were the words "ugly under­pants." He wasn't alone! And I'm sure he would like me to men­tion he is also fond of the page where the garbage truck burps.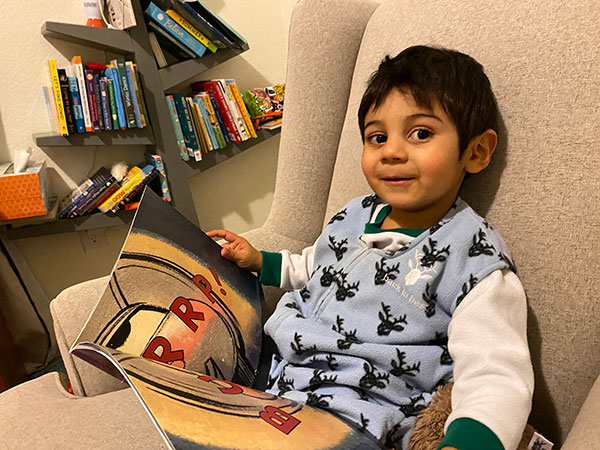 Next up was Abe (eight), who had his own set of glass­es for his pre­sen­ta­tion. Abe is a big fan of rid­dles, and he chose one from his Ranger Rick mag­a­zine: Why do pirates go camp­ing? Because they like to get out and enjoy the fresh arhrrrrr!
(Did you know that Ranger Rick, pub­lished by the Nation­al Wildlife Fed­er­a­tion to "pro­mote out­door activ­i­ty and instill pas­sion for nature," is more than fifty years old? I'd say Ranger Rick has also done a stel­lar job of encour­ag­ing reading!)
Abe's sec­ond con­tri­bu­tion was a page from The Day the Crayons Quit, writ­ten by Drew Day­walt and illus­trat­ed by Oliv­er Jef­fers. In this enter­tain­ing book, unhap­py crayons voice their com­plaints by writ­ing let­ters to the child who uses them. The red cray­on, for exam­ple, is worn out from overuse — it works hard­er than any oth­er col­or in the box and even has to work over­time on hol­i­days like Christ­mas and Valentine's Day.
Abe's sis­ter, Claire (twelve), intro­duced a fun fact from Weird But True! 8: 300 Out­ra­geous Facts, a Nation­al Geo­graph­ic Kids book. It seems Har­vard Uni­ver­si­ty has col­lect­ed toe­nail clip­pings from more than 100,000 peo­ple for stud­ies on the caus­es of cer­tain diseases.
After a round of "eeu­uwwws" and a note to self to google that fact for more info, we moved on to the gen­tle humor found in a chap­ter from Frog and Toad Togeth­er, writ­ten and illus­trat­ed by Arnold Lobel. The chap­ter titled "The Dream" was read by Wyatt (ten) with help from Coop­er (who only gets gas when he eats too many plums from the trees in his yard).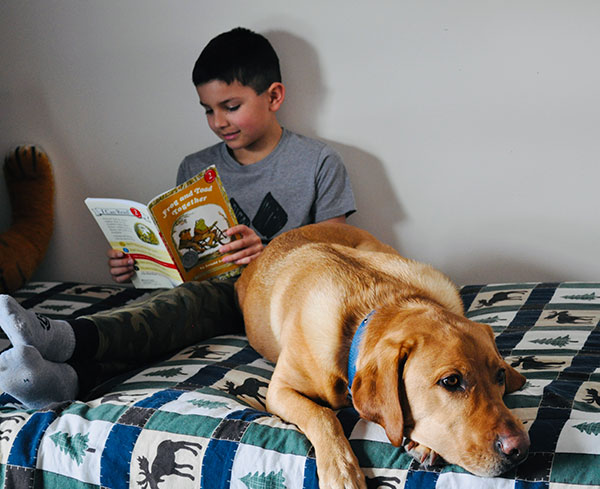 When Wyatt moved into a new house this past sum­mer, I helped him and his two sib­lings decide which of their books to keep and which to donate to the library sale. My heart was filled with joy as all three ago­nized over which books to part with. They even pulled "give-away" books off each other's piles and put them on their own "save" piles. In the end, the pile of books to actu­al­ly give away was small, and there was no doubt that Frog and Toad Togeth­er would make the trip to the new home like a trea­sured friend.
The final book shared was from Lau­ren Tarshis's pop­u­lar I Sur­vived series. Tate (eight) appar­ent­ly didn't get the "sil­ly pic­ture book" memo … but his choice of I Sur­vived the Attack of the Griz­zlies, 1967, which is a thrilling and ter­ri­fy­ing fic­tion­al­ized account of a bear event in Glac­i­er Nation­al Park, sparked a dis­cus­sion among the cousins about future book-swap­ping of I Sur­vived titles.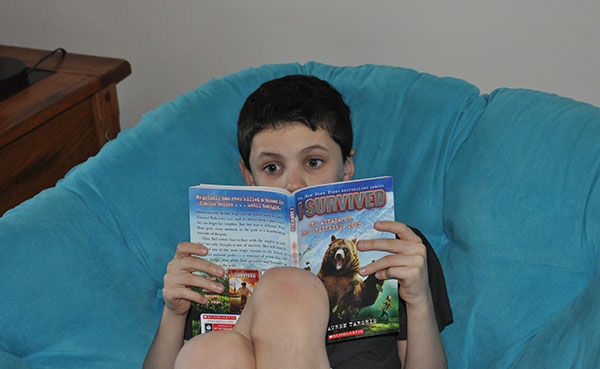 Every book the kids chose for our Zoom ses­sion was or cur­rent­ly is a best­seller. I'm sure many of you know these books well. These are books that have delight­ed and amused thou­sands and thou­sands of kids. As has been said, "Read­ing gives us some­place to go when we have to stay where we are." And you can cer­tain­ly add the word "FUN" after someplace …
Who knows when we can all be togeth­er again to share gig­gles and bel­ly laughs in per­son, but like fan­ci­ful Delowlah Lu, I left our sil­ly book share-a-thon with pock­ets full of smiles, and a heart light enough to fly. I think my Extend­ed Read­ing Team felt the same way.
_______________________
Bookol­o­gy is always look­ing for new Read­ing Teams to help us cel­e­brate the joys of read­ing aloud togeth­er. Con­tact Lisa Bullard for fur­ther infor­ma­tion if you're inter­est­ed in participating.