In this lat­est post for our Rais­ing Star Read­ers col­umn, con­trib­u­tor Con­stance Van Hov­en shares the ways that books helped her recon­nect with her Read­ing Team now that they are able to be togeth­er in per­son once again: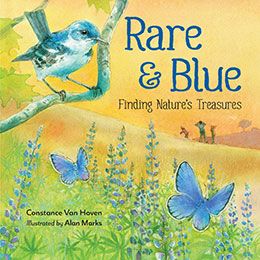 After 16 months apart from this duo, I was eager to read to them my new non­fic­tion pic­ture book, Rare and Blue: Find­ing Nature's Trea­sures, fol­lowed by a chat about our favorite things in the book. Which I also planned would lead to me shar­ing my favorite species: a cerulean war­bler, which would then lead to shar­ing some won­der­ful bird-themed pic­ture books I brought along. That was the plan, anyway.
Priya and Nikhil's par­ents read Rare and Blue to them months ago when it came out. Still, what a rare plea­sure as an author to read my book with my own grand­chil­dren on a sun­ny spring after­noon. Since the road to pic­ture book pub­li­ca­tion can be awful­ly long, you need to savor joy when you have the opportunity!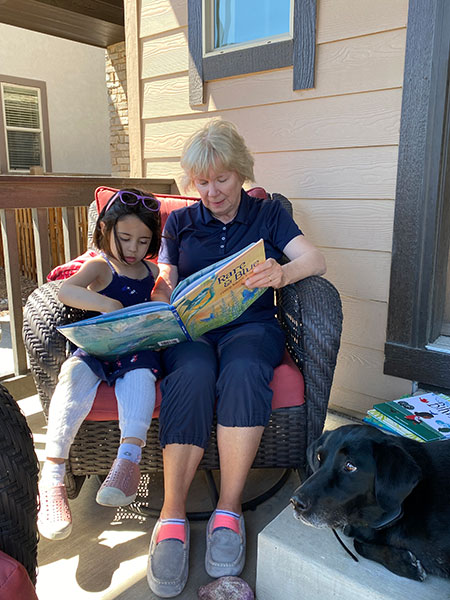 I asked Priya what species in the book was her favorite, and she quick­ly answered, "the slith­ery snake." Alan Marks's illus­tra­tion of the east­ern indi­go snake coiled across a full spread is impres­sive! We talked about these snakes and the fact that they are becom­ing rare because their habi­tat is dis­ap­pear­ing. And that some peo­ple take them from the wild to keep as pets.
Nikhil was hap­py count­ing the Karn­er blue but­ter­flies in the book, and I point­ed out the cerulean war­bler with his beau­ti­ful blue feath­ers. I explained that we prob­a­bly wouldn't see a cerulean war­bler in Col­orado, but we might see a moun­tain blue­bird. Then, per my plan, it was time to talk about robins.
On pre­vi­ous vis­its, we enjoyed observ­ing a robin fam­i­ly nest­ing above a light fix­ture next door. From the front porch, we could see all the com­ings and goings and even expe­ri­ence a few aer­i­al acro­bat­ics as the birds swooped between porch­es. Well, you know what they say about the best laid plans … As fate would have it, no nest this year. And there were very few robins around; per­haps the females had not arrived yet.
We read Robins!: How They Grow Up by Eileen Chris­telow, one of my all-time favorite bird-themed pic­ture books, any­way. Priya espe­cial­ly enjoyed the humor­ous and fac­tu­al run­ning com­men­tary of the two young robins in the book. She promised she would let me know if a new robin fam­i­ly moved in next door.
I was so car­ried away with books I want­ed to share, I for­got that we are a Read­ing Team. Thank good­ness, the team stepped up! The first book that Priya want­ed to show me was There's a Giraffe in My Soup by Ross Burach. This cur­rent most-request­ed bed­time sto­ry is a zany riff on the old line "Wait­er, there's a fly in my soup." Which of course, Priya doesn't know. She howls at the assort­ment of zoo ani­mals show­ing up in bowls of soup and the clever puns that go along with them. And she loves repeat­ing, "bon appétit."
A sec­ond much loved book by the same author, also fea­tur­ing a giraffe, is I Am Not a Chair. Both kids have this one just about mem­o­rized. They are quick to call out any slip-ups in the read­ing of this fun­ny sto­ry about a frus­trat­ed giraffe who keeps being mis­tak­en for a chair and must final­ly stand up for him­self. Even Nikhil under­stood the twist at the end, when the giraffe mis­takes a tor­toise for a chair. "Tur­tle is angry," he said seriously.
While Priya is all about read­ing sil­ly books, rid­ing her scoot­er, and doing art projects, Nikhil is the typ­i­cal tod­dler on the go, want­i­ng to do every­thing his big sis­ter does. Nikhil is also/still truck crazy. He made sure to tell us right away that Mon­day is the day the garbage truck comes.
Nikhil squealed with delight when he opened a wrapped pack­age I brought, first because the paper had but­ter­flies on it, but most­ly because it con­tained a copy of Go, Go, Trac­tors!. This book was giv­en to Nikhil as a gift from the author, Can­dice Ran­som. It's part of a Step into Read­ing vehi­cle series with illus­tra­tions by Mike Yama­da. Nikhil devoured page after page depict­ing a broth­er and sis­ter doing all kinds of work at farms, con­struc­tion sites, even at the dump while rid­ing on col­or­ful trac­tors. Priya is begin­ning to sound out words; soon she will be able to read this book to her brother.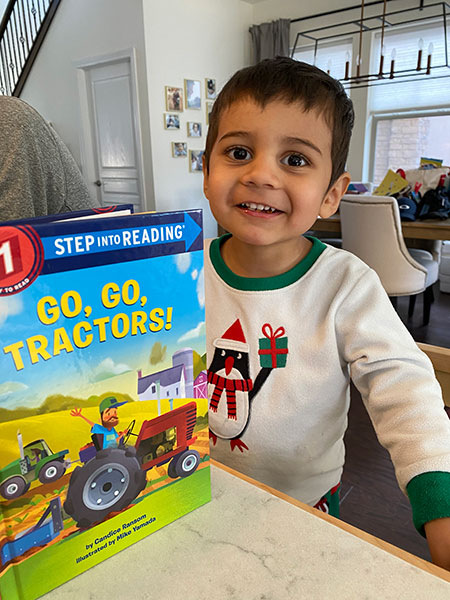 Now, back to birds — I wasn't ready to give up on them. I had brought a plas­tic tub filled with pic­ture books about birds from my own col­lec­tion. I set the tub at one end of the kitchen and it didn't take long for Priya to dive in. First, she found Sita Singh's pic­ture book Birds of a Feath­er. I knew the stun­ning, fan­ci­ful illus­tra­tions of peafowl by illus­tra­tor Stephanie Fiz­er Cole­man would grab her attention.
Priya and Nikhil nes­tled close as I read about Mo, a rare white leucis­tic pea­cock who is in despair over his looks despite the encour­age­ment of his friends. The kids empathized with Mo; Nikhil sweet­ly repeat­ed the oth­er peacock's com­ments: "You're still a pea­cock. You'll be fine." And both cheered when Mo's glow­ing white feath­ers saved the jun­gle celebration.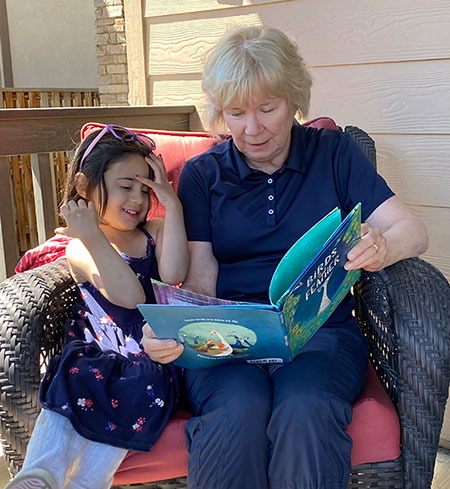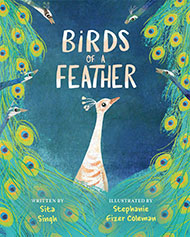 At the end of Birds of a Feath­er, the author pro­vides infor­ma­tion on her child­hood in India where wild peafowl are com­mon. Her hap­py mem­o­ries of pea­cocks on roofs and in yards inspired the book.
Right away, Priya remind­ed me that Nanu and Nani, her oth­er set of grand­par­ents, grew up in India. She said she will ask them about pea­cocks the next time they talk. Priya also told me that she is going to vis­it India some­day, and she will be look­ing for peacocks.
The oth­er book Priya espe­cial­ly liked was Birds by Carme Lem­nis­cates — which actu­al­ly has its own vibrant pea­cock. This book is a live­ly intro­duc­tion to the ways that birds inspire us. Priya lin­gered over the page that shows a young girl rid­ing on a fly­ing goose. "I'd like to do that," she said. "So would I," I agreed.
The words at the end of Birds res­onat­ed with me in terms of my short time togeth­er with my read­ing team: "Birds are like thoughts. They come. Stay awhile. And then fly away. They fly where their hearts call them." Too soon our vis­it was over; it was time for me to fly away …
Now, I'm start­ing to fill that tub with more books from my book­shelves to be ready for our next vis­it when­ev­er it hap­pens. And I'm look­ing for­ward to what­ev­er books my team might want to share. I am grate­ful that books, my choic­es and espe­cial­ly theirs, helped this Read­ing Team get reac­quaint­ed and reconnected.
Yes­ter­day when I spoke to Priya, I asked her if a robin had made a nest yet next door. "No, but I saw a cat walk by," she replied. Her obser­va­tion­al skills are growing!
_______________________
Bookol­o­gy is always look­ing for new Read­ing Teams to help us cel­e­brate the joys of read­ing aloud togeth­er. Con­tact Lisa Bullard for fur­ther infor­ma­tion if you're inter­est­ed in participating.