In this addi­tion to Rais­ing Star Read­ers, we check in again on a Read­ing Team that morphs each time we meet them (depend­ing on who's will­ing to sit still long enough!). This time around, Con­nie (Gigi to her grand­chil­dren), is cel­e­brat­ing a read­ing mile­stone that will res­onate with every book lover. Here's how Con­nie describes it:
I brought along sev­er­al book choic­es on a recent Col­orado vis­it to my Read­ing Team: Priya (3 years) and Nikhil (15 months). To my hap­py sur­prise, though, Priya had a book to share with me — one she chose from the library. Priya hap­pi­ly brought out Still Stuck, writ­ten and illus­trat­ed by Shin­suke Yoshi­take. And she couldn't wait to show me her favorite page. She imme­di­ate­ly turned to it and began to giggle.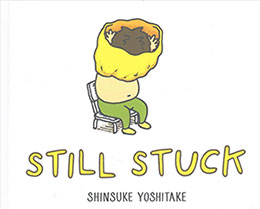 Still Stuck is the sto­ry of a young child get­ting ready for a bath. He gets his shirt stuck try­ing to pull it over his head. Once the shirt is hope­less­ly stuck, he imag­ines what life would be like with a shirt that nev­er gets unstuck. He even imag­ines meet­ing anoth­er child with a stuck shirt. (This is Priya's favorite page.)
In a three-year-old's world, get­ting dressed and undressed by your­self is, of course, a big deal. Priya showed me that she had recent­ly learned the trusty tod­dler tech­nique of putting a jack­et on with­out any help, aka "arm-arm-flip it over your head." No won­der this book res­onat­ed so much.
At the end of the sto­ry, the child requires a lit­tle help from mom to get unstuck, only to face the next dilem­ma of a stuck paja­ma top. Which Priya found hys­ter­i­cal. Find­ing humor in what­ev­er sit­u­a­tions befalls us is a good thing — even three-year-olds rec­og­nize that life is a nev­er-end­ing series of get­ting stuck and unstuck.
As a writer of children's books, boy could I relate to get­ting stuck and unstuck, all while being aware there is more "stuck" lurk­ing around the next cor­ner. Thank good­ness for friends who can relate to stuck, friends who can help us out of stuck, and friends who can cel­e­brate the joy of unstuck with us!
After sev­er­al read­ings of Still Stuck, it was Priya's bed­time. But first, there was just enough time for her to demon­strate what stuck looks like. And unstuck.
Thank you, Priya, for remind­ing me of the great plea­sure we feel when we dis­cov­er, all on our own — the per­fect book.
P.S. Nikhil just mas­tered walking/running. He was far too excit­ed about his new-found "unstuck­ness" to sit down with a book. I plan to help him dis­cov­er his own per­fect book on my next visit.
_______________________
Bookol­o­gy is always look­ing for new Read­ing Teams to help us cel­e­brate the joys of read­ing aloud togeth­er. Con­tact Lisa Bullard for fur­ther infor­ma­tion if you're inter­est­ed in participating.