Pic­ture books you'll want to add to your repertoire!
Touch the Bright­est Star
writ­ten and illus­trat­ed by Christie Matheson
Green­wil­low Books, 2017.
A night-time book, set­tling down for bed, qui­et­ly look­ing at the pages, hear­ing the sto­ry. An inter­ac­tive book? Yes, because the author/illustrator wise­ly invites the read­er and lis­ten­er to touch the pages, to help the mag­ic of the evening unfold. One star? Three stars? A sky full of stars? Did the read­er make that hap­pen? I am quite cer­tain the read­ers of this book will have a curios­i­ty about the night, about inter­act­ing with the night. "Close your eyes and breathe in deeply. Nod your head if you feel sleepy." It works! The blue tones of the night become deep­er, rich­er as the pages turn. The crea­tures who inhab­it the night are made with col­lage tech­niques in a friend­ly way: the fire­flies, the owls, the deer, and the moon. Just love­ly. Read this one out loud often.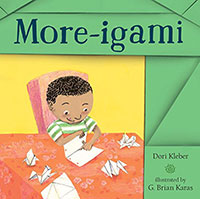 More-iga­mi
writ­ten by Dori Kle­ber, illus­trat­ed by G. Bri­an Karas
Can­dlewick Press, 2017
This hap­pened to me! An artist came to our school to show us origa­mi, the Japan­ese art of fold­ing paper to cre­ate rec­og­niz­able shapes such as cranes, paper cups, and frogs. I was entranced. I fold­ed all the time. So it is with Joey. His teacher tells him he must prac­tice and have patience if he is to become a mas­ter. He prac­tices on every bit of paper he can find. Too many, it turns out. His moth­er tells him he has to stop. Very prac­ti­cal­ly, he goes to a neigh­bor­hood friend and dis­cov­ers anoth­er means to prac­tice. And thus the author and illus­tra­tor por­tray anoth­er love of mine: fold­ing nap­kins! This is a charm­ing book. G. Bri­an Karas' illus­tra­tions pay atten­tion to detail and sur­round the read­er with images of origa­mi. There are sub­tle folds in the paper behind each illus­tra­tion, giv­ing the pages depth. It's an earnest sto­ry, but Karas cap­tures the humor of Joey's efforts. "Many artists are mis­un­der­stood, ami­go," said Mr. Lopez."Especially when they are just learn­ing." This book offers gen­tle encour­age­ment to bud­ding artists.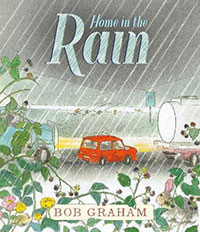 Home in the Rain
writ­ten and illus­trat­ed by Bob Graham
Can­dlewick Press, 2016
When you close the cov­ers of this book, hav­ing read the last page, you will sigh with con­tent­ment. In a car­toon style, with atten­tive focus on detail, the pages unfold in the rain. Words and art, you can smell the rain, hear it thrum­ming on the car roof. If you have ever dri­ven in the rain, this is that famil­iar expe­ri­ence. The com­bi­na­tion of the words, "And not look­ing where it was going, the coun­try­side ran straight into the edge of the high­way, bring­ing with it the faint smell of farm­yards," and the unfold­ing of a famil­iar-to-many sto­ry of time spent on a long dri­ve, with a sur­prise as splen­did as the sun­rise at the end of Mom and Francie's road trip, make this a good read-aloud for your home.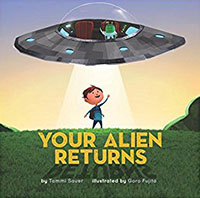 Your Alien Returns
writ­ten by Tam­mi Sauer, illus­trat­ed by Goro Fujita
Ster­ling Children's Books, 2016
"When you least expect it, some­thing spe­cial will get your atten­tion. Your alien will be back. He will invite you over for a play date. You will need to check with your par­ents. Luck­i­ly, you'll find the per­fect moment to ask for per­mis­sion." Imag­ine you're the illus­tra­tor with a man­u­script — just words — before you. You read those words and what do you draw? The man­u­script doesn't say that the per­fect moment occurs when Dad is fix­ing the kitchen plumb­ing and a geyser of water is flood­ing the kitchen. After their first book, Your Alien, Sauer and Fuji­ta return with anoth­er very fun­ny, very humane book. Writ­ten in sec­ond per­son, the "you" voice, there's every oppor­tu­ni­ty for the lis­ten­ing child to feel a part of the wild adven­ture. And when our boy feels very alone among the aliens, espe­cial­ly after doing some­thing that wrecks their fun, how will he make it up to them? Dis­cussing the pos­si­bil­i­ties will pro­vide a good dis­cus­sion. But the author and illus­tra­tor know the real sto­ry, one that puts us on notice for includ­ing emer­gency sup­plies in our back­packs when set­ting off on an inter­plan­e­tary trip. Your Alien Returns is fun and poignant and absolute­ly believ­able. The illus­tra­tions are exact­ly right for the book, with lots of good alien details. A good read-aloud for your class­room or old­er sto­ry­time group.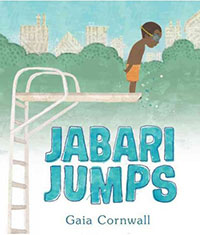 Jabari Jumps
writ­ten and illus­trat­ed by Gaia Cornwall
Can­dlewick Press, 2017
Hav­ing just fin­ished his swim­ming lessons, Jabari is ready to jump off the div­ing board for the first time. Or is he? Dad and lit­tle sis­ter accom­pa­ny him to the pub­lic pool where the div­ing board is very high up. This is a sto­ry about Jabari work­ing up his courage to try some­thing new, a cir­cum­stance which will feel very famil­iar to young read­ers. The per­spec­tives on height will be dizzy­ing to those who are just a teen­sy bit uncer­tain them­selves. Will Jabari jump? There's good ten­sion in this sto­ry and a sat­is­fy­ing end­ing. The illus­tra­tions are pen­cil, water­col­or, and col­lage in sum­mer­time-at-the-pool shades of green and blue with full-page spreads and small vignettes, reflect­ing the larg­er-than-life feel­ings and the small steps tak­en to climb that lad­der. You'll want this one of your selves.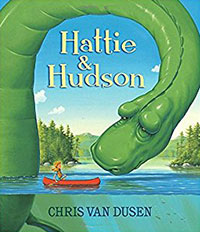 Hat­tie & Hudson
writ­ten and illus­trat­ed by Chris Van Dusen
Can­dlewick Press. 2017
Have you spent any time at your lake cab­in? Have you giv­en any thought to what might be liv­ing in the depths of your lake? Hattie's hav­ing one of those sum­mers. She loves to explore and she loves to sing. Her singing brings a pre­his­toric crea­ture up out of his lair so he can join her … in singing! Oth­er lake cit­i­zens aren't quite so appre­cia­tive as Hat­tie is. They're scared! They want to do some­thing about the mon­ster! Hat­tie sens­es that he's a friend­ly sort so she sets out to save him. How on earth can she do that? This is a sweet sto­ry of friend­ship and prob­lem-solv­ing with illus­tra­tions as only Chris Van Dusen can cre­ate them: suf­fused with col­or, sun­light and moon­light reflect­ing from the lake, and the grand scale of a lake mon­ster from the depths!