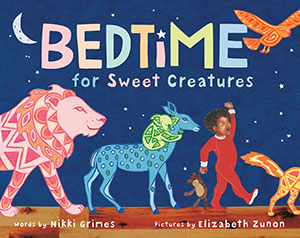 Such a charm­ing book! From Nik­ki Grimes, we hear the sto­ry of a young boy stalling his bed­time, all the while col­lect­ing a menagerie of imag­i­nary crea­tures. This is a child who has well-prac­ticed ploys for avoid­ing bed­time. His par­ents respond with play­ful­ness and good humor. Mom and dad are patient but, final­ly, the child is too sleepy to stay awake.
Eliz­a­beth Zunon's imag­i­na­tion-fueled crea­tures are vivid­ly pat­terned, cre­at­ing cap­ti­vat­ing images of a lion, a bear, a snake, an owl … just right for nam­ing out loud.

The blend of Grimes' smile-induc­ing accu­ra­cy about bed­time rit­u­als and Zunon's exu­ber­ant ani­mals cre­ates a book that par­ent and child will glad­ly read each night. It's fun!
Bed­time for Sweet Creatures
writ­ten by Nik­ki Grimes
illus­trat­ed by Eliz­a­beth Zunon
Source­books Jab­ber­wocky, 2020
ISBN 978 – 1492638322