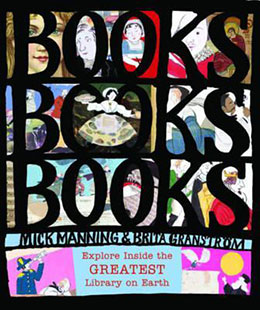 Books Books Books
Mick Man­ning and Bri­ta Granström
Can­dlewick Press, 2017
Book lovers appre­ci­ate the beau­ty, rar­i­ty, inven­tive design, and con­tent of all types of books. Those in the vast col­lec­tion of the British Library (more than 150 mil­lion lit­er­ary arti­facts on 15 floors and 400 miles of shelv­ing) will help to make book lovers of the chil­dren in your life. The clever and reveal­ing spreads in this book will hold the atten­tion of bud­ding book lovers, rais­ing ques­tions that will inspire read­ing the books and doing fur­ther research.
Who could resist see­ing The Klencke Atlas which is 7 feet by 5 feet 10 inch­es when opened. It is "so heavy it takes 6 peo­ple to lift it."
The small­est book in their col­lec­tion is Lady Jane Grey's prayer book. It is 2−3÷4″ x 3−3÷8″ inch­es. She was queen of Eng­land for 9 days before Mary had her "impris­oned and sen­tenced to death. She car­ried this lit­tle hand­writ­ten book to her execution."
We learn that many of the rooms in the Library are bomb-proof.
Shake­speare's First Folio is stored deep under­ground. On Shake­speare's pages of Books Books Books, there are small, hand-drawn sketch­es with dia­logue bub­bles pro­vid­ing humor and infor­ma­tive tidbits.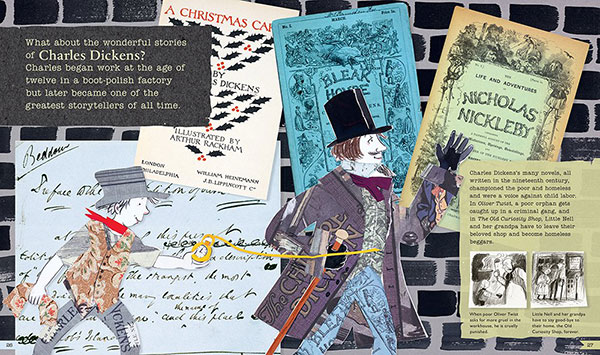 The col­or­ful col­lages include frag­ments of each book so there is a great deal to study and absorb, just the right amount of busy-ness. The design is fresh, col­or­ful, lay­ered, and inviting.
You'll find infor­ma­tion about Jane Eyre, the Brontes, Charles Dick­ens, sci­ence with da Vin­ci and Dar­win, fan­ta­sy by Lewis Car­rol, sheet music, Sher­lock Holmes … The authors have cre­at­ed a tempt­ing sur­vey of the world's most influ­en­tial books with child-rel­e­vant facts, humor, and col­lectible tidbits.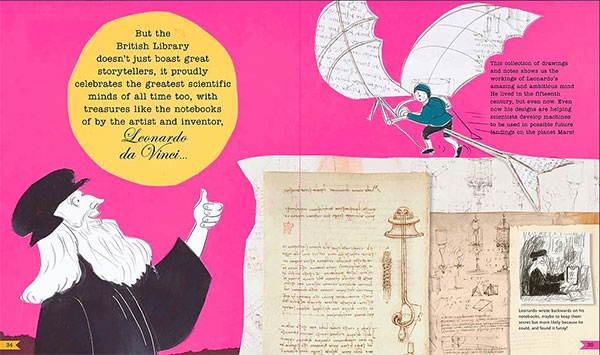 This is a good book for open­ing dis­cus­sions about books, muse­ums, and what it means to pre­serve cul­ture and his­to­ry for present and future gen­er­a­tions. Rec­om­mend­ed for the class­room and home.