A dear­ly drawn cat named Felic­i­ty — hon­or­ing Félicette, a stray cat in Paris who became the first cat in space on Octo­ber 18, 1963 — takes us on an explo­ration of stargaz­ing. As a book on obser­va­tion­al astron­o­my, it's an excit­ing book for kids and adults alike.
Short para­graphs cov­er what to wear when stargaz­ing, where to go for max­i­mum view­ing, the clas­si­fi­ca­tion of stars, con­stel­la­tions, plan­ets, galax­ies, and short-short sto­ries behind the con­stel­la­tions of each sea­son. The sun, the moon … what exact­ly are we see­ing when we gaze up at the stars?
This book will whet appetites for fur­ther study but, more impor­tant­ly, I believe it will encour­age kids to ven­ture out­side, to open their eyes, to explore the unknown … because this book is friend­ly, under­stand­able, and sump­tu­ous. It's so invit­ing that I know that, as a child, I would have returned to it again and again, mem­o­riz­ing facts, and doing my best to under­stand the large con­cepts of the space sur­round­ing our earth.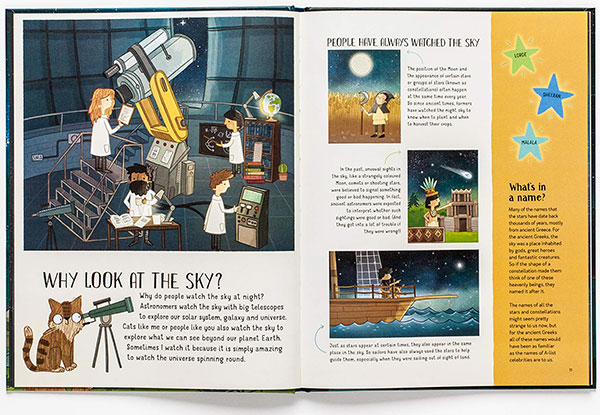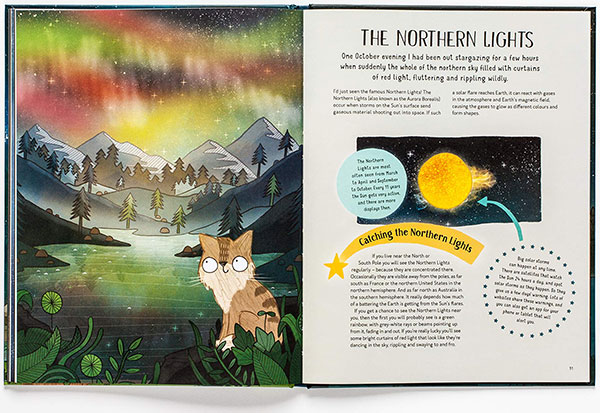 A glos­sary and an index make this book use­ful for home and class­room ref­er­ence. And there's so much inspir­ing information!
High­ly recommended.
A Cat's Guide to the Night Sky
writ­ten by Stu­art Atkinson
illus­trat­ed by Bren­dan Keaney
Lau­rence King Pub­lish­ing, 2018
ISBN 978−1−7862−7073−3