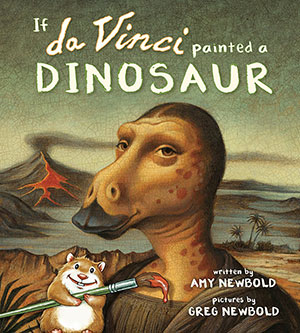 At once ridicu­lous and sub­lime, If da Vin­ci Paint­ed a Dinosaur is mag­net­ic. Which dinosaur will be fea­tured in whose paint­ing? Quick, turn the page!
Amy New­bold, author, and Greg New­bold, illus­tra­tor, fol­low up If Picas­so Paint­ed a Snow­man with this vol­ume com­bin­ing a herd of his­toric and imag­i­nary dinosaurs includ­ed in 19 famous artists' famil­iar paint­ings: Degas' bal­leri­nas as dinosaurs en pointe in pink tutus, the immense claw of a Gigan­tosaurus for Edvard Munch's Scream, and sev­en types of dinosaurs play­ing jazz in an Aaron Dou­glas paint­ing (so appeal­ing). Or you might res­onate to the dain­ty Gal­lim­imus danc­ing through a Har­ri­son Begay two-dimen­sion­al painting.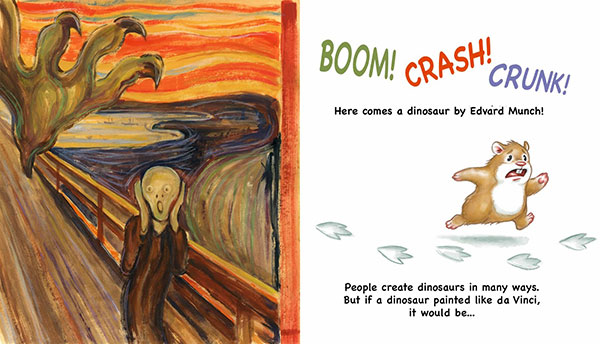 If the artists are unfa­mil­iar, short but pithy bios in "Meet the Artists" give the read­er spring­boards for seek­ing out more infor­ma­tion. In fact, this book will spark research into dinosaurs, artists, paint­ings, and drawing.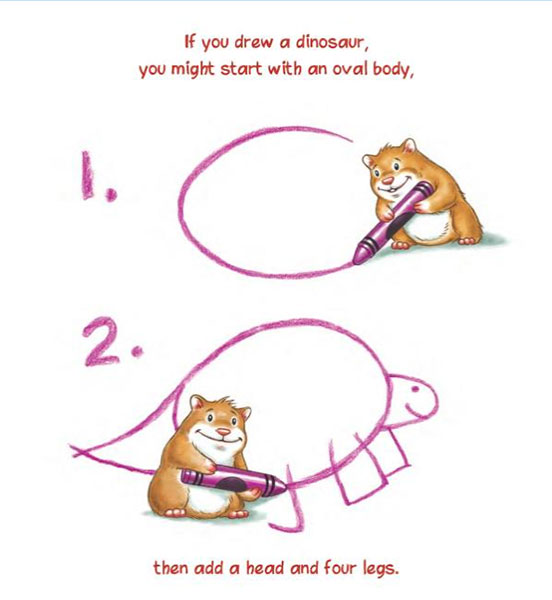 A small mouse scur­ries through the pages, stop­ping often to draw his (or her) own dinosaur. A sec­tion in the back mat­ter is devot­ed to "Advice for Artists." Who can resist using big, famil­iar shapes to cre­ate your own dinosaur por­traits? (For class­room use, show this book, talk about how the art dif­fers from the orig­i­nal, and read more about how pale­oartists draw and col­or dinosaurs from sci­en­tif­ic evi­dence in Cather­ine Thimmesh's book, Scaly Spot­ted Feath­ered Frilled.)
This read­er also appre­ci­at­ed the guide to iden­ti­fy­ing the dinosaurs in the paint­ings. You know pre­cise­ly which read­ers will respond to that information.
This is an inspired way to con­nect chil­dren to art and artists.
If Da Vin­ci Paint­ed a Dinosaur
Amy New­bold, writer, Greg New­bold, illustrator
Tilbury House Pub­lish­ers, 2018
ISBN 978−0−884−4866−7