The theme of being your­self is famil­iar. Many books, movies, and plays are devot­ed to this idea. When it's done well, we all sit up a lit­tle straighter, laugh more con­fi­dent­ly, and dream about all the things we'd like to do to be true to who we are. Chil­dren need to hear this mes­sage often so anoth­er book, one that tells the sto­ry in a dif­fer­ent way, is welcome.
Mau­rice the Unbeast­ly is a delight for the eyes, great fun to read out loud, and quirky enough to hold the atten­tion of even the most beast­ly among the chil­dren you know.
The col­or palette, in tones of rust, green, and black is par­tic­u­lar­ly pleas­ing. Karl James Mount­ford finds ways to make it both sooth­ing and alarm­ing, depend­ing on the strength and inten­si­ty of the col­ors. The title page says "The art­work for this book was cre­at­ed using tra­di­tion­al and dig­i­tal mixed media and the occa­sion­al roar of an untamed artist." And there you have it … the book is quite tongue-in-cheek.
Mau­rice him­self is drawn as a round-faced, smil­ing, and gen­tle beast. He has sharp angles at times, but even when he tries, "He growled and scowled. He snarled and howled," Mau­rice isn't your usu­al monster.
Amy Dixon sets up our expec­ta­tions well from the very begin­ning, "Mau­rice was not like the oth­er Beasts. His voice was as sweet and refresh­ing as dan­de­lion lemon­ade on a hot day. He pre­ferred his snacks green and organ­ic. And he was ridicu­lous­ly photogenic."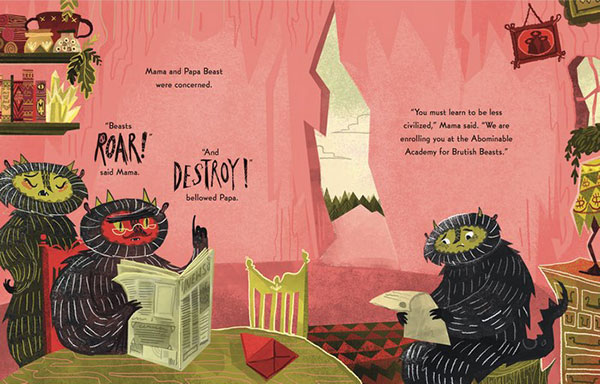 His par­ents are unhap­py with Mau­rice because he doesn't con­form so they send him to the Abom­inable Acad­e­my for Brutish Beasts where he dis­ap­points his teach­ers again and again. "Maurice's roar is dread­ful­ly melo­di­ous and delight­ful to the ear."
When a ter­ri­ble threat con­fronts the Acad­e­my it is Mau­rice who knows just what to do with the ter­ri­fy­ing crea­ture, turn­ing the tide for his suc­cess in school. Not only is Mau­rice unchanged, but he changes the beings and expec­ta­tions around him. And isn't that the hap­pi­est of outcomes?
Kudos to the team who cre­at­ed this book. It will engage chil­dren in sto­ry­time and younger class­rooms as well as at home where I sus­pect it will be read over and over.
Mau­rice the Unbeastly
writ­ten by Amy Dixon
illus­trat­ed by Karl James Mountford
pub­lished by Ster­ling Children's Books, 2017
ISBN 978−1−4549−1953−7