Read­ing this book, I jumped up and down with excite­ment. I kept turn­ing the pages until I had read every one of the true sto­ries. My brain revved into high speed as I learned about girls and women, prob­lem solv­ing and inno­vat­ing, with result­ing pro­grams like Teach for Amer­i­ca, Child­line India, Ran­domKid, and Tech­no­va­tion Chal­lenge. What could I do? How could I make a difference?
Cather­ine Thimmesh has a tal­ent (Girls Think of Every­thing) for select­ing the charis­mat­ic women and pro­grams to fea­ture, research­ing to dis­till infor­ma­tion the read­er wants to know, and telling true sto­ries con­cise­ly. Melis­sa Sweet illus­trates por­traits and con­cepts with her well-known bril­liance, adding to our under­stand­ing. Togeth­er, the book becomes a whole that moves the read­er to action.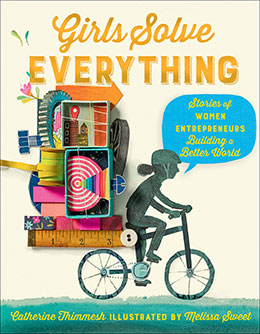 What a book! Treat your­self to these inspir­ing sto­ries of smarts, brav­ery, per­sis­tence, and derring-do.
Girls Solve Every­thing:
Sto­ries of Women Entre­pre­neurs Build­ing a Bet­ter World
writ­ten by Cather­ine Thimmesh
illus­trat­ed by Melis­sa Sweet
Clar­i­on Books, 2022
ISBN 978 – 0358106340
ages 10 through adult