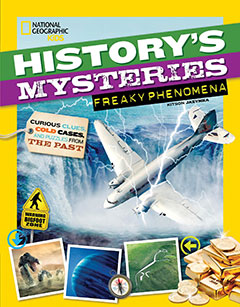 You pick up the bright­ly col­ored book lying on the table and open it near the mid­dle. What's this book about? In 1848, the HMS Ere­bus and the HMS Ter­ror set out to find the link between the Pacif­ic Ocean and the Atlantic Ocean by sail­ing into the Arc­tic waters. The ships and the crews dis­ap­peared in the Arc­tic. The search to find them went on for 11 years. It wasn't until 2014 that one of the ships was found; the sec­ond was found two years lat­er. The captain's nick­name was "the man who ate his boots." What hap­pened to them? Facts are pre­sent­ed, the­o­ries are offered, and the accom­pa­ny­ing illus­tra­tions make every­thing real. (pages 50 – 53)
Turn­ing to anoth­er page far­ther into the book, you come across Paul Kruger, who was pres­i­dent of South Africa from 1883 to 1900. He led the resis­tance to British rule near the end of the Anglo-Boer War. He gave orders to bury the nation­al trea­sury, "mil­lions of dol­lars' worth of gold and sil­ver bars, coins, and dia­monds," if the British attacked Pre­to­ria, the cap­i­tal, in 1900. No one knows what hap­pened to that trea­sury. The short write-up offers "the details, the clues, and the the­o­ries," among pho­tos and draw­ings, the for­mat for the entire book. (pages 122 – 125)
It's an excit­ing, fast-paced book, pre­sent­ing teasers of infor­ma­tion that will inspire fur­ther research. Many of the mys­ter­ies are new to this read­er. Some of them are famil­iar but I learned more in this com­pact pre­sen­ta­tion than I had known before.
China's clay war­riors, with a won­der­ful draw­ing of the bur­ial plot, labeled with par­tic­u­lars such as "sec­ondary palaces" and "office for sac­ri­fi­cial offer­ings." What have sci­en­tists dis­cov­ered? What about the curse that some believe was cast over the site?
King Tut's tomb? Lord Carnar­von, its dis­cov­er­er, is said to have died from this tomb's curse … from an infect­ed mos­qui­to bite. Or did the tomb con­tain killer tox­ins? Details, clues, and the­o­ries. A pho­to of Carnar­von and Howard Carter draws the read­er into the tomb. (pages 126 – 129)
Crazy craters in north­ern Rus­sia, the Uff­in­g­ton White Horse in Eng­land, the lost city of the Turquoise Moun­tain in Afghanistan? There's even an inter­view with a mod­ern-day Nation­al Geo­graph­ic Explor­er, Jørn Hurum.
This book will set imag­i­na­tions on fire. It's per­fect for every read­er because the con­tent and the for­mat make it irre­sistible for dip­ping in and get­ting lost inside the infor­ma­tion. It would make a sat­is­fy­ing read-aloud on a car trip, a good con­ver­sa­tion starter at home or in the class­room, and a great gift for any­one ages 8 and up.
Good news: once this book has been devoured, there's a com­pan­ion title, His­to­ry's Mys­ter­ies: Curi­ous Clues, Cold Cas­es, and Puz­zles from the Past, also writ­ten by Kit­son Jazynka.
Go for it!
History's Mys­ter­ies: Freaky Phenomena
Kit­son Jazynka
Nation­al Geo­graph­ic Part­ners, LLC, 2018
ISBN 9−78142633164−0