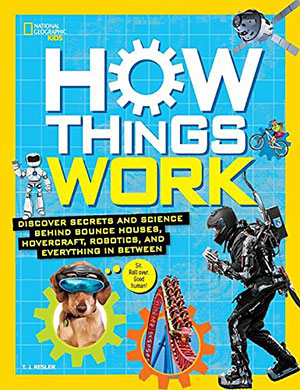 Now, if that Sci­ence Ency­clo­pe­dia wasn't cool enough, here's anoth­er sure-fire hit for kids who love to read facts, true sto­ries, and know how things work.
In fact, the book is called How Things Work and it's anoth­er pow­er­house from Nation­al Geographic.
As the book admon­ish­es, "PUT THIS BOOK DOWN NOW. It's dan­ger­ous. It might make you think you can do impos­si­ble things." Fol­lowed close­ly by "You must be one of those. The kind of kid who thinks 'just because' isn't a real answer."
Do you know one of those kids? End­less ques­tions? On the trail for the real sto­ry? Won­der­ing all the time? Lucky you. Lucky them if you give them this book.
How do hov­er­boards work? This comes with a "Try This!" that encour­ages exper­i­ment­ing with the attrac­tion and repelling of magnets.
How do microwaves work? There are info­graph­ics, fun facts, dia­grams, anoth­er Try This with ice cubes, Myth vs. Fact, a short biog­ra­phy of Per­cy Spencer whose melt­ing peanut clus­ter bar sparked his imag­i­na­tion … and it's all ter­ri­bly exciting.
The visu­als that accom­pa­ny every fact in this book, the lay­out, the col­ors, all of this put togeth­er makes me want to devour this book. There are so many cool things explained that it makes me breathless.
Don't you want the kid in your life to feel the same way about learning?
How Things Work
T.J. Resler
Nation­al Geo­graph­ic, 2016
ISBN 978 – 1426325557, $19.99