by Vic­ki Palmquist
There are books we remem­ber all of our lives, even if we can't remem­ber the details. Some­times we can't even remem­ber the sto­ry, but we remem­ber the char­ac­ters and how they made us feel. We recall being trans­port­ed into the pages of the book, see­ing what the char­ac­ters see, hear­ing what they hear, and under­stand­ing the time and spaces and breath­ing in and out of the char­ac­ters. Do we become those char­ac­ters, at least for a lit­tle while, at least until we move on to the next book? Is this why we can remem­ber them long after we've fin­ished the book?
This col­umn is called Read­ing Ahead because I'm one of those peo­ple oth­ers revile: I read the end of the book before I've pro­gressed to that point in the sto­ry. I read straight through for as long as I can stand it and then I have to know how the sto­ry ends. I tell myself that I do this because then I can observe the writ­ing and how the author weaves the end­ing into the book long before the last pages. That's par­tial­ly true. But I also admit that the ten­sion becomes unbear­able for me.
When I find a book that is so deli­cious that I don't want to know the end until its prop­er time, then I know that I am read­ing a book whose char­ac­ters will live on in me. Their cells move from the pages of the book into my arms and shoul­ders, head­ing straight to my mind and my heart.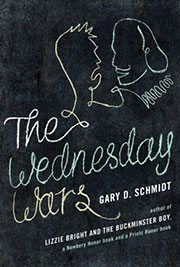 For me, those books are The Rid­dle­mas­ter of Hed by Patri­cia McKil­lip, The Lord of the Rings by J.R.R. Tolkien (but not The Hob­bit), The Wiz­ard of Earth­sea by Ursu­la K. LeGuin, The Dark is Ris­ing by Susan Coop­er, Drag­ons in the Waters and Arm of the Starfish by Madeleine L'Engle, and every one of the Deep Val­ley books writ­ten by Maud Hart Lovelace.
There are some new­er books that haven't yet been test­ed by time. I could feel that I was absorb­ing The Wednes­day Wars by Gary D. Schmidt and Catch You Lat­er, Trai­tor by Avi and Absolute­ly, Tru­ly by Heather Vogel Fred­er­ick. There are many, many oth­er books that I admire and enjoy read­ing but I don't feel them becom­ing a part of me in quite the same way.
I sus­pect that you have a short list of books that make you feel like this. They are an unfor­get­table part of you.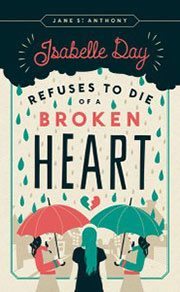 I've just fin­ished read­ing Isabelle Day Refus­es to Die of a Bro­ken Heart by Jane St. Antho­ny (Uni­ver­si­ty of Min­neso­ta Press). It is a fun­ny and absorb­ing book about learn­ing to deal with grief. That's a place I've lived for the last four years in a way I hadn't expe­ri­enced before. When my moth­er died, my all-my-life friend, an essen­tial part of me was trans­formed into some­thing else. I don't yet know what that is.
Isabelle Day is learn­ing about this, too. Her father, her pal, her fun­ny man, her let-me-show-you-the-delights-of-life-kid par­ent has died short­ly before the book begins. Her moth­er is in the throes of grief, pulled inward, not com­mu­ni­cat­ing well. Isabelle and her moth­er have moved from Mil­wau­kee, where close friends and a famil­iar house stand strong, to Min­neapo­lis, where Isabelle's mom grew up. They are liv­ing upstairs in a duplex owned by two elder­ly sis­ters who imme­di­ate­ly share friend­ship and food and wis­dom with Isabelle, some­thing she's feel­ing too prick­ly to accept. There are new friends whom Isabelle does­n't trust to be true.
But for any­one who has expe­ri­enced grief, this book will reach out and touch you gen­tly, soft­ly, let­ting you know that oth­ers under­stand what you are feel­ing. Isabelle comes to under­stand that she doesn't have to feel alone … the world is wait­ing to be expe­ri­enced in oth­er, new ways.
It's a beau­ti­ful­ly writ­ten book in that the words fit togeth­er in love­ly, some­times sur­pris­ing, some­times star­tling ways. There is great care tak­en with the sto­ry and the char­ac­ters. And yet the unex­pect­ed is always around the cor­ner. Isabelle is a com­plex per­son. She does not act pre­dictably. There is no sense of "woe is me" in this book. There's a whole class of what I call "whiny books" (most­ly adult) and this isn't one of them. This book is filled with life, won­der, humor, and most­ly understanding.
Isabelle and Grace and Mar­garet, Miss Flo­ra and Miss Dora, they are all a part of me now. When I am feel­ing sad and miss­ing the peo­ple I have lost, I will re-read this book because I know it will pro­vide heal­ing. And I can laugh … it's been hard to do that. Thank you, Jane.