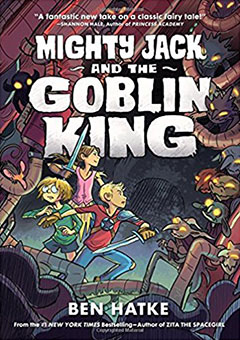 We are thrust into the midst of the action, which nev­er stops until the epi­logue. This is how Ben Hatke tells a story.
We don't know what's going on. There's no set­up. Instead, we quick­ly learn that Jack is climb­ing some veg­e­ta­tive mat­ter to find the ogre who kid­napped his sis­ter Mad­dy and take her home. His friend, Lil­ly, no side­kick, is climb­ing along­side him.
The vil­lains of the piece are rats, giants, and that ogre. They have con­trol of a nexus point that exists out­side of time and space, a con­nect­ing link between worlds. It looks like the tow­er of a cas­tle built on an aster­oid. The place has lost its lus­ter because of the giants' nefar­i­ous choic­es, among them the need to feed a human child to the machine that blocks the bridges between worlds. It's sat­is­fy­ing to dis­cov­er these plot points through­out the story.
Jack and Lil­ly are split up when Lil­ly falls from the vine (a rat is respon­si­ble). Jack vows to come back for her but he is com­pelled to find Maddy.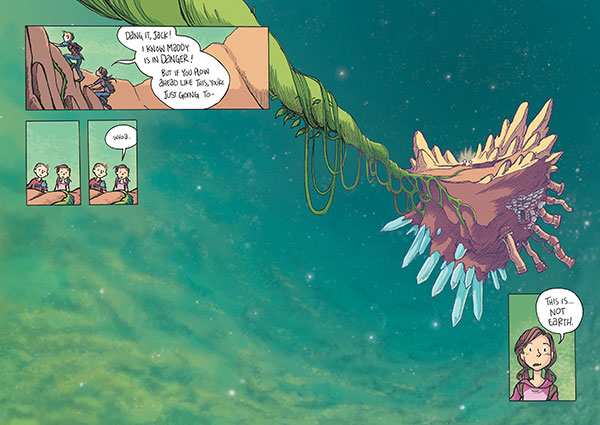 The adven­ture takes off in two direc­tions. Lil­ly is seri­ous­ly hurt by the rats … and saved by the gob­lins who inhab­it the low­er reach­es of the nexus point. The Gob­lin King demands that Lil­ly will be his bride. She has oth­er ideas. In the "trash from all worlds," she finds a Shel­by Mus­tang. She will find a way to take it with her. Lil­ly is a hero in the truest sense of the word.
The gob­lins are the most endear­ing char­ac­ters in the book. They are fun­ny, resource­ful, knowl­edge­able, and they care for Lil­ly. Their lan­guage is not exact­ly Eng­lish and it suits them. Now we know how gob­lins communicate.
There are unan­swered ques­tions. Why can't Mad­dy talk? Where did the mag­ic seeds come from that give Jack and Lil­ly short bursts of need­ed pow­er? Why is Jack's mother's house being fore­closed? These are the intrigu­ing bits that encour­age the read­er to fill in the sto­ry, becom­ing one with the storyteller.
Hatke's art­work is so much a part of the sto­ry that the book couldn't be read out loud with­out show­ing the frames of the graph­ic nov­el. His brain cre­ates exot­ic set­tings that invite lin­ger­ing to absorb their odd­ness. His vil­lains are das­tard­ly, fear­some, invit­ing us to defeat them. The gob­lins are oth­er-world­ly but a lit­tle cud­dly. (Just a lit­tle.) The col­or palette is spacey where appro­pri­ate, con­vinc­ing­ly sub­ter­ranean when we're in the goblin's habi­tat, and quite rich­ly appeal­ing when the veg­e­ta­tion trans­forms. And that Shel­by Mustang!
The book is filled with sur­pris­es. A turn of the page often brings an unex­pect­ed turn of events. Even the epi­logue, often used to wrap up a sto­ry and tell us about the future, leaves us with a sense of urgency: what will hap­pen next?
There is a first book, Mighty Jack, which I have not read. It most like­ly cre­ates the world in which Lil­ly, Jack, Mad­dy, and Phe­lix the drag­on (!) live, but I'm very glad that a read­er does­n't have to first read that book to enjoy this one. I always hat­ed going to my cousin Sig's house, read­ing his com­ic books, nev­er know­ing where the sto­ries were com­ing from or how they would end because they were pub­lished episodically.
This is sto­ry­telling at its very best. Appeal­ing, fun, hold-your-breath sto­ry­telling. I could have revealed that this is a re-telling of the Jack and the Beanstalk sto­ry but it is so much more than that. Ben Hatke's pow­ers enchant his read­ers once again.
(Please be advised that this might have a PG13 rat­ing because of some vio­lence and one swear word. You'll know best if this fits for your family.)
Mighty Jack and the Gob­lin King
a graph­ic nov­el by Ben Hatke
col­or by Alex Camp­bell and Hilary Sycamore
pub­lished by First Sec­ond, 2017
ISBN 978−1−6267−226−68