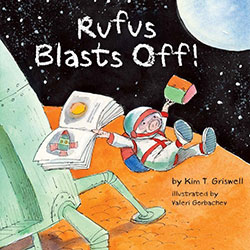 Some of my read­ers know that the very first sto­ry I wrote (in sec­ond grade) was Pigs in Space. I still have it. I still won­der what­ev­er prompt­ed me to write it. This was before the Mup­pets launched their pigs into space. And it was def­i­nite­ly before Kim T. Griswell and Valeri Gor­bachev launched their pig into space in Rufus Blasts Off! Or am I giv­ing it away? After all, a refrain in the book is "No pigs in space."
So then how does Rufus Leroy Williams III, the pig at the cen­ter of this tale, blast off?
His col­leagues, the pirates, are bored with the same old sto­ries that Rufus reads out loud. They want some­thing new. So Rufus knows he'll have to set off on an adven­ture. He choos­es to trav­el to Mars.
When he gets to the Space Cen­ter, the guard lets him right in. He escorts Rufus up the ele­va­tor into the space­craft. This is the stuff of which deli­cious fan­tasies are made.
Then every­thing comes to a screech­ing halt. Com­man­der Luna does­n't want a pig on board … and she has a lot of good rea­sons (my favorite is "They leave nose prints on the view screens." Rufus is inven­tive. He's smart. He can think of counter-arguments.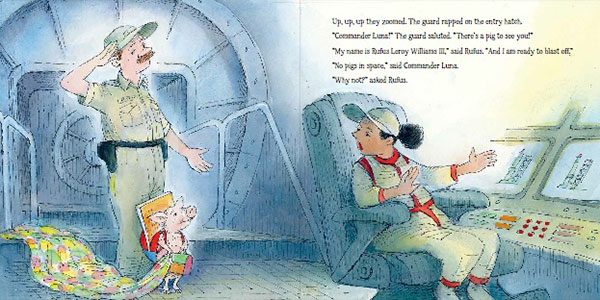 The best rea­son? One of their crew mem­bers, Mis­sion Spe­cial­ist Rita, was sched­uled to read to Amer­i­ca's school chil­dren from Mars. But she has a cold. Luck­i­ly, Rufus knows how to read and he has a big pile of books.
This book is just right for read­ing out loud (and prob­a­bly more than once). With the right amount of rep­e­ti­tion and pre­dictabil­i­ty, a say-it-with-me count­down, appeal­ing char­ac­ters, and a good dose of humor, this is a book that sub­tly rein­forces the impor­tance of sto­ries and reading.
Valeri Gor­bachev pro­vides added details for the dis­cern­ing read­er. There's a Space Suit store (of course there is). There's a Mars land vehi­cle, a space sta­tion, and a hiber­na­tion cap­sule. Plen­ty of juicy space details. Cre­at­ed with water­col­or and pen, the illus­tra­tions match and enhance the text.
Fol­low­ing Rufus Goes to School and Rufus Goes to Sea (the pirates), this is my favorite. The delight-filled, light-heart­ed sto­ry and the space set­ting make this a sto­ry to read and re-read. And it's about pigs in space!
Rufus Blasts Off!
writ­ten by Kim T. Griswell
illus­trat­ed by Valeri Gorbachev
pub­lished by Ster­ling Chil­dren's Books, 2017
ISBN 978−1−4549−2099−2