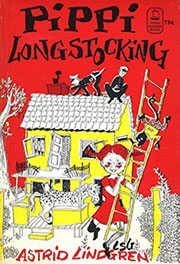 At Bookol­o­gy, we believe the adage about "the right book for the right read­er." Those are not nec­es­sar­i­ly the books that we see in adver­tise­ments, in the blog­gers' buzz, or on award lists. Only by lis­ten­ing to each oth­er, and espe­cial­ly to kids, talk about books do we find those gems our hearts were look­ing for but didn't know existed.
When you think about your favorite books, what's your per­spec­tive? Do you remem­ber the sto­ry first? The char­ac­ters? The cov­er? The illustrations?
For many of us, it's the book cov­er. Yes­ter­day, I was look­ing for books about cats. I want­ed to rec­om­mend some clas­sics. I remem­ber a book from the 1960s that had a boy and a cat on the cov­er. Both of them were fac­ing away from me, look­ing at a neigh­bor­hood. I remem­ber that the cov­er is yel­low. Do you know the book I'm talk­ing about? I asked Steve, because he fre­quent­ly talks about this book. When I described the cov­er, he knew right away: It's Like This, Cat by Emi­ly Cheney Neville. (I'm not pub­lish­ing the cov­er here because I don't want to give it away. Take a look at the bot­tom of this article.)
Often it's the illus­tra­tions. Who can for­get the thick black out­lines of My Friend Rab­bit? Or the clear, bright col­ors of My Heart is Like a Zoo? Or the pen and ink draw­ings of Lois Lenski?

Some­times it's the char­ac­ters. The book with the spi­der and the pig. That one with the adven­tur­ous red-haired girl with pig­tails. That book where the high-school kids share their poet­ry in class. That auto­bi­og­ra­phy of the author grow­ing up in Cuba and the USA. Those char­ac­ters are so mem­o­rable that, once read, we can't for­get them. (The book cov­ers are post­ed at the end of this article.)
When we're meet­ing with the Chap­ter & Verse book club each month, the last half-hour is a time to rec­om­mend books we've enjoyed. I always add to my read­ing list. Do you have an inten­tion­al, set-aside time for talk­ing with oth­er adults about the children's books they're read­ing and are thrilled to rec­om­mend? I par­tic­u­lar­ly love it when they're books that aren't on the buzzers' radar. I feel as though we've shared a secret.
I also hunt through the state lists. These are books that edu­ca­tors and librar­i­ans are choos­ing because they know they have kid appeal. So often, these are not books that have been on award lists … but they're passed along, buzzed about among child read­ers, rec­om­mend­ed by the adults in their lives.

Not all books need to be new. There are fab­u­lous books hid­ing on the library shelves and in used book­stores. Do a sub­ject search. It's amaz­ing what you can find by look­ing at a library cat­a­log or doing an online search.
Everyone's pub­lish­ing book­lists these days. How do you know which ones to fol­low? Do the titles res­onate with you? Do you find your­self eager­ly adding their sug­ges­tions to your TBR pile? Then book­mark those lists! Vis­it them fre­quent­ly or sign up to receive noti­fi­ca­tions when they pub­lish their next list.
The award books and books with stars are one way to find good books but don't rely sole­ly on those sources. Don't for­get the wealth of fab­u­lous books that fly under the radar.
Talk to each oth­er. Adult to adult. Child to adult. Child to child. Adult to child. Old or new. Hid­den trea­sure or best­seller. We learn about the best books when we hear rec­om­men­da­tions from anoth­er read­er, anoth­er perspective.