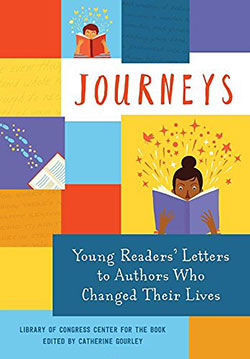 If you ever doubt that kids are affect­ed by books, read any one of these let­ters. They will touch your heart deeply. You'll remem­ber each two- or three-page mis­sive and the ardent con­nec­tion to the book. If you haven't already done so, you'll more than like­ly be moved to read (or re-read!) the book that prompt­ed the child to write a let­ter to the book's author.
"I know you wrote these books to help chil­dren under­stand the lives of Amer­i­can pio­neers, but for me, it helped me see my father's African child­hood as being less for­eign." Alessan­dra Selassie observes sim­i­lar val­ues and expe­ri­ences between her father's ear­ly life and Lau­ra Ingalls Wilder's child­hood in The Lit­tle House books. The series evoked under­stand­ing, appre­ci­a­tion, and empa­thy for her own fam­i­ly for this young reader.
In writ­ing to Avi about Crispin: The Cross of Lead, this young read­er under­stands dra­ma: "A body hang­ing limply from the gal­lows, his dead body sway­ing in the wind … I was repulsed, but intrigued." Thomas J. Cien­ki shares that "I have mild cere­bral pal­sy, but for one cool fall after­noon, I became Crispin, liv­ing in the Mid­dle Ages."
More than 50,000 let­ters are sub­mit­ted to The Cen­ter for the Book's Let­ters about Lit­er­a­ture com­pe­ti­tion each year. The pro­gram is cel­e­brat­ing its 25th anniver­sary, prompt­ing entries from read­ers in grades 4 through 12. As John Y. Cole, direc­tor and founder of The Cen­ter writes in his fore­word, "Over the years that Let­ters about Lit­er­a­ture has invit­ed young read­ers to share their per­son­al respons­es to authors with us … we have learned that chil­dren often approach read­ing with reluc­tance and that writ­ing about what they read is often a chal­lenge and, for some, a strug­gle." You work with these chil­dren. You know this. One more rea­son why this book will move you.
I can well imag­ine a teacher or librar­i­an or par­ent book­talk­ing any of these books by read­ing a let­ter out loud from a child who felt pow­er­ful­ly con­nect­ed to that book.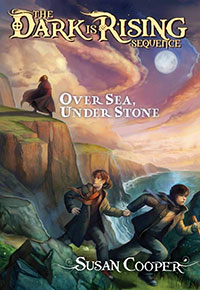 "After I read your book," Janet Lynne Snow writes to Susan Coop­er about Over Sea, Under Stone, "I began to think about life in a dif­fer­ent way. I took more notice of things that were inter­est­ing, and I asked ques­tions about any­thing I was curi­ous about. I began to think deeply about the way time works in your book, and I final­ly came to my con­clu­sion a few months ago at a Greek restau­rant. I decid­ed that time was the ulti­mate mystery."
Which edu­ca­tor, librar­i­an, care­giv­er, or author does­n't dream about awak­en­ing a child's mind with a book?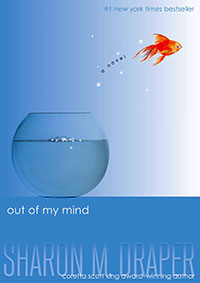 You'll find let­ters to Sharon Drap­er, San­dra Cis­neros, Sylvia Plath, Wal­ter Isaac­son, Dia Cal­houn, and many more authors who have — now we know for cer­tain — changed lives.
This book will make a beau­ti­ful gift (I love the feel of the paper and the book's design) for any book-lov­ing, book-read­ing adult in your life, but cer­tain­ly for those who ded­i­cate their lives to cre­at­ing thought­ful, cre­ative, life-long read­ers. High­ly recommended.
Jour­neys: Young Read­ers' Letters
to Authors Who Changed Their Lives
Library of Con­gress Cen­ter for the Book
edit­ed by Cather­ine Gourley
pub­lished by Can­dlewick Press, 2017
ISBN 978−0−7636−8101−2