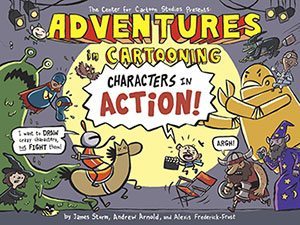 The oth­er day, a pub­lic librar­i­an asked on social media for graph­ic nov­el rec­om­men­da­tions for read­ers aged 6 to 12. I imme­di­ate­ly rec­om­mend­ed the Adven­tures in Car­toon­ing series by James Sturm, Andrew Arnold, and Alex­is Frederick-Frost.
The first book was Adven­tures in Car­toon­ing: How to Turn Your Doo­dles into Comics, intro­duc­ing us to The Knight, Edward the chub­by horse, and the Mag­ic Car­toon­ing Elf. With humor and breath­less sto­ry­telling, this sto­ry cap­tures both atten­tion and imag­i­na­tion. I can­not envi­sion a read­er who wouldn't want to pull out a pen­cil and give car­toon­ing a try.
Since then, there have been three more Adven­tures in Car­toon­ing sto­ry/how-to books and four pic­ture books fea­tur­ing the beloved characters.
The book I've fall­en in love with now is Adven­tures in Car­toon­ing: Char­ac­ters in Action, first pub­lished in 2013. An afford­able paper­back, this is a stealthy way to buy an activ­i­ty book that also encour­ages sto­ry­telling, writ­ing, spa­tial think­ing, and math (yes, math, while fig­ur­ing out how to lay out the story).
These books are clever because they tell a sto­ry while show­ing how to write a sto­ry. And the sto­ry is good, not didactic.
In this vol­ume, many char­ac­ters are intro­duced as a way of show­ing how you can make dif­fer­ent char­ac­ters out of a few shapes and how you describe a char­ac­ter with a min­i­mum of words, cloth­ing, facial expres­sions, and place­ment on the page. And they all move the sto­ry for­ward! With each page turn, some­thing unpre­dictable hap­pens — that's great sto­ry­telling. I admire the authors' skillfulness.
Read­ing these books as an adult cracks me up. The jokes are clever, but they're lay­ered — and they, too, move the sto­ry for­ward, so they also teach while tick­ling the reader's fun­ny bone.
Summer's near­ly here. Are you gear­ing up with things to do? Buy the series of Adven­tures in Car­toon­ing books and pull them out of your bore­dom-reliev­er bag at oppor­tune times. They're a can't miss for any kids who like to tell sto­ries and draw.