by Vic­ki Palmquist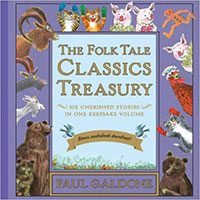 Are you look­ing for a show­er or baby gift that will be appre­ci­at­ed for a long time? A good birth­day present for a young child?
The Folk Tale Clas­sics Trea­sury, inter­pret­ed and illus­trat­ed by Paul Gal­done (HMH Books for Young Read­ers, 2013), is a good place for par­ents to start with retellings of west­ern Euro­pean folk tales. The sto­ries includ­ed here are impor­tant for cul­tur­al aware­ness. Through­out their lives, chil­dren will hear ref­er­ences to the Three Lit­tle Kit­tens ("and you shall have no pie") and Goldilocks and the Three Bears ("that por­ridge was just right") so it's good to intro­duce them to these sto­ries early.
In his Lit­tle Red Hen, won­der­ful depic­tions of the cat, dog, mouse, and an alarmed and frus­trat­ed hen add insou­ciance to the sto­ry that both chil­dren and adults will enjoy. Deli­cious details in each draw­ing make it fun to read with some­one by your side.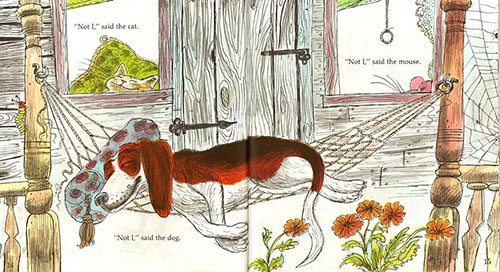 In his ver­sion of The Three Lit­tle Pigs, the big, bad wolf is wily but Pig No. 3 is even smarter, in a sat­is­fy­ing way that will have you cheering.
The bears in his Goldilocks tale are hand­some and smart. We see their tale from the point of view of a fam­i­ly who is wronged by a mis­chie­vous lit­tle girl with gold­en locks who is both unthink­ing and care­less. Where are her manners?!
The Three Bil­ly Goats Gruff and The Gin­ger­bread Boy round out the sto­ries includ­ed in this vol­ume. These are tales that have been passed down for gen­er­a­tions, remem­bered fond­ly, but also understood.
Pig No. 3 was cau­tious and clever, the lit­tle Red Hen indus­tri­ous and just, and the biggest Bil­ly Goat Gruff proves that you should be care­ful who you challenge.
Paul Gal­done was born in Budapest, Hun­gary, in 1907, but after 1928 lived in New York and Ver­mont where he illus­trat­ed more than 300 books. His first illus­trat­ed book was Miss Pick­erell Goes to Mars in 1951. In the sec­ond half of the last cen­tu­ry, his work was ubiq­ui­tous, and much loved. Reis­su­ing this vol­ume will cre­ate a new gen­er­a­tion of chil­dren who pic­ture these sto­ries with his illus­tra­tions. Mr. Gal­done died in 1986. You can find more infor­ma­tion about him at the Ker­lan Col­lec­tion at the Uni­ver­si­ty of Min­neso­ta, where a good rep­re­sen­ta­tion of his orig­i­nal art and work­ing mate­ri­als is pre­served. You'll also find a good deal of infor­ma­tion on his memo­r­i­al web­site.