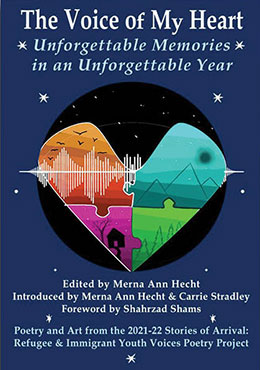 Each year, I look for­ward to the most recent col­lec­tion of poet­ry and art from The Sto­ries of Arrival: Refugee and Immi­grant Youth Voic­es Poet­ry Project. Since 2009, Mer­na Ann Hecht, founder and co-direc­tor, and Car­rie Stradley, co-direc­tor, have worked with teens in the Seat­tle schools.
This year's col­lec­tion is called The Voice of My Heart: Unfor­get­table Mem­o­ries in an Unfor­get­table Year. I can­not express my admi­ra­tion for this book any bet­ter than the fore­word does:
"This vision­ary project serves our com­mu­ni­ty with a peace-mak­ing ambas­sador­ship. Over the course of its years, since 2009, the Sto­ries of Arrival Project has cre­at­ed a com­mu­ni­ty of poets, read­ers and lis­ten­ers to bear wit­ness to the unfath­omable sto­ries of young refugees touched by the scourge of war and displacement.
"Mer­na Hecht and Car­rie Stradley have opened a way for endur­ing trans­for­ma­tions by hold­ing the space between grief and rebirthing that hon­ors the iden­ti­ty and real­i­ty of these young poets. What a joy it is to wit­ness how the redemp­tive mag­ic of poet­ry reveals the resilience of the spir­it of these young peo­ple, many who have arrived here from unimag­in­ably dif­fi­cult cir­cum­stances." (Shahrzad Shams, assist­ing teach­ing pro­fes­sor, Per­sian and Iran­ian stud­ies, Uni­ver­si­ty of Wash­ing­ton in Seattle)
Mer­na Hecht writes, "Hope for a bet­ter world speaks and sings through the voic­es of these young poets. It is the hope for the future they deserve and it is the world they can cre­ate should their voic­es reach far and wide."
Please read my inter­view with Mer­na Hecht about the 2017 edi­tion of this project to gain a full grasp of their work.
My favorite way of read­ing a book of poet­ry is to swoop here and there among the pages, absorb­ing one, then open­ing the book to anoth­er page. The Voice of My Heart works well that way … but I often find myself caught up in the expres­sions of love and long­ing, mov­ing from one poem to the next, con­tem­plat­ing, learn­ing, feeling.
I hope you will acquire sev­er­al copies of this book to place on your library shelves, to share with all of your stu­dents, to begin your own project in your schools, to fur­ther your com­mit­ment to peace-mak­ing, to gain an under­stand­ing of the immi­grant and refugee expe­ri­ence in your heart of hearts. This is an impor­tant book, a vital project, and I am filled with esteem and won­der­ment for the work of the teach­ers, yes, but also the work and com­mit­ment of the stu­dents and every­one involved in pub­lish­ing these books.
The Voice of My Heart: Unfor­get­table Mem­o­ries in an Unfor­get­table Year
edit­ed by Mer­na Ann Hecht
intro­duced by Mer­na Ann Hecht and Car­rie Stradley
fore­word by Shahrzad Shams
pub­lished by Chin Music Press, 2022
order your book(s) direct­ly from the pub­lish­er
ISBN 978−1−63405−042−5
Poet­ry and Art from the 2021 – 2022 Sto­ries of Arrival: Refugee & Immi­grant Youth Voic­es Poet­ry Project