In a sump­tu­ous pic­ture book biog­ra­phy, author Mara Rock­liff and illus­tra­tor Iacopo Bruno give us the life of Ade­laide Scarcez Her­rmann, a real per­son who lived from 1853 to 1932. Dur­ing her 79 years, she was an actress, a dancer, a vaude­vil­lian, and she was shot out of a can­non. As the title says, she was Any­thing but Ordi­nary Addie. In 1875, Addie mar­ried Alexan­der Her­rmann, a magi­cian, and became his assis­tant. They added oth­er acts to their show and trav­eled the world as Her­rmann the Great. When Alexan­der died of heart fail­ure in 1896, at age 52, Addie decid­ed to car­ry on as the magi­cian in the act. A female magi­cian was uncom­mon, so her first solo show includ­ed a dar­ing and dan­ger­ous mag­i­cal feat. It was good enough to keep her on vaude­ville stages as Madame Her­rmann for 25 years. She kept per­form­ing until she was 75. Four years lat­er, she passed away and out of memory.
In the Author's Note, Rock­liff laments that "Gen­er­a­tions of girls grew up think­ing all the great magi­cians had been men." With a daugh­ter inter­est­ed in mag­ic, Rock­liff says "This project start­ed when I went look­ing for a biog­ra­phy of a woman stage magi­cian for my daugh­ter and found to my dis­may that none exist­ed." She began research­ing women magi­cians and ran across a very inter­est­ing research sto­ry. (Yes, I think you should read this in her book.)
It's an inspir­ing sto­ry appro­pri­ate for chil­dren. It does­n't include the finan­cial ups and downs of the Her­rmanns, focus­ing instead on Addie's suc­cess­es. A deter­mined lit­tle girl and woman, she accom­plished admirable feats, includ­ing The Bul­let-Catch­ing Trick. Although the book shares the high­lights of her career, I'm intrigued to find out more. Oth­er read­ers will be as well. Isn't that what we want out of a good book?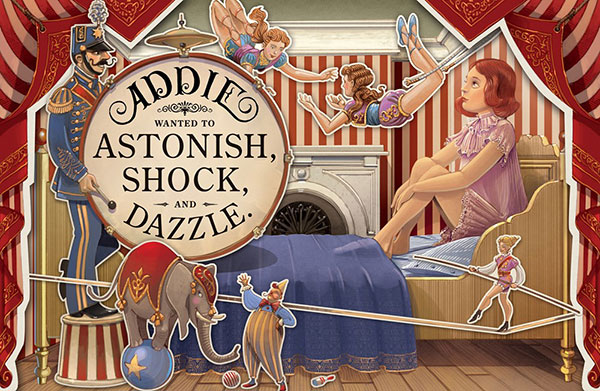 Iacopo Bruno's illus­tra­tions are rich­ly col­ored with glow­ing ele­ments that light the pages much as foot­lights would light a stage. Addie's cos­tumes and hair adorn­ments are peri­od-per­fect. Even the let­ter­ing on the hand­bills and posters trans­ports read­ers to the Gild­ed Age era. Bruno has a curi­ous way of pro­vid­ing depth to his illus­tra­tions by sur­round­ing peo­ple and objects in the fore­ground with a thick, white bor­der, almost as though they were cut out of paper. It's a style that grew on me. It adds focus to the page, direct­ing the read­er's eye to tru­ly see what's on the page.
I'd rec­om­mend this book for school libraries, class­rooms, and for homes where mag­ic and accom­plished women are interests.