I tend to win things. Not always, of course…but if there's an "enter to win" offer that shows up on Face­book and I don't mind the spon­sor­ing par­ty hav­ing my email or mail­ing address (usu­al­ly they already do), I enter. I've won con­cert and play tick­ets, music, din­ner, and books this way. I think maybe not many oth­er peo­ple enter. Or I'm extra­or­di­nar­i­ly lucky. Per­haps I should buy lot­tery tickets?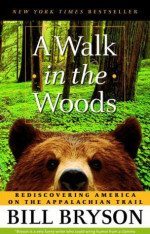 The lat­est thing I won was two copies of Bill Bryson's A Walk in the Woods plus two movie tick­ets (it was a pro­mo for the movie); though now that I think about it, I nev­er received the movie tick­ets. Doesn't mat­ter. Two copies of the book arrived at my house from Pen­guin Ran­dom House as soon as I gave them my address; which I might add, they already had.
A few weeks lat­er I threw one of the copies in a care-pack­age head­ed to #1 Son at col­lege. He's at an engi­neer­ing school and I'm just so afraid he'll for­get to read what with all the math and sci­ence. (This real­ly isn't like­ly, but I have to wor­ry about some­thing.) He's in a hyper-woodsy-out­doorsy loca­tion and had recent­ly announced an inter­est in doing some longer hikes.
Me: How long?
#1 Son: A long trail, maybe….
Me: Like the Pacif­ic Crest Trail or the Appalachi­an Trail? That kind of long?
#1 Son: Yeah, maybe….
Me: By your­self? I texted back as relaxed as I could.
Notice there's no excla­ma­tion point after the ques­tion mark — that means I was [fak­ing] relaxed.)
#1 Son: Yeah, that'd be cool….
So there's some­thing else for me to wor­ry about. But I try to alter­nate that wor­ry­ing with my wor­ries about the snow shel­ters he's now into build­ing. (They're engi­neer­ing stu­dents—this means they have all the yearn­ings and yet not all the skills to build things safe­ly. Ven­ti­la­tion, for instance — that's my wor­ry this week. When you fac­tor in the still devel­op­ing pre-frontal cor­tex of these lit­tle boys, I mean, young men…well, like I said, I have to wor­ry about something.)
ANYWAY…a week or so after I sent the book, I asked if he'd read it. He said he'd start­ed it but had to put it down because of finals. "I can tell it would be dis­tract­ing," he said. And what's a moth­er to say to that? So he packed it and brought it home for win­ter break — it's a well-trav­eled book at this point. He curled up in the red read­ing chair in the liv­ing room his first full day home and pret­ty much only put it down to eat. He read and laughed and kept say­ing "You have to read this!" to any of us who passed through the liv­ing room.
So here we are a month lat­er and I still haven't read it. (Still intend to.) But #1 Daugh­ter picked it up as soon as her broth­er left. She also lounged about in the red read­ing chair and gig­gled through the whole thing. "You have to read this!" she said when­ev­er her father and I walked into the liv­ing room.
This marks a mile­stone of some sort in our fam­i­ly. We have read so many books togeth­er, and our eldest has hand­ed down books he loved to his sis­ter over the years, but they were books I'd read (and pur­chased for him). This is the first time, I do believe, that both of them have devoured a book (an adult book at that) and nei­ther of their par­ents have got­ten to it yet. They laugh and joke and talk about it and just keep repeat­ing: You have to read it!
It's com­ing up in the pile. In fact, I might just start it tonight….