by Melanie Heuis­er Hill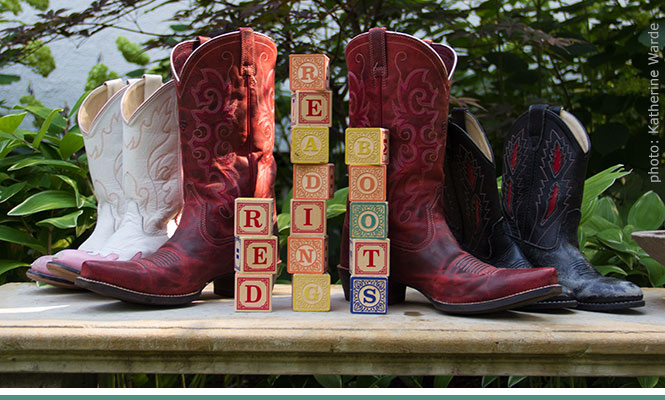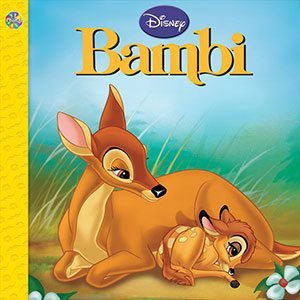 When I was 16, my aunt gave birth to twin boys. We did not see them near­ly often enough as they were grow­ing up (we were sep­a­rat­ed by sev­er­al states), but the mem­o­ries I have of those boys when they were lit­tle are clear in a way they are not with regard to my oth­er cousins. (I'm the old­est of many cousins on that side — there were lit­tle kids every­where for a few years.)
I remem­ber spoon­ing baby food into their lit­tle mouths — two-hand­ed, hard­ly able to keep up. I remem­ber catch­ing them as they jumped off the div­ing board, and how hard they held onto my neck as we swam to the side. I remem­ber their lit­tle boy ener­gy (x2!) as they ran the cir­cle between the liv­ing room, din­ing room, kitchen, and front hall in my grand­par­ents' house.
And I remem­ber read­ing Bam­bi to them as if it was yes­ter­day. The boys were almost three, I believe. We'd had a big day and they were final­ly bathed, in their paja­mas, and it was time to set­tle-down for the night. I asked them to pick a book we could read togeth­er. They brought me Disney's Bam­bi, a book that was almost as big as they were — they had to take turns lug­ging it across the room. Togeth­er they heaved it onto my lap, then climbed up on the couch and sank in beside me, one on each side.
I opened the over-sized book and start­ed read­ing. They were imme­di­ate­ly absorbed, each of them lean­ing into me…breathing deeply…settling down, as was the goal. I snug­gled down between the two sham­poo smelling dar­lings, bliss­ful­ly happy….
I don't know how, but I total­ly for­got Bambi's mom dies. I turned the page and there she was in the upper left-hand cor­ner, sprawled on her side, blood in the snow. I quick­ly adjust­ed my grip on the book, plac­ing my hand over her body. I felt a flash of anger. Seri­ous­ly? We had to cov­er mater­nal death before they were three?! I smooth­ly adjust­ed the words, leav­ing things a bit vague as to where Bambi's moth­er went….
But the boys knew the sto­ry. They sat up. One moved my hand off of Bambi's life­less moth­er, and the oth­er said, "Why did Bambi's Mama die?"
I will nev­er for­get those sweet lit­tle faces look­ing up at me, anguished curios­i­ty pooled in their big eyes. My heart broke right there and I start­ed to cry. What could I say? Just the facts? A hunter shot her. It's The Dis­ney Way? The moth­ers always die. The truth? Some­times hor­ri­ble things happen….
I don't know what I offered as expla­na­tion. I remem­ber that they stood on the couch and bounced, prob­a­bly try­ing to make me laugh instead of sob all over their book. Even­tu­al­ly, I pulled it togeth­er and we sank back into our cozy read­ing posi­tion to fin­ish the grand saga of Bam­bi. As I read, one of them kept his hand on my arm, his lit­tle fin­gers ris­ing and falling in a sooth­ing pat.
One of those boys — the pat­ter — became a father last Decem­ber. The oth­er became a father ear­li­er this week. This is astound­ing to me. I look at the pic­tures of these grown men (they're THIRTY now!) hold­ing their wee babies and all I see are the faces of those sweet lit­tle boys — their imp­ish grins, their big eyes full of love and ques­tions, their pride and won­der at all that life holds…. The razor stub­ble doesn't fool me at all — time just moves in weird ways, I guess. The babies now have babies.
They will be won­der­ful fathers, I've no doubt. I wish for them so many things, but espe­cial­ly the joy of read­ing to their kids as they grow. It's been a favorite part of par­ent­ing for me. And it's my favorite mem­o­ry of being their cousin, too.