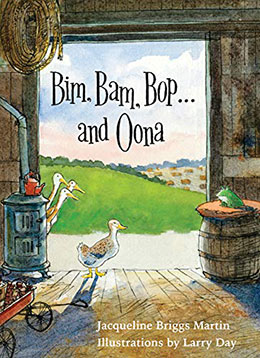 Poor Oona — she's always the last duck to the pond…. But then her frog friend Roy reminds her: you're good with giz­mos… And so Oona the duck goes to work in the barn on her giz­mos, pour­ing her cre­ative and deter­mined self into get­ting to the pond before the faster ducks. Along the way, she learns there is more to life than just being fast and get­ting some­where first.
Bim, Bam, Bop … and Oona by Jacque­line Brig­gs Mar­tin and Lar­ry Day (illus­tra­tor) will be on a book­shelf near you soon. Until then, Bookol­o­gy brings you a look behind the scenes of this pic­ture book collaboration….
Bookol­o­gy: How did Bim, Bam, Bop … and Oona come to be?
Jack­ie: I wrote this book a few years ago, sent it out, revised, sent it out again, revised again, etc. And no pub­lish­er quite want­ed it. So I put it in a draw­er. Then two to three years ago, in Decem­ber, I got it out of the draw­er and read it. Sur­prise: I liked it and made it a goal of the next year to find a pub­lish­er. I decid­ed to read it at Ham­line [MFA in Writ­ing for Chil­dren and Young Adults] in the upcom­ing Jan­u­ary [res­i­den­cy]. My read­ing night was dur­ing Alum­ni week­end. Lar­ry hap­pened to be at the res­i­den­cy with Miri­am Busch, his wife [and an alum­nus], and he heard it. He came up to me after the read­ing and said he'd love to illus­trate it. I said if I found a pub­lish­er, I would remem­ber that. When Erik Ander­son at the Uni­ver­si­ty of Min­neso­ta Press offered a con­tract, he asked if I had illus­tra­tors in mind. I told him Lar­ry Day would be inter­est­ed. He asked for a sam­ple. When Lar­ry sent his sam­ple, we all knew he was the one. And we were right!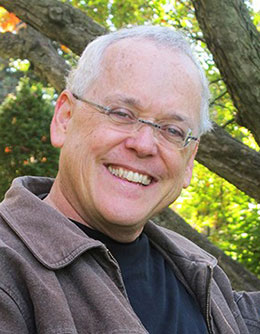 Lar­ry: Jack­ie is spot on. Sit­ting in the audi­ence as an observ­er lis­ten­ing to the fac­ul­ty read­ing their man­u­scripts is always a unique event. When it got to Jackie's turn I was hooked. I felt a real con­nec­tion with her script. I loved the inge­nu­ity and deter­mi­na­tion of this duck named Oona. While Jack­ie was read­ing, she had a series of slides of run­ner ducks pro­ject­ed on the screen behind her. I was sketch­ing from the slides. After her read­ing, Miri­am nudged me to approach Jackie.
I'm a huge advo­cate of col­lab­o­ra­tion and choos­ing who to work with. (I wouldn't col­lab­o­rate with my Aunt Mary. May she rest in peace.) I real­ly appre­ci­ate work­ing with pros like Jack­ie, Erik, and Miri­am. Jack­ie nev­er flinched at revis­ing her own copy. In one of my spreads I changed Oona col­lid­ing with the clothes­line and falling into the bas­ket of clothes. After see­ing the art, Jack­ie revised her copy to read,"…and Oona, who moped toward the barn, tripped into a tum­ble, and conked her­self with an idea…" Erik, who put up with my own con­stant and numer­ous revi­sions, offered the kind of enthu­si­as­tic sup­port illus­tra­tors dream of. And Miri­am, who sees when the visu­als fill in the sto­ry, offered many sug­ges­tions through­out the book, help­ing with crit­i­cal pac­ing and page turns.
Bookol­o­gy: This book is pub­lished by the Uni­ver­si­ty of Min­neso­ta Press. You are an Iowa writer and Illi­nois artist. Talk to us about the sense of "place" in this book…and how the Uni­ver­si­ty of Min­neso­ta Press came to be inter­est­ed in it.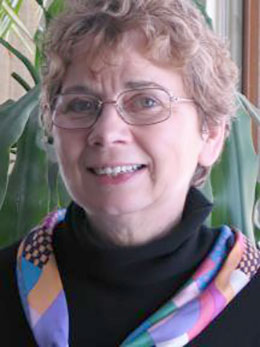 Jack­ie: The Uni­ver­si­ty of Min­neso­ta is inter­est­ed in pub­lish­ing books with a Mid­west­ern angle, I think, and the books should have appeal for those out­side the Mid­west. Lar­ry has made the land­scape a Mid­west­ern land­scape, but the issues are uni­ver­sal. Where does a duck fit? How does a duck fit? How do we find our true talents?
Lar­ry: I was told that the UMP had a some­what loose guide­line to keep their books to an upper Mid­west sto­ry theme. I guess I had that con­nec­tion, since I was born and raised in a small farm­ing com­mu­ni­ty in cen­tral Illi­nois. Even though cen­tral Illi­nois is flat as flat can be, I would accom­pa­ny my father who hunt­ed turkeys in the rolling hills of north­ern Mis­souri. He hunt­ed while I sketched the land­scape. It was more like I was sketch­ing while he was fast asleep in a blind as groups of turkeys casu­al­ly strolled in front of him. I was also influ­enced by the poet­ic land­scapes of the region­al­ist artist, Grant Wood.
Bookol­o­gy: Jack­ie — there's some very fun lan­guage here! The names of the ducks, "giz­mos," rhyming lines, ooo-hoolie-hoo! etc.
Jack­ie: I love words! When I can't sleep at night, I go through the alpha­bet with asso­nant words. It doesn't always help me to sleep but gives me plea­sure. I do play with sounds, even when I am not writ­ing. So I am often sur­prised by the words that get onto the page. Ooo-hoolie-hoo just sounds good to me. I do not know where it came from. Giz­mo is also a favorite. I like the sound of z. We gave our son the nick­name of Bizzy Bones. He was an active kid, but I real­ly think it was the z sound that deter­mined that nickname.
Bookol­o­gy: Lar­ry — there are two kinds of ducks in this sto­ry. Bim, Bam and Bop are run­ner ducks. Oona is not. A pho­to­graph of the two kinds of ducks would show their dif­fer­ences, cer­tain­ly, but what went into your artis­tic ren­der­ing so that a child would under­stand the dif­fer­ences? Because this is a theme in the sto­ry — Bim, Bam, and Bop run. Oona wad­dles. How did that play out for you as an artist? What was your process in mak­ing them come alive on the page?
Lar­ry: Oona is a rouen clair. I start­ed out draw­ing her as a domes­tic duck: flat yel­low beak, white body, wide yel­low feet. I also tried draw­ing her as a mal­lard and as a com­bi­na­tion of assort­ed ducks. Jack­ie sug­gest­ed Oona need­ed to be more of a brown­ish farm duck, one that would con­trast with the long-legged lean­er ath­let­ic shape of the run­ner ducks. After many attempts at a vari­ety of ducks, we picked a rouen clair. It was per­fect! Oona would be a rouen clair! A rouen clair is a short, stocky, low-to-the-ground brown­ish duck with spots on her feath­ers that resem­ble freck­les. The con­trast of the shape of Bim, Bam, and Bop to Oona would add to the visu­al humor. Oona would have less of a stride and more of a wad­dle. A wad­dle is chal­leng­ing to illus­trate, but I delight­ed in this. I imag­ined the body lan­guage action of the wad­dling side-to-side motion as I drew.
Bookol­o­gy: Tell us about Oona's frog-friend Roy…. Was he always in the story?
Jack­ie: Roy was not always in the sto­ry. In some of the ear­ly, ear­ly drafts Oona did not have a friend. And she seemed lone­ly to me and a lit­tle bit sad­der than I want­ed her to be.
Lar­ry: I love to illus­trate the green blob­by large-eyed shape of frogs. I love that Jack­ie added Roy. The sto­ry just wouldn't be the same with­out him. The read­er needs to see Roy offer­ing encour­age­ment to Oona when she needs it the most — a true friend. Every­one needs a lit­tle Roy in their lives.
Bookol­o­gy:: What was the writer-artist process of cre­at­ing Oona's giz­mos on the page? Some are briefly described in words, but all cer­tain­ly have room for "artis­tic license." How did the two of you work togeth­er (or not) on these cre­ative giz­mos for Oona?
Jack­ie: Lar­ry gets total cred­it for the won­der­ful giz­mos. Writ­ers just say Ooo-hoolie-hoo, and illus­tra­tors like Lar­ry have to do the work.
Lar­ry: The very first pen­cil sketch I made of Oona was her fly­ing in her bas­ket. The prob­lem with that sketch was that the giz­mos attached to the bas­ket were too sim­ple and basic. Jack­ie sug­gest­ed that we up the wack­i­ness lev­el of the giz­mos. So, I need­ed to "think out­side the bas­ket," so to speak.
I remem­bered spend­ing the day at the Muse­um of Sci­ence and Indus­try in Chica­go. There was a rather large, elab­o­rate, bicy­cle-like con­trap­tion on dis­play. It was cre­at­ed by the British car­toon­ist Row­land Emett. His work played a big part influ­enc­ing the art for Oona's work­shop and her fly­ing con­trap­tion. Emett's work gave me the con­fi­dence I need­ed to up the giz­mo lev­el. Some­times, no mat­ter what lev­el you are at, you need that extra push.
Bookol­o­gy: Oona doesn't feel "as big as a duck should." She doesn't feel "as boun­cy as a duck should." But she's very cre­ative…. Deter­mined and clever, as well. Where did this char­ac­ter come from? Why these traits mixed with her self-doubt? What do you hope kids take away from this story?
Jack­ie: I real­ly just want them to enjoy the sto­ry, love Oona enough that they think about her, take her with them. My biggest want is that she becomes part of the fur­ni­ture of their minds. And then they may have var­i­ous take­aways. She'll just be there as one more char­ac­ter that they know. I'd love for kids to exper­i­ment with giz­mos, for them to be so joy­ous they can't resist say­ing Ooo-hoolie-hoo, for them to become more inter­est­ed in ducks, and for them to remem­ber Oona and try one more time.
Lar­ry: I love every­thing Jack­ie says. I too, hope this book sparks read­ers to con­nect with their own sense of deter­mi­na­tion and cre­ativ­i­ty. I give cred­it to our edi­tor, Erik Ander­son, for his insight and enthu­si­as­tic appre­ci­a­tion of Oona. Both Erik and I were Oonas as young kids. Short and slow. Always picked last on school sports teams. Every­one else whizzing past us on the school ground. Always the under­duck. But when it came to cre­ativ­i­ty, we excelled. I can't pre­dict what read­ers will take away from Oona, but maybe if even a short stocky brown­ish farm duck can man­age some­thing extra­or­di­nary, so can they.
Bookol­o­gy: Thanks to you both for tak­ing us behind the scenes of Bim, Bam, Bop…and Oona. Thank you for bring­ing this book to the world!