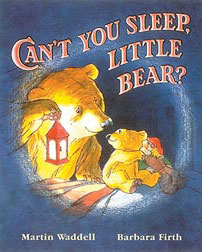 Once there were two bears. Big Bear and Lit­tle Bear. Big Bear is the big bear, and Lit­tle Bear is the lit­tle bear. They played all day in the bright sun­light. When night came, and the sun went down, Big Bear took Lit­tle Bear home to the Bear Cave….
There was a time — and it doesn't seem that long ago, I might add — that this gen­tle book was read in our own Bear Cave on a dai­ly basis. I know there are oth­er Big Bear and Lit­tle Bear books, but we nev­er had them. We had just this one—Can't You Sleep Lit­tle Bear?­­ And we loved it — both the kids and the parents.
The kids delight­ed in the lit­tle jokes in the words and illus­tra­tions. Big Bear is the big bear and Lit­tle Bear is the lit­tle bear was hilar­i­ous to #1 Son. Dar­ling Daugh­ter loved Lit­tle Bear's acro­bat­ics in bed when he was sup­posed to be set­tling down to sleep. (She was per­haps all too inspired by them, in fact.)
And I loved it because….well, Can't You Sleep Lit­tle Bear is one of those books that fea­tures inspired par­ent­ing. As a par­ent who read a lot to the kids, I always appre­ci­at­ed hav­ing parental role mod­els in the books I read — wise and under­stand­ing moth­ers, kind and empa­thet­ic fathers. Par­ents who seem to be at their best in some­times dif­fi­cult or har­ried cir­cum­stances (like with the child who won't go to sleep) — not per­fect, sel­dom per­fect, in fact — but rather, sim­ply wise peo­ple who know how to take a deep breath, ask a per­ti­nent ques­tion, and lead the child through to the res­o­lu­tion if there was one to be had.
Big Bear is an inspi­ra­tional Dad. He may be exhaust­ed, but he has remark­able patience at the end of a day spent play­ing in bright sun­light. Sure, he grum­bles a bit that he has to put down his Bear Book just when it's get­ting to the inter­est­ing part — but he does put it down, and he gen­tly address­es the sit­u­a­tion, with nary a hint of impa­tience. Again and again he goes to his Lit­tle Bear who is turn­ing flip-flops on the bed and says "Can't you sleep, Lit­tle Bear?" (He does not yell from the oth­er room: "FOR THE LOVE OF ALL THAT IS HOLY, WILL YOU GO TO SLEEP?!")
And when Lit­tle Bear says he's scared, Big Bear does not say "There's noth­ing to be afraid of…" No, he asks what Lit­tle Bear is scared about. "I don't like the dark," [says] Lit­tle Bear. Big Bear asks a clar­i­fy­ing ques­tion. "What dark?" And Lit­tle Bear tells him,"The dark all around us." (We used to divvy up these lines when we read the book togeth­er. I'd say "What dark?" and they'd say, "The Dark All Around!" with very dra­mat­ic inflection.)
Big Bear looks, and he sees that the dark part of the cave is very dark, so he goes to the Lantern Cup­board and brings a small light to Lit­tle Bear. He does this sev­er­al times, in fact. A larg­er light each time.
It's the Lantern Cup­board that gets me. Each time Lit­tle Bear protests the dark, Big Bear brings a larg­er light to van­quish the dark­ness that is all around. From the Lantern Cup­board. I'd read that and think: shouldn't we all have a Lantern Cup­board? With dif­fer­ent sized lights as might be need­ed for dif­fer­ent and par­tic­u­lar sit­u­a­tions? I'm sure I'd be a bet­ter par­ent if I had access to a Lantern Cupboard.
In the end, the Big Bear and Lit­tle Bear leave the Bear Cave and go out where the dark­ness real­ly is all around. And Lit­tle Bear is scared, but Big Bear encour­ages him to look . "Look at the dark, Lit­tle Bear." And lit­tle bear does. In the safe­ty of Big Bear's arms, he looks at the dark­ness. And in the midst of the vast dark­ness, he sees the moon and the twinkly stars, too.
And this, I think, is what it is to par­ent — Lantern Cup­board or no. We light the lights against the darkness…we go with them when and where we can…we offer our love with our strong arms wrapped around them so they can be brave and look out at all that is out there…and, hope­ful­ly, be sur­prised by the moon and the twinkly stars, too.