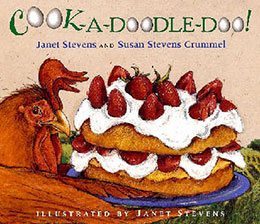 I've got dessert on my mind — berry short­cake, to be pre­cise. I've already done the straw­ber­ry short­cake dur­ing straw­ber­ry sea­son. My rasp­ber­ry bush­es are pro­duc­ing at a rate that might call for short­cake in the near future, how­ev­er. And when­ev­er I make short­cake — or even think of it — I think of Cook-a-doo­dle-doo by Janet Stevens and Susan Stevens Crum­mel (who are sis­ters, I believe).
This book was An Extreme Favorite at our house through two kids — one who was already on the old­er end of pic­ture books when it came out. Why the pop­u­lar­i­ty? Quite sim­ply: It's hilar­i­ous. And sweet (no pun intend­ed). But most­ly hilarious.
Big Brown Roost­er is in need of a change — no more chick­en feed! No more peck­ing about! He remem­bers that his very famous great-grand­moth­er, The Lit­tle Red Hen, penned a cook­book: The Joy of Cook­ing Alone by L.R. Hen. Once he finds it, he real­izes his great granny cooked far more than loaves of bread. And he is hun­gry for the straw­ber­ry short­cake fea­tured in the mid­dle of the book.
Like his Great-Granny before him, Big Brown Roost­er is sur­round­ed by unhelp­ful friends. Dog, Cat, and Goose each take their pot­shots at Big Brown Roost­er, but he is unde­terred. He ties on his apron, ready to cook all alone, only to find three new friends: Tur­tle, Igua­na, and Pot-bel­lied Pig.
"Do you three know any­thing about cook­ing?" Roost­er asked.
"I can read recipes!" said Turtle.
"I can get stuff!" said Iguana.
"I can taste!" said Pig. "I am expert at tasting."
And so the team mem­bers don hats — an apron tied around Big Brown Rooster's head, a tow­el around Pig's head, an oven mitt for Igua­na, and a small pot worn base­ball cap-like for tur­tle. The illus­tra­tions are sweet and hys­ter­i­cal at the same time. The mix-ups and mis­un­der­stand­ings are on the lev­el of the Three Stooges crossed with Amelia Bedelia. But detailed side­bars guide a home/kid cook through the cor­rect steps. What the friends lack in expe­ri­ence and skill, they make up for in exu­ber­ance and excite­ment — so, very much like bak­ing with chil­dren, actually.
It's astound­ing when you see what they go through, but they cre­ate a beau­ti­ful (if slight­ly lean­ing) tow­er of straw­ber­ry short­cake. It's only when they try to move it to the table to enjoy togeth­er that things…slip away from them. Pot-bel­lied Pig takes his turn — he's the expert taster, and pos­i­tive­ly unflum­moxed by short­cake being smeared across the floor. In split sec­ond — not even a page turn — the straw­ber­ry short­cake is gone.
It is then that the pre­vi­ous­ly ami­able friends start to lose it. Names are called and threats are inti­mat­ed (plump juicy roast pig, igua­na pie, tur­tle soup etc.)
But wise Roost­er takes com­mand. "It doesn't mat­ter," he says. "The first short­cake was just for practice."
And so they make anoth­er. The three friends — Igua­na, Pig, and Tur­tle — vol­un­teer to help again, and it's quick work the sec­ond time around. The last spread fea­tures a par­ty of friends—includ­ing the nay-say­ing Dog, Cat and Goose!—enjoy­ing straw­ber­ry short­cake. The last page fea­tures Great-Granny's recipe for Mag­nif­i­cent Straw­ber­ry Shortcake.
I think I'll make some tonight!