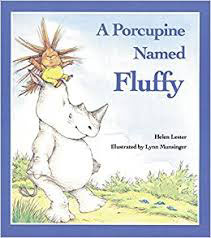 It's Read Across Amer­i­ca Week this week and I had the priv­i­lege of haul­ing a bag of books to a local ele­men­tary school and read­ing to five dif­fer­ent class­es — K‑2nd grade — last Tues­day. A tru­ly won­der­ful way to spend the after­noon, I must say.
#1 Son's 21st birth­day was Tues­day, which made me all nos­tal­gic for the days of pic­ture books, and so I'd packed a bag full of his long-ago favorites (and a cou­ple new­er ones, too). In each class we'd chat for a few min­utes and I'd kin­da suss out what they might like most. Small Walt was a hit with a kinder­garten class, The Odi­ous Ogre with the sec­ond graders. One Dog Canoe works for just about any age, of course. As does A Por­cu­pine Named Fluffy. I think I read A Por­cu­pine Named Fluffy by Helen Lester, illus­trat­ed by Lynn Mun­singer, in three of the five class­rooms. It nev­er fails.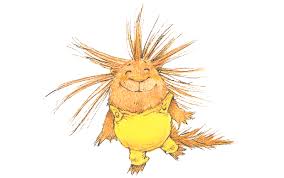 When #1 Son was small, we used that book to get things done. "When you're all done with bath and have brushed your teeth…we can read Fluffy." "Just as soon as you fin­ish your lunch, we can read Fluffy out in the ham­mock…." He loved Fluffy.
The book opens with Mr. and Mrs. Por­cu­pine tak­ing a stroll with their first child in a stroller. They're try­ing to find exact­ly the right name for him. They con­sid­er Spike. Too com­mon. Lance? Too fierce for their sweet lit­tle guy. Needleroozer?
It's Needlerooz­er that gets the kids laugh­ing — it's almost like a mag­ic word that unlocks something.
"Needlerooz­er?!" they say.
"That's a ter­ri­ble name!"
"It's hard to spell!"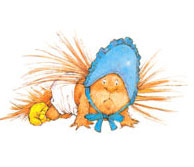 Prick­les? I say. They shake their heads. Pokey? More head shakes. How about Quillian?
"What kind of name is that?" said one lit­tle boy.
Then togeth­er Mr. and Mrs. Por­cu­pine have an idea. "Let's call him Fluffy. It's such a pret­ty name. Fluffy!"
Lots of gig­gles at this. Por­cu­pines aren't fluffy! They all know this and so the name is hilar­i­ous! It's a pret­ty won­der­ful intro­duc­tion to irony, if you ask me.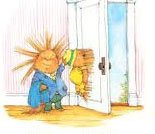 So Fluffy grows up, beloved and some­what pro­tect­ed, with his iron­ic name. At some point he begins to sus­pect he's not fluffy — things hap­pen. The illus­tra­tions car­ry the humor in these instances and kids love love love it. And so he embarks on the chal­lenge of mak­ing his sharp quills fluffi­er — more hilar­i­ty ensues.
And then one day, Fluffy meets a very large rhi­noc­er­os. And the rhi­noc­er­os tells him right out that he's going to give Fluffy a "rough time."
"What's your name, small prick­ly thing?" the rhi­noc­er­os asks.
"Fluffy," says Fluffy.
And this just slays the rhi­no — he can hard­ly breathe he laughs so hard. By then, every­one is laugh­ing — a prop­er read­ing depends on the laugh­ter in fact.
"And what is your name?" Fluffy asks, despite his embarrassment.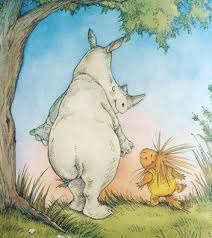 And then we find out the rhino's name, which I shall not divulge here. Suf­fice to say, it gives the irony of Fluffy's name a run for its money.
The books ends with the two as fast friends, of course. And the book ends with read­ers — young and old­er — smil­ing and laugh­ing. There's just some­thing about this book! If you haven't read it, or don't remem­ber it (it was pub­lished before I grad­u­at­ed from high school!) look for it in your library. I saw it there just a few weeks ago — it is still very much in circulation.
SaveSave