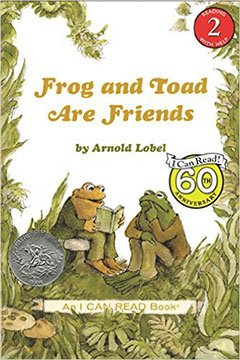 This spring, Min­neapo­lis' Children's The­ater Com­pa­ny will put on A Year With Frog & Toad, which has stood as one of my top three the­ater expe­ri­ences for the last dozen years or so.
We had three tick­ets the first time we saw it. Dar­ling Daugh­ter was still young enough for a "lap pass" at the time. Our house­hold had been hit with The Plague and for days/weeks/month/going on years (it seemed, any­way) and we'd been sick­ly and unfit to leave our home. But I was loathe to miss the per­for­mance. We decid­ed if we napped, med­icat­ed, and then bathed and dressed up, we could enter soci­ety. All but Dad — he was still down for the count. So I took the kids. We piled our coats on the third seat and Dar­ling Daugh­ter sat atop them, so thrilled to have her own seat, so thrilled to be out of the house, that she bounced through most of the per­for­mance, clap­ping wild­ly at each of Frog and Toad's antics.
Ten min­utes in I was weepy and so sor­ry we hadn't drugged Dad up enough to bring him. It was fan­tas­tic! Of course the Children's The­ater Com­pa­ny does most excel­lent work — one expects to love the expe­ri­ence. But this was, I think, par­tic­u­lar­ly well done, and I'm will­ing to think that it might be the source mate­r­i­al that real­ly gave it that extra some­thing. Well, that and it's a musi­cal — could there be any­thing better?
I love Frog and Toad with a pas­sion sim­i­lar to my love for Pooh and his friends in the Hun­dred Acre Wood. I love their friend­ship, their quo­tid­i­an adven­tures, their goofi­ness, and their oh-so-dis­tinct per­son­al­i­ties. We have the whole col­lec­tion at our house — in both Eng­lish and Span­ish (Sapo y Sepo insep­a­ra­bles, etc.) — and they bear the marks of hav­ing been repeat­ed­ly read and loved.
These are "I CAN READ Books," but what I remem­ber is read­ing them with my kids. I'd do one page, they the next. Except for Shiv­ers, which is in Days With Frog and Toad. I was the only read­er on that one — it was too shiv­ery for any­one to work on sound­ing out the words. Both kids learned to read with inflec­tion using these books. Many books — espe­cial­ly "I CAN READ Books," and espe­cial­ly Arnold Lobel books — lend them­selves to dra­mat­ic read­ing, but for some rea­son, Frog and Toad's con­ver­sa­tions and adven­tures taught them to look for the excla­ma­tion point, the ques­tion mark, and the mean­ing of the words as they worked so hard to get through the sentence.
Truth be told, the three of us prob­a­bly could've recit­ed many of the Frog and Toad sto­ries fea­tured in the musi­cal that night. Cer­tain­ly, even the too-young-to-be-able-to-hold-a-the­ater-seat-down child could've told you about their sled­ding and swim­ming adven­tures, their trip to the ice cream store, and about when Toad tried to fly a kite. We bought the CD, nat­u­ral­ly, so it was only a few more days before we could sing the stories.
My kid­dos are much old­er now…but I think I might try for four tick­ets this spring. Every­one can hold their seat down now, and if we stay well we can final­ly take Dad. I've no doubt we'll enjoy it just as much as the last time.