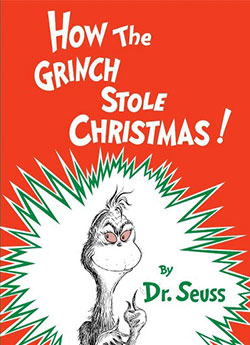 I'm just going to say it. Go on the record.
I do not like The Grinch. I do not like the book. I do not like the char­ac­ter. I do not like the sto­ry of How The Grinch Stole Christ­mas. I do not like the bril­liant the­ater pro­duc­tions of the sto­ry (though I acknowl­edge the bril­liance.) I do not like the TV spe­cial, which I grew up watch­ing, and which I did not let my kids watch. I do not like the movie or the song. I do not like any of it, Sam-I-Am.
Lest you think I'm sim­ply grinchy about all things Grinch, I will tip my hand here at the begin­ning and say that I love the name "Grinch." It's per­fect. As per­fect as Ebe­neez­er Scrooge's name, and let's be hon­est, How The Grinch Stole Christ­mas is real­ly just a knock-off of Dicken's A Christ­mas Car­ol. It's just not as well done. It lacks…subtlety, among oth­er things.
Scrooge is afflict­ed with his own per­son­al bah hum­bug­ness, but you sus­pect even before all of the Christ­mas Ghosts vis­it that he could be a dif­fer­ent man with a lit­tle ther­a­py and some home­made Christ­mas cook­ies. But the Grinch is just mean. He's not all "Bah hum­bug!" when Christ­mas friv­o­li­ties get on his nerves — he's all "I MUST stop this Christ­mas from coming."
Dude. Take your two-sizes-too-small heart and get back to your cave.
I'm tired of mak­ing excus­es for the grinch­es of the world. He takes the stock­ings and presents, the treats and the feast of the wee Whos! He takes the last can of Who-hash, for heaven's sake! And then The Tree — he shoves the Whos' Christ­mas tree up the chim­ney! Who does that?!
It's Cindy­Lou Who and her sweet trust­ing nature that just undoes me.
"San­ty Claus, why…Why are you tak­ing our Christ­mas tree? WHY?"
The Grinch pos­es as San­ta Claus — can we agree this is an abomination?
He tells her there's a light that won't light, and so he's tak­ing it back to his work­shop to fix. Sweet Cindy­Lou believes him — she trots back to bed with her cold cup of water. My heart! And the Grinch takes the very log for the fire; then goes up the chim­ney, him­self, the old liar.
We did not have this book grow­ing up. We watched the TV spe­cial but I'd nev­er read it until I babysat a fam­i­ly who had it. They had three boys, ages nine, six, and three. They were wild. Dif­fi­cult. Not kind to each oth­er. And they were exhaust­ing to put to bed. I think this is why their par­ents went out.
I sug­gest­ed a few books to wind down one sum­mer night, and the six-year-old demand­ed that I read How The Grinch Stole Christ­mas.
"YEAH!" said the nine-year-old. "It makes babies cry!" And as if on cue, the three-year-old start­ed to whim­per. I said we weren't going to read a book that made any­one cry. And besides, it wasn't even Christmas.
But two hours lat­er, after the old­er two had passed out, the three-year-old brought How The Grinch Stole Christ­mas down to me and asked me to read it. His eyes were huge. His thumb was in his mouth. He said he had to go pot­ty first. Then he need­ed a cold cup of water — just like Cindy­Lou Who.
When we final­ly sat down to read the book, we did not get past the first page before huge tears welled in his eyes. I told him I could not in good con­science read him a book that made him so sad. He sug­gest­ed we just look at the pic­tures. And so we did. We talked through the pic­tures, and he trem­bled as we did. He obvi­ous­ly knew the story.
And it did not mat­ter one bit that The Grinch could not final­ly take away Christ­mas — that Christ­mas came in fine style even with­out all the trap­pings he'd stolen. It did not mat­ter that The Grinch's heart grew three sizes in the end and that he him­self carved the roast beef. This, I sup­pose, is meant to be the "les­son," the take-away that makes the rest of it all okay. Too lit­tle too late, I say.
I had a three-year-old on my lap try­ing so hard to brave, try­ing not to be The Baby his broth­ers told him he was. His lit­tle heart ham­mered as we turned those pages and by the time we were done, I was done with The Grinch.
So there.
SaveSave