This week, my moth­er and I heard Mar­got Lee Shet­ter­ly, author of Hid­den Fig­ures, speak at the Uni­ver­si­ty of Minnesota's Hubert H. Humphrey Dis­tin­guished Carl­son Lec­ture Series. Shet­ter­ly's book tells the true sto­ry of Mary Jack­son, Kather­ine John­son and Dorothy Vaugh­an — three of dozens of African-Amer­i­can women who worked in the 1950s and '60s for NASA in math, sci­ence and com­put­ing. Mar­got Lee Shet­ter­ly is the daugh­ter of one of the ear­ly black male sci­en­tists at the NASA instal­la­tion near Hamp­ton, Vir­ginia. She grew up know­ing these amaz­ing women and she grew up think­ing that math, sci­ence and engi­neer­ing was sim­ply what black peo­ple did. This acknowl­edge­ment, which she makes in the open­ing pages of the book, is the back­drop for the mar­velous sto­ry she tells.
It was a large and com­plete­ly packed venue Tues­day night. Ms. Shet­ter­ly was elo­quent and eru­dite and it was an inspir­ing speech to have had the priv­i­lege to hear. When the audi­ence spilled out on the side­walks of the uni­ver­si­ty cam­pus after the event, there was a pal­pa­ble ener­gy and hope in the air. We had had our bet­ter angels called out and our belea­guered spir­its respond­ed. There was zip in our step, an urgency to our con­ver­sa­tions, a new direc­tion to our thoughts and dreams.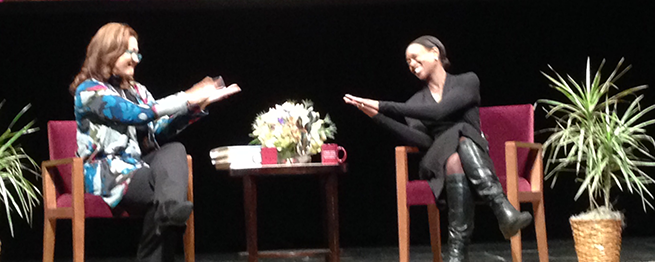 After the pre­pared remarks, Michelle Nor­ris asked Ms. Shet­ter­ly a few ques­tions. One of the ques­tions was a vari­a­tion of Why did we not know about these women before now?!, a ques­tion Ms. Shet­ter­ly said she fields again and again. Her answer: Our imag­i­na­tions weren't large enough for these amaz­ing black female math­e­mati­cians who worked in Amer­i­ca's space pro­gram in the 1940s-60's. There were too many things in the way dur­ing that time — racism and sex­ism were two of those things, but there were oth­ers, as well. Many trou­ble us still — the same ‑isms, of course, but also our unex­am­ined assump­tions, our bias­es, our trib­al natures, and our gen­er­al ugli­ness (my words, not hers).
"Look­ing beyond" is a theme in this remark­able book — and it could've eas­i­ly been the title of the book, as Michelle Nor­ris point­ed out. The movie uses it bril­liant­ly when Al Har­ri­son and Kather­ine John­son stand before a chalk­board filled with math. He tells her he needs her to look beyond the num­bers at math they don't even have — and she seems to be the only one among all those NASA sci­en­tists and math­e­mati­cians who can do that. Ms. Shet­ter­ly, in turn, invit­ed us to look beyond easy stereo­types and char­ac­ter­i­za­tions, past the usu­al sto­ries and unex­am­ined his­to­ry, so that we can uncov­er oth­er nar­ra­tives as amaz­ing as the ones she's giv­en us in Hid­den Fig­ures. Her con­fi­dence that these impor­tant sto­ries are every­where and remain untold sim­ply because no one tells them was pos­i­tive­ly rousing.
In clos­ing, Michelle Nor­ris said that there was a program/effort in place to get this book in the hands of high school­ers — news which made Mar­got Lee Shet­ter­ly beam. There's a young reader's ver­sion of this book, I know — and I've heard it's won­der­ful — but the orig­i­nal ver­sion is beau­ti­ful­ly writ­ten and eas­i­ly cap­tures the inter­est of teens. I hope it's the ver­sion they receive if they receive one. A tremen­dous amount of his­to­ry is cov­ered in such a beau­ti­ful and acces­si­ble way — through sto­ry. Such pow­er! Our kids need these kinds of sto­ries — we all need these sto­ries. We need our imag­i­na­tion stretched and enlarged for the work that is ahead of us.
Three gen­er­a­tions of our fam­i­ly are read­ing this book right now. I can't think of anoth­er book that has called us to do that all at once. I com­mend it to you and yours — it will not disappoint.
(P.S. The movie is most excel­lent. The book is superb.)