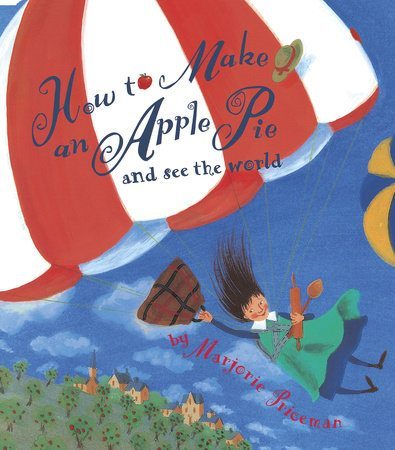 A cou­ple of years ago, I decid­ed I want­ed to learn how to make a real­ly good pie. I asked around — bak­ers, cater­ers, cook­ing store own­ers etc. and the book The Pie and Pas­try Bible by Rose Levy Beran­baum came up con­sis­tent­ly. One per­son men­tioned How to Make An Apple Pie and See The World by Mar­jorie Price­man. I pur­chased both — one for the how-to and one for inspiration.
The Pie and Pas­try Bible is enor­mous and beyond detailed (like read­ing an organ­ic chem­istry book in some places). It has been extreme­ly help­ful. Under its tute­lage, I'm proud to say I can turn out a decent pie with a flaky, tooth­some crust, and fill­ing that holds togeth­er (most­ly) and delights the sens­es in its sweet­ness and texture.
How to Make and Apple Pie and See The World is some­thing else entire­ly. Tech­ni­cal­ly, it is also a how-to, I sup­pose, but a per­son could get lost in the adven­ture of it.
Mak­ing an apple pie is real­ly very easy.
First, get all the ingre­di­ents at the mar­ket.
Mix them well, bake, and serve.
Let me tell you, Rose Levy Beran­baum would scream and pull her hair out by the roots read­ing these instruc­tions; but with a sim­ple page turn, Mar­jorie Price­man acknowl­edges the dif­fi­cul­ties that can arise.
Unless, of course, the mar­ket is closed.
What is to be done then? Well, you go home pack a suit­case. With walk­ing shoes and your shop­ping list, catch a steamship bound for Europe and use the six days on board to brush up on your Ital­ian. Why? Well, you'll need it when you arrive in Italy dur­ing the har­vest (tim­ing is impor­tant, Price­man acknowl­edges) to gath­er your­self some superb semoli­na wheat.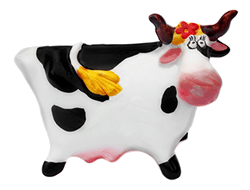 You'll head to France for the chick­en (the eggs! You need eggs!) and then Sri Lan­ka for the kurun­du tree (cin­na­mon!). Upon hitch­ing a ride to Eng­land you'll "make the acquain­tance of a cow" — one with good man­ners and a charm­ing accent. You'll take her with you because only the fresh­est milk will do.
On the way to Jamaica (for sug­ar!) you'll nab a jar of salty sea water (sim­ply evap­o­rate and you have the salt!) and then fly home. Ingre­di­ents should remain fresh, after all. Both Beran­baum and Price­man agree that fresh ingre­di­ents are of the utmost impor­tance. You'll para­chute into Ver­mont for the apples — you can't for­get the apples when you're mak­ing apple pie.
Once home, there's sim­ply milling and grind­ing and evap­o­rat­ing and per­suad­ing (the chick­en to lay an egg) and milk­ing and churn­ing and slic­ing and mix­ing to do!
While you wait for the pie to bake, you sim­ply ask a friend over to share!
I love this book and the kids I've read it to love it, too. We spin the globe and find all the coun­tries of ori­gin for the pantry sta­ples. We talk about where our food comes from, and if it is pos­si­ble to make some of our favorite foods with all local ingre­di­ents. We talk about how much work it is to grow and pre­pare food and how many peo­ple we depend on to do that. We enjoy the pic­tures — the delight­ful hero­ine who tire­less­ly globe-trots so she can make a pie to share with friends.
A quick inter­net search yields les­son plans and home­school­ing ideas for this book — few men­tion actu­al­ly bak­ing a pie, which makes me sad. Is there any­thing more homey than a made-from-scratch pie? I think not.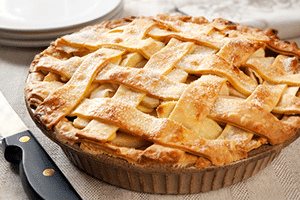 Got some back­yard rasp­ber­ries? A u‑pick straw­ber­ry farm? Con­sid­er a bake-n-read this sum­mer with some kids. It'll be messy, but fun!