by Melanie Heuis­er Hill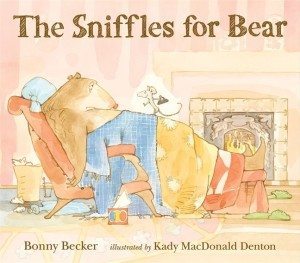 When I plan a sto­ry­time, I always plan for the kid­dos first and fore­most. But I do like to give a nod to the grownups who have brought them when I can — some­thing they'll "get" at a dif­fer­ent lev­el than the kids, a trea­sure they might remem­ber from their own child­hood, a book that will make them smile or laugh.
The Mouse and Bear Books by Bon­ny Beck­er, illus­trat­ed by Kady Mac­Don­ald Den­ton, are always an inspired fit. The chil­dren adore these books and the adults can have their entire day turned around when we read one of these. They might come in sweaty and grumpy from try­ing to get every­one out the door, but they'll leave lighter and with a smile. I'm always con­fi­dent it will be a won­der­ful sto­ry time if I include one or more (it's hard to stop with just one) in the series. They are reg­u­lars in my rota­tion — they re-read very well.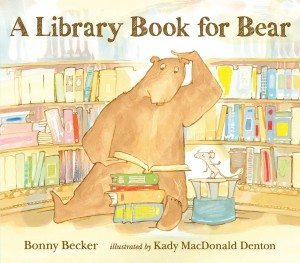 My favorite might be The Snif­fles for Bear. Then again, it might be A Library Book for Bear. Or the first one, per­haps, A Vis­i­tor for Bear. Who am I kid­ding — they are all ter­rif­ic. The read­er must be pre­pared with these books — a monot­o­ne read will not do. The per­son­al­i­ties of mouse and bear are much too won­der­ful for that. No, the read­er must be ready to act — over­act, in fact, in the case of Bear, especially.
There is not a mis­placed word in any of these books — each one is pre­cise­ly placed, flows effort­less­ly when read aloud, and paints with words the exact pic­ture that Kady Mac­Don­ald Den­ton has gor­geous­ly paint­ed with paint.
The dia­logue is per­fect for these two friends so oppo­site, and yet so alike some­how. Bear, in par­tic­u­lar, speaks as if he walked out of a Jane Austen nov­el, which con­tributes to much of the humor: I am quite ill — I grow weak­er by the moment…. he says in The Snif­fles for Bear. ("What he has," one of the delight­ed grand­moth­ers in a recent sto­ry­time said, "is a man-cold.")
But mouse is not to be out­done: Per­haps we could have just a spot of tea, he says when he meets his friend in A Vis­i­tor for Bear.
I am undone….Bear says after being unable to show Mouse the door.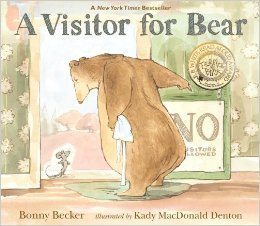 These char­ac­ters are so delight­ful, so true, and so much fun. I've nev­er read one of these books with­out the room's ener­gy chang­ing to a won­der­ful hum and laugh­ter rul­ing the day. I do not know if more Bear and Mouse books are planned, but I cer­tain­ly hope so. They've won a ton of awards, but that doesn't always mean a book is right for sto­ry time; in my expe­ri­ence, though, the acclaimed Mouse and Bear books make that dou­ble play every sin­gle time.