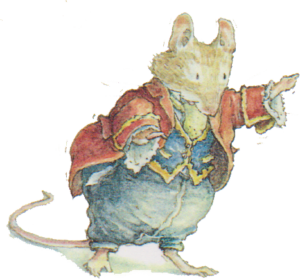 We have mice. Hope­ful­ly just one, but it's a brash one, scut­tling around the kitchen dur­ing break­fast this morning.
This hap­pens in the fall at our house. We've cer­tain­ly tried to find where they might be get­ting in, but they say a mouse only needs a dime-sized hole, and we obvi­ous­ly haven't found it. Caught two a cou­ple of weeks ago.
They're small. Cute, even. Which is good, because oth­er­wise I'd have the hee­bie-jee­bies. And I (most­ly) don't. It's just a To-Do on the list — and I'm not the one who To-Do's it even.
But it has me think­ing…. We might not want them in our hous­es, but mice are beloved char­ac­ters in kids' books. Cer­tain­ly at our house they have been. Ralph S. Mouse…The Mouse and the Motor­cy­cle…all of Kevin Henke's won­der­ful mice pic­ture books…The Bram­bly Hedge Col­lec­tion…Mrs. Fris­by and the Rats of NIMH…A Mouse Called Wolf…Stu­art Lit­tle…The Tale of Des­pereaux…Bri­an Jacques' Red­wall Series…Avi's Pop­py and Rag­weed books…Bless This Mouse…. And these are just some of the books in which mice play the star­ring role. Plen­ty more have mousy "minor char­ac­ters." (Think Tem­ple­ton in Charlotte's Web, or Mouse in the Bear books by Bon­nie Beck­er.)
I've writ­ten many Red Read­ing Boots columns about our favorite mice books. (I just looked back—many!) I look at the shelves in my office, which have been stocked with all of the fam­i­ly favorites I'm allowed to take from the #1 Son's and Dar­ling Daughter's shelves, and good­ness! It would appear we've raised them on mice! #1 Son had imag­i­nary mice friends who accom­pa­nied through the tri­als and tribu­la­tions of ear­ly child­hood — and no won­der! Did we read any­thing else?!
What is it about mice that are so appeal­ing for sto­ry­telling? Is it that they're the pre­sumed under­dog because of their size? Yet in sto­ry after sto­ry, they prove them­selves to be intel­li­gent, resource­ful, and coura­geous — their size even advan­ta­geous. Cer­tain­ly this is a theme wor­thy of putting before children.
Is it because they are so wee and dear (fic­tion­al­ly!) and lend them­selves to illus­tra­tions? Some of my most favorite illus­tra­tions have mice in them (see the above list for starters!) Their lit­tle clothes!
Or is it because we like to imag­ine par­al­lel uni­vers­es in which the small­est ani­mals cre­ate homes and vil­lages and worlds from our bits and bobs? Hid­den away in the hedgerows, the rafters, beneath the floorboards…all these sto­ries run­ning along beside use.
It might be this last thing for me. When I'm on walks I often see tiny hol­lows, small pock­ets, and invit­ing dime sized (and larg­er) holes in the walls and hedges and trees. When I see these, I'm imme­di­ate­ly fur­nish­ing a home for tiny ones inside — scraps art­ful­ly repur­posed, cozy built-ins, wind­ing passages….
I'm ful­ly aware that oth­er rodents could star in such scenes, but it's always a bit­ty mouse with large ears and eyes and flick­er­ing whiskers that comes to mind. Per­haps it's because of what I've read over the years? Cer­tain­ly could be. There's some­thing about mice that fire our imag­i­na­tions, I think.
I'm on the hunt for new mouse books. What do you have to recommend?
SaveSave