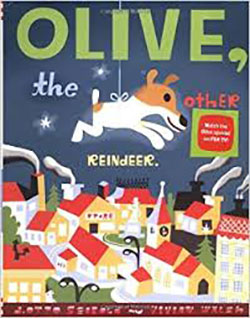 I'm writ­ing this on the birth­day of my dear friend, Mol­ly. She is one of my bestest friends from col­lege days. It's a big birth­day — well worth cel­e­brat­ing, which she'll do next week with a roller­skat­ing par­ty com­plete with musi­cal hits from the 1980's. This is very Mol­ly — the kids imme­di­ate­ly said, "Only Molly!"
Mol­ly is, quite pos­si­bly, the coolest of our friends. At least our kids think so. She is pret­ty amaz­ing — she skied the Vasa­lop­pet (she's the one in the red hat with a big smile) last year. She has canoed in polar bear coun­try and trav­elled to many lands. She reg­u­lar­ly leads what #1 Son called "expe­di­tions" when he was lit­tle. She is kind, strong, hilar­i­ous, adven­ture­some, and a Kid Magnet.
I was in the mall today — very briefly and yet far too long. Christ­mas music was blar­ing, lights flash­ing, and every­thing I didn't want to buy was at least 40 – 60% off. I was about to give up, when a tru­ly hor­rid ren­di­tion of Rudolph, the Red Nose Rein­deer came on at top volume.
Read­er, I smiled — right there in the mall. (I hate the mall, if you haven't guessed.) With that song I remem­bered Olive and I remem­bered Mol­ly, the birth­day girl. They go togeth­er for me — keep read­ing, I'll explain.
I left just as quick­ly as I could find my way out and came home to have a cup­pa some­thing warm and read Olive, The Oth­er Rein­deer by J. otto Sei­bold and Vivian Walsh, which came to us via Mol­ly the Christ­mas #1 Son was almost three years old. She was so excit­ed about this book that she gave it to him as soon as she walked in the door, before she had her coat off even. She was spend­ing the night — always a treat — and #1 Son, fresh from the bath and all paja­ma-ed up, request­ed that she read him his sto­ries before bed.
"Open it!" Mol­ly said, already laugh­ing. "We'll read this book first!"
And so he opened this whim­si­cal­ly illus­trat­ed book about a lit­tle Jack Rus­sell ter­ri­er named Olive, who is wrap­ping Christ­mas presents in her dog house when she hears the line "All of the oth­er rein­deer…"as "Olive, the oth­er rein­deer…." She's just singing along when she makes the impor­tant exis­ten­tial discovery.
"Olive…the Rein­deer," said Olive. "I thought I was a dog. Hmmm, I must be a Reindeer!"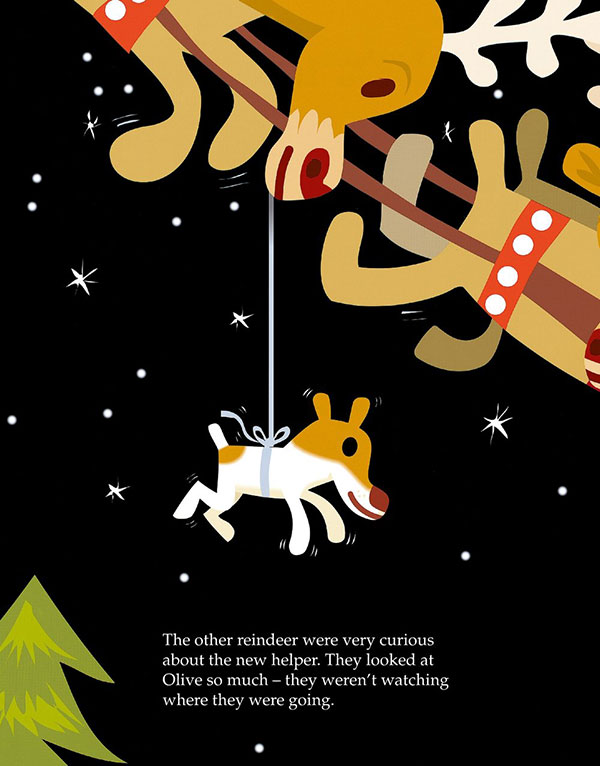 Olive sets aside her wrap­ping and march­es out the door. She takes one bus, and then two bus­es (one of my favorite illus­tra­tions) and arrives at the North Pole to help San­ta just in time.
Mol­ly near­ly died laugh­ing read­ing this book. Mean­while, #1 Son did not get the joke. He half-gig­gled along, look­ing up at Mol­ly like "Okaaaay…if you think it's fun­ny…!" And Molly…well, Mol­ly could not stop laugh­ing. What we had was pret­ty much a Wonky Donky sit­u­a­tion. (If you've not seen this video, please give your­self the gift and click here.)
This book so tick­led my friend; and so, of course, #1 Son laughed along. But it was years before he "got it." I was read­ing it to him when it clicked — I sang the lines and you could see the "light­bulb" flash on.
Whether you get the joke or not, the book is tremen­dous fun — Olive turns out to be immense­ly help­ful with her var­i­ous dog skills. San­ta wouldn't have made it with­out her. Olive turned into a bit of a series — sub­se­quent books and a car­toon etc.. We just have the orig­i­nal, though. It's a trea­sure all on its own!
It's hard to believe this book is more than twen­ty years old…but so is #1 Son…and Mol­ly is 50!
If you don't have Olive on your Christ­mas shelf — get your­self a copy this year. You'll love it!
And if you are one of those "cool friends" for someone's kids — the kind that brings hilar­i­ous books when you come to vis­it (expe­di­tion lead­ing not required) — bless you! Know that your influ­ence on said chil­dren is deep and wide.