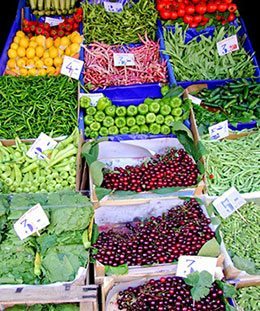 Sat­ur­day was gor­geous, and (Oh joy! Oh rap­ture!) the open­ing day of the Mill City Farm­ers Mar­ket, one of my favorite mar­kets here in the Twin Cities. I got up and out the door in such a hur­ry I for­got my mar­ket bas­ket, but no mat­ter — there were just the ear­li­est of crops avail­able: aspara­gus, spinach, rhubarb…. I could car­ry the few things I need­ed — and truth be told, I was real­ly after the expe­ri­ence more than the food. The chilly air com­ing off the Mis­sis­sip­pi, the vio­lin play­er on the cor­ner, the chat­ter of ven­dors and cus­tomers, small kid­dos look­ing for future crops like berries and corn-on-the-cob and apples…this is the kind of thing that will clear the rest of win­ter from the recess­es of your soul! I got my cof­fee and bliss­ful­ly wan­dered the stalls. If I were to design the per­fect morn­ing, this real­ly is it.
And then — an unex­pect­ed gift!
Just as I was leav­ing for the busy Sat­ur­day ahead of me, I heard a rich bari­tone sing out. "STO-ries! STO-ries! It's sto­ry­time! STO­RY­time!" The hair on he back of my neck stood up (in a good way). STORYTIME! Well, I wasn't going to leave with­out stories!
I moseyed back over to the stone steps of the Guthrie The­ater, the usu­al spot for pro­gram­ming dur­ing the farm­ers mar­ket. And sure enough, a com­pa­ny actor was there with a stack of kid books. Par­ents were get­ting their sticky-farm­ers-mar­ket- smudged-up kids set­tled at the man's feet, mov­ing to sit up a step or two and enjoy their cof­fee in peace. I fit right in, I told myself, even with­out any kids with me. I just sat down with the par­ents and smiled down benev­o­lent­ly on the squirmy mosh-pit of would-be sto­ry lis­ten­ers, as if one of them was mine.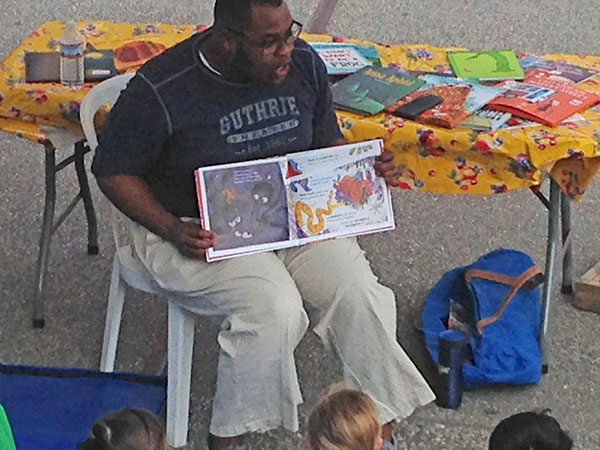 No soon­er had the read­er begun than all wig­gles stopped. The first book: One Day In The Euca­lyp­tus, Euca­lyp­tus Tree by Daniel Bern­strom, illus­trat­ed by Bren­dan Wen­zel. I couldn't believe my luck! Bern­strom and I had gone to grad school togeth­er — and the book was but days old! I hadn't even made it to the book­store to get my copy yet!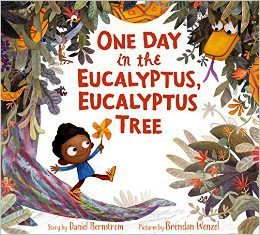 Well, it's a hoot of a book — as I knew it would be — and what I wit­nessed on the steps to the Guthrie was none oth­er than Sto­ry­time MAGIC. A mar­velous sto­ry, ter­rif­ic illus­tra­tions, and a fan­tas­tic read­er! (I mean, the guy is a pro­fes­sion­al!) The kids were rapt as this man belt­ed out the lines of the lit­tle boy who out­smarts the yel­low snake who swal­lowed him up.
It's a sto­ry with some sim­i­lar­i­ties to I Know An Old Lady Who Swal­lowed a Fly and also to Brer Rab­bit. The boy in this sto­ry is the Smart One, a more pos­i­tive moniker, I think, than "Trick­ster," as Brer Rab­bit is often called. The yel­low snake is tak­en by this smart boy. Every­time he swal­lows some­one or some­thing up, the boy talks about how much more room there is inside…and so the snake takes anoth­er vic­tim. And then anoth­er. And anoth­er. It's the very small­est thing that proves too much, of course, and the gross results were most pleas­ing to the young audi­ence. One lit­tle girl clapped hard as the snake "expec­to­rat­ed" every­one and every­thing in his stomach.
Oh the kids loved it! The swingy rhymes, the fun word-rhythms — their lit­tle bod­ies swayed in time. The sus­pense! The fun! Their faith in the boy! Their joy as the snake's bel­ly grew larg­er and larg­er. "Look at that bel­ly!" our sto­ry­teller exclaimed every oth­er page turn.
It all worked to make me quite teary behind my sun­glass­es as I sat there among the young fam­i­lies. I was so hap­py for Daniel, so grate­ful this won­der­ful actor lent his voice and sto­ry­telling to the morn­ing, so glad to have heard my classmate's sto­ry before I read it. He has a won­der­ful gift with words and fun and rhythm and rhyme.
In my esti­ma­tion, it was quite the per­fect morn­ing. Per­haps the only thing that could've made it bet­ter was hav­ing a lit­tle sticky per­son of my own on my lap to hear the sto­ry with me. But alas, those days are pret­ty well gone for me. (Some­times I'm still able to bor­row.) So it's just the pure joy of being read to now, which, as it turns out, I've not out­grown. Don't plan to either.
Thanks Daniel, thanks Mr. Wen­zel — your book is ter­rif­ic. Thank you Mill City Farm­ers Mar­ket and Guthrie The­ater. Thank you to the won­der­ful sto­ry­time read­er whose name I did not catch — your sung "STO-ries!" made my day. You were won­der­ful! The whole thing was wonderful.