by Melanie Heuis­er Hill
We are talk­ing a lot these days at our house about Harp­er Lee's To Kill a Mock­ing­bird and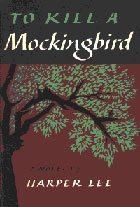 Go Set A Watch­man. As a fam­i­ly we lis­tened to To Kill A Mock­ing­bird, nar­rat­ed by Sis­sy Spacek, last sum­mer on our vaca­tion. Every­one in the car was riv­et­ed to the story…but both of the kids will tell you they real­ly didn't like it.
I adore Harp­er Lee's nov­el — the char­ac­ters, the set­ting, the sto­ry, the writ­ing. We spent much of eighth grade Eng­lish on it, in my (pos­si­bly revi­sion­ist) mem­o­ry, and I loved every minute of it. I am intrigued, chal­lenged, and often con­vict­ed by the argu­ments made by those who do not adore it, how­ev­er. Clos­er exam­i­na­tion of this beloved clas­sic this sum­mer hasn't "ruined" To Kill a Mock­ing­bird for me, nor has Go Set A Watch­man; rather, I'm see­ing it through dif­fer­ent eyes and think­ing about things in new ways. This feels impor­tant. And I'll make the dan­ger­ous­ly loose claim that any book that gets peo­ple talk­ing and read­ing like these two books have is a good book. (Of course there are excep­tions — you just thought of some and so did I. Just go with it. You know what I mean.)
***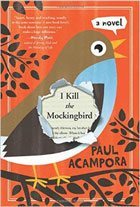 Last week, I went to look for books for kids about To Kill a Mock­ing­bird and brought home a cou­ple of nov­els rec­om­mend­ed at my local inde­pen­dent book­store. My girl reads much faster than I do — espe­cial­ly in the sum­mer with its long read­ing hours — and so she agreed to read them and report back. I hand­ed her I Kill the Mock­ing­bird by Paul Acam­po­ra first. She read it in one sitting.
"You will love it," she said.
"Did you love it?" I asked. Some­times these opin­ions are mutu­al­ly exclusive.
"Pret­ty much."
And so I read it. It's a quick­ie and it did not dis­ap­point. Very clever, great writ­ing, many lay­ers to enjoy but easy to read, and a won­der­ful "idea" for a sto­ry for young teens. My only com­plaint is that I wish it had been longer. It moves fast and is admirably compact…but the writ­ing is so good, the char­ac­ters so won­der­ful, their dia­logue so wit­ty, the sto­ry such a hoot, and the themes so impor­tant…well, I just would've enjoyed more of it.
Our con­ver­sa­tion around this book has large­ly been about the role of tech­nol­o­gy, not the orig­i­nal clas­sic around which the small nov­el revolves. Acampora's book is full of social media — Face­book, Twit­ter, Insta­gram, chat rooms — it's all there. In fact, it is absolute­ly nec­es­sary to the plot, which is why I didn't mind it at all.
I remain Lud­dite-like and cranky enough to be frus­trat­ed when these very con­tem­po­rary (so con­tem­po­rary I won­der how they get the book pub­lished before every­thing changes) social media plat­forms show up in books. Often, in children's books espe­cial­ly, it feels like men­tions of tech­nol­o­gy have been added in to make things seem more teen-friend­ly and "hip." Since the social media scene is noto­ri­ous­ly fast-chang­ing (espe­cial­ly in how kids and teens use it), this seems short-sight­ed, not to men­tion unnecessary.
But I Kill the Mock­ing­bird is actu­al­ly depen­dent on the social media in what I'll call "a good way." What the kids do — which is cre­ate a sit­u­a­tion in which To Kill A Mock­ing­bird seem­ing­ly dis­ap­pears and there­fore becomes The Hot "New" Book Every­one Must Read — could not have been done in one sum­mer with­out the expo­nen­tial pos­si­bil­i­ties and cat­a­stro­phes of social media.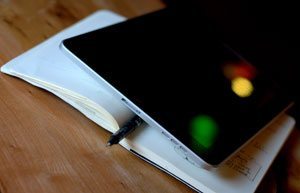 PLUS — and this is impor­tant — these kids, all three going into high school, are not on screens and devices all the time. That would make a ter­ri­ble book, in my opin­ion. They text and post and tweet and chat, etc., but that's all summed up in effi­cient nar­ra­tion (because who needs to watch it unfold?) and we're back to the action of the sto­ry, back to the large and impor­tant themes, back to the unique per­son­al­i­ties and sweet friend­ship of the three main characters.
You do not have to have read To Kill A Mock­ing­bird to enjoy I Kill the Mock­ing­bird, but you will enjoy it more if you have. You'll also enjoy it more if you're gen­er­al­ly well read — the chap­ter titles are very clever, as is the sub­tle homage to a whole shelf of well-loved books. I'm a fan. And so's my kid. So we rec­om­mend it, the both of us. Take an after­noon in these last weeks of sum­mer and have a read. Let us know what you think.